Ask any vinyl collector where they found a particular record, and, chances are, they'll also tell you the story behind it, from the record store where it was purchased on to intricate details like who they were with or how much it cost.
That's one of the common threads among the hosts and founders of Wax on the Square, a weekly vinyl and DJ series at Liquid Smoke, located at 2 N. Public Square next to The Humidor. Aaron Heffron, Silas Jackson, Mike Heiler, Kenneth Williams and several other DJs met through various local musical endeavors and have watched each other's collection grow over the years. Eventually their passion for the timeless format led to something more.
With thousands of records and 30 to 40 years worth of collecting between them, the members of the group decided to branch out and share their love and appreciation for vinyl with the Murfreesboro community.
"We had thousands of vinyl records just lying around and we thought, 'You know what, we have all this vinyl, we need to get out and do something with it,'" Aaron said. "We already spun for our friends' parties or opened for our friends' bands, but until this we'd never done our own thing."
In the spring of 2013, Aaron asked Liquid Smoke if they had any openings, and he soon secured a Thursday night spot for the group to spin vinyl. Two years later, there are now about 13 DJs who spin for the series, and Aaron says that number continues to grow.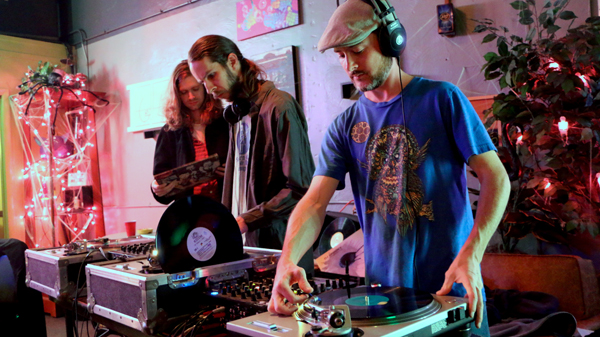 For the first two months, the group spun whatever it pleased, but Silas said they quickly switched to primarily groove-based music like funk, soul, reggae, house music and other styles to fit the tone of the lounge's laid-back atmosphere. They cater to the listeners, he said, who are often regulars active in the local music scene.
"It's not the dubstep or trap music people expect to hear when they go out in Murfreesboro," Mike said.
"Yeah, we're certainly not playing music you'd hear around at any other clubs in town," Silas added. "We want the listeners to be able to relax while listening, but also enjoy something they've probably never heard before."
Every Thursday around 9 p.m., Aaron and other DJs trail in to Liquid Smoke carrying boxes of records and turntables. People trickle in, grabbing seats at vintage tables adorned with lava lamps, chess boards or other items.
Liquid Smoke is a laid-back venue, and Wax on the Square accommodates the vibe by spinning music that has enough punch to pique your interest, but calm enough for others to still have conversations with friends.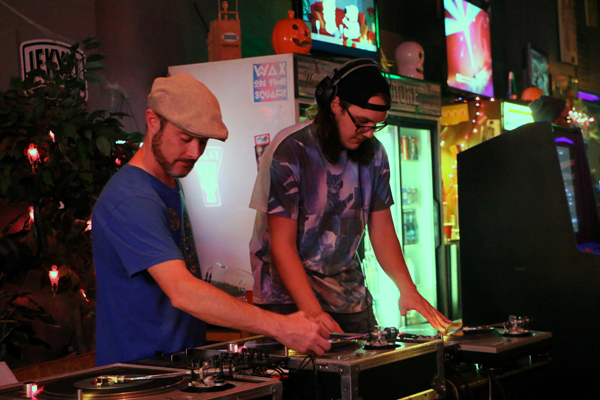 "We're not necessarily trying to get people to get up and dance; I mean, we're not against it, but it's definitely a lounge," Aaron said. "We try to mix the music up enough to where people can relax and enjoy good music while they drink a beer and talk with friends."
Aaron said the group brings out three turntables and several cases of vinyl in an effort to mix it up and try new things, which guarantees the music is fresh and something no one's ever heard before.
"Don't get me wrong, it does and can get weird," Aaron said. "You could hear something like sitar music mixed with house music at any given time."
The group agrees that vinyl is what makes Wax on the Square stand out, and Silas adds that any other format would change the series' dynamic completely.
"We stick to vinyl because we have a lot of it," he said. "Plus, vinyl always sounds good, too . . . it's an elegant, timeless format."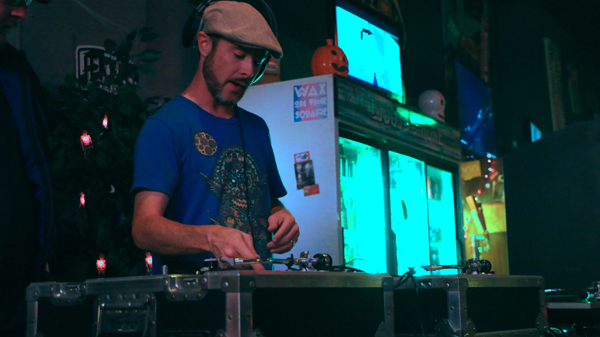 Each DJ can recount where they found certain records, which adds to the authenticity of the series. Whether they found it at a "hole in the wall in Alabama," an antique store or while sifting through a well-known record store, Silas said he always makes the connection between the music and where he finds it.
"One thing I like about collecting is that I know with each record where I was when I got it," he said. "One of the main reasons we love this format is because an mp3 doesn't, and will never, have the same kind of connection."
"Yeah, you could even be driving down the street and spot a yard sale, and that's where you can find a box of vinyl for sometimes a dollar each," Aaron added. "Collecting vinyl is an art . . . You've got to find the song that may be on a B-side that you didn't even know existed, one you can't even find on the Internet."
To keep up with Wax on the Square, check out facebook.com/waxots or stop into Liquid Smoke on Thursdays starting at 10 p.m.