On Dec. 20 the Blue Raiders landed in the tropical paradise of Nassau. Following a week of intense practice and preparation in Murfreesboro for the Bahamas Bowl, it was a welcome break from the norm for the players and coaches. While this is a getaway for the Blue Raiders' players and staff, there is a delicate balance to be achieved between work and play.
"I want it to be fun for these guys, but also have the mindset that we're here to win the game. That's the main objective," said coach Rick Stockstill. "The second most important objective is to have fun and enjoy it. You don't want to put in all the work, all the sacrifice, all the hurt, all the pain, all the crying throughout the year, and then you get down to the bowl site and the coach makes it miserable on you. I want them to enjoy it, but to understand that there is a time to work and a time to enjoy, but you don't let the enjoyment affect the work the next day."
While the strong character and work ethic of this team has been well documented and apparent on the field, you better believe they made plans to have fun in the Bahamas before leaving Murfreesboro.
"I heard they got a nice water slide down there where you go through a tube and see a bunch of sharks. So, I'm looking forward to that," safety Kevin Byard continues. "Most importantly, being around my teammates just laughing and having a good time, that's going to be something I'm definitely looking forward to."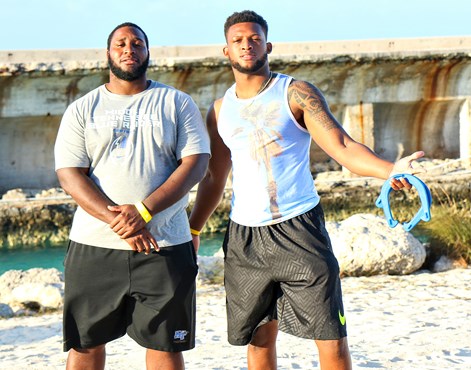 Linebacker T.T. Barber has made plans of his own: "I'm going to swim with the dolphins."
While the players will have time away from football to enjoy themselves in Nassau, the same can't be said of the coaching staff.
"We'll be locked in the whole time," Stockstill said on behalf of the coaching staff. "It's different for a coach. I'm so proud of this team that I'll take enjoyment from watching them enjoy this experience."
And the coaching staff will need to be locked in, as they face a potent offensive attack from Western Michigan.
The Broncos tout a quarterback in Zach Terrell who threw for 3225 yards and 27 touchdowns on an offense that ranks in the top 25 nationally in yards per game. WMU also features two receivers, Daniel Braverman and Corey Davis, who rank in the top 20 nationally in receptions and receiving yards, with Braverman's 103 receptions being good enough for second in the nation.
The Broncos also bring a potent, thunder and lightning rushing attack to Nassau. In fewer than 200 carries each, the two combined for over 1500 yards. Lightning, a.k.a. Jamauri Bogan, lead the Broncos with 836 rushing yards and 12 touchdowns. Jarvion Franklin, the thunder of the backfield, rushed for 699 yards on the season with five touchdowns.
Considering the offensive output of the Broncos, it should come as no surprise that WMU ranks second in the nation in time of possession and 13th in third down conversions.
Tune it at 11 a.m. Christmas Eve to see the Blue Raiders bring home the Bahamas Bowl title. The game can be seen on ESPN.
Mixed Emotions for Some on the MTSU Team
The Blue Raiders have plenty of reasons to be happy this Christmas. They have sunshine, the Bahamas, and bowl season football. However, there is something missing for some Blue Raiders which can't be overlooked.
MT offensive lineman Darius Johnson has been a big piece of the puzzle since he played his first collegiate snap in 2012, and running back Jeremiah Bryson has made his impact felt on the field in that time as well. Since then, MT has posted 27 wins, two bowl appearances, and has been bowl eligible every season.
Along for the ride with Johnson and Bryson have been safety Kevin Byard and linebacker T.T. Barber. While Byard and Barber will play in their final collegiate game on Christmas Eve, Johnson played in his last game more than a month ago, and Bryson hasn't played since early October.
"I'm a firm believer that everything happens for a reason, but I wish Darius could be out there because I know how much this game means to him," Byard continued. "I think he'll still be able to make the trip to the Bahamas, so its great that I'll be able to spend the last few days on this team with my brother. It's going to be tough. I know he'll be emotional about it, but I know he believes the same thing, everything happens for a reason."
Barber added, "We've been on that field and in the weight room for four years now, and for it to come down to this last game and them not able to play, I know it's real hard on them, and it's real hard on me because I'm used to them being out there. This is our last collegiate game ever, and to not see them out there suited up, it's hard and emotional because that's our brothers. But we're going to pull it out for them."