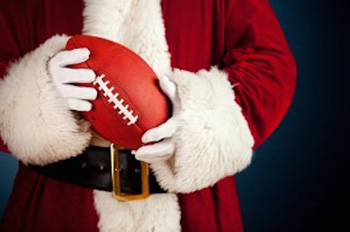 The Train Daddy is back as always and it's Christmas time in the 'Boro. Ho, ho, ho! Unlike your typical Train ride this locomotive has a special destination—all aboard the Polar Express, destination Sexy Town! Happy Holidays, Yuletide Greetings, Season's Greetings, Happy Hanukkah, Season Green Smoke or have a Cool Yule. There are many ways to wish someone a festive December, but from me to you, Merry Christmas! I love Christmas, it's great spending time with friends and family, and I love all the football games—games that carry heavy playoff implications. Over the years I have spoken much of the 5 F's: Faith, Family, Football, Food and Friends. There isn't a better time than the holiday season to live life following and appreciating the 5 F's, in that order. It's brought much joy to my life and it's guaranteed to do the same for you.
So, with it being the holiday season, a time we give thanks and show our appreciation by doing good deeds for others, I have a list of people I want to wish a Merry Christmas. Some are naughty and some are good, but all deserve a little bit of love during the holiday season.
Do you realize how small America's problems are compared to the rest of the world? Be thankful we live in such a great country, stop protesting and stop complaining, America; there is so much opportunity in this country. My first Merry Christmas goes to America—that's right, America! She is beautiful, she is free and she presents opportunity for all. Just take a look at the Middle East and other smaller nations, and that's enough to be thankful for. Literally anyone who is now in this country can become successful if they work hard and have a drive to succeed. Some may have to face tougher obstacles to get there, but anyone can take a shot. That's a fact, jack! I hate watching the news—people complain, people whine, people demand. Shut up, people, and live life, work hard and treat your neighbor as you would treat yourself. Lady Liberty smiles upon us all: black, white, Asian, Hispanic, green, red and blue.
Merry Christmas to the Tennessee Titans and former Titans coach Ken Whisenhunt! Ken gave loyal Titans fans Marcus Mariota, and that's it! In 2014 Coach Whisenhunt gave us a splendid 2-14 record—worst record in the league that season, tied with the Bucs. After starting this 2015 season 1-6, the Titans fired Ken, naming Mike Mularkey interim head coach. So, Merry Christmas, Ken Whisenhunt. You finished 3-20 during your tenure here in Tennessee. Good riddance!
Merry Christmas to Tom Brady, the 38-year-old star quarterback nicknamed "Tom the Terrific" who beat the odds. He beat the NFL, and he infuriated Commissioner Goodell after a court overturned his suspension this season. Tom Brady and Patriots owner Robert Kraft are laughing at the memory of Deflategate and Spygate. Tom is even married to a smoking-hot supermodel named Gisele. So the Patriots are dominating the NFL yet again, and very well could end up Super Bowl champs yet again. The four-time Super Bowl champ isn't letting age diminish his performance. I can't believe how good he still is. As far as I am concerned it is going to be Brady, Cam Newton or Adrian Peterson who will win this year's league MVP. The lesson here is: If you're famous and have money you have a chance at getting away with cheating. Damned Patriots!
Merry Christmas to Peyton Manning; like Tom Brady, age is catching up to the 39-year-old former Tennessee Volunteer. Manning, a five-time league MVP, and 14-time pro bowler is looking rough this season. A strong defense in Denver is all that is keeping Peyton relevant. Just like Brett Favre handing the reins over to Rodgers, it looks like Peyton may be ready to hand it over to a man named Brock Osweiler. I am sure we will see Peyton suit up again this season after he heals. The longer Brock plays well, the harder that becomes for the coaching staff. Merry Christmas, Manning. I very much respect you and all you have done for the game of football. Very classy.
Merry Christmas, Ronda Rousey! The 28-year-old UFC superstar recently felt her first taste of defeat—maybe it will humble her. Rousey was basking in the glow of success. She was, and is, a dominant force, and being sexy helped as well. Ronda lost her first match in UFC 193 to Holly Holm recently. Ronda is loved and hated equally. Rousey is cocky and at times refused to shake hands before or after a match with her opponents. UFC president Dana White already has stated "there will absolutely be a rematch." There has to be! Is this the end for Ronda, or will she train that much harder and finish her career with a bang?
Merry Christmas to the Black Mamba, Kobe Bryant! The five-time NBA champion and two-time Olympic gold medalist says he will retire after this season. Kobe announced to the world via a very manly poem that he is retiring after this season. "My body knows it's time to say goodbye," wrote Bryant. Despite a pretty nasty sexual assault case, the Black Mamba had a phenomenal career on and off the court. We'll miss you, Kobe.
Merry Christmas to Adrian Peterson, a beast! There are some out there who still are upset that the star running back beat his son with a tree branch, but no one can deny his football ability. It's not up to me to tell someone how they discipline their child; all I know is the man has won me some Fantasy Football games. I only participate in two fantasy leagues that truly have meaning for me and somehow I ended up in both leagues with the number-one overall pick. So I took running back Adrian Peterson in both leagues, and now, nearing the end of the season, it has proven to be the right choice. Other candidates at the time were Le'Veon Bell and Jamal Charles, both of whom ended up with season-ending injuries, and Eddie Lacy, who has been a disappointment. Adrian Peterson is on track to duplicate his record-setting 2012 season at 30 years old—Merry Christmas, Peterson!
Merry Christmas to Louisville basketball coach Rick Pitino! A bombshell scandal: A former coach is alleged to have paid for strippers to dance and sleep with players and recruits—juicy! I am sure Pitino's team will just play at a high-caliber level as all his teams do, and most fans will slowly forget about the entire scandal come March Madness.
Merry Christmas to President Barack Obama! You are a bad president. Liberal policy is disgusting—just my opinion, or possibly fact? I can't imagine after eight years of this administration that America would want a Bernie Sanders or a Hillary Clinton to run the country, yuck! Let's just pray this country has had enough of this liberal, left-wing socialist crap and is ready for someone who fights for the working man, not the lazy man. Life isn't a pie we all can split up equally. It sounds nice, but people have to work for it. Some people may start at a disadvantage, but in this country anyone can be successful. Work hard and show respect, and life will reward you properly. Obama and his goons seem to think no matter how hard you work or don't work, everyone deserves an equal share of the pie. Merry Christmas, Democrats!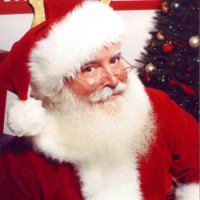 Merry Christmas to Santa Claus! I know you're real, Santa. It started in 1990. I will always remember that, when I was a child, my parents didn't have the extra money to get me a regular Nintendo, but that year it showed up under the tree. I am now at the ripe age of 30 and I want to thank you, Santa Claus. I loved that video game system. That year my little sister and I saw you. I was 6 and she was 4. She received an Easy-Bake Oven and I got the Nintendo, so Merry Christmas, Santa!
That's it, everybody. Merry Christmas to you, the reader! I hope you all have a wonderful December and a Happy New Year. This is a time to comfort those who may not have family, or mothers and fathers who work overtime to buy presents for their children. Simple conversation can go a long way toward comforting people. This is a wonderful country full of opportunity for all; remember that the next time you complain. Pray for the refugees fleeing their war-torn countries, and take a look at yourself and ask what you can do to truly help those in need around you. That's it, everyone. People, stop protesting and crying about nonsense—we live in a country where anything is possible with a little determination and hard work. I get crap sometimes for saying this, but the problems of this country are laughable when compared to the rest of the world. Be thankful you live in America. Choo-choo!