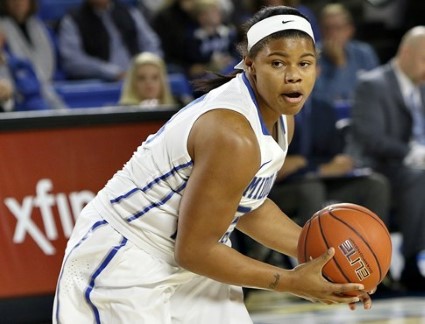 The Lady Raiders have reached their first extended rest of the season, and "surprise" may be the best word to use in describing the 2015-16 campaign thus far, as it's been one filled with pleasant and unpleasant surprises.
It was a surprisingly slow start to the season for a team that boasts the C-USA Preseason Player of the Year, and which received six top 25 votes in the coaches poll before the season began. The Lady Raiders dropped a close one in their season opener to Virginia, 70-66, in a slight upset. If you think head coach Rick Insell is ashamed of a opening loss night against a Power 5 conference team though, you are wrong.
"We've got a good basketball team, that's why we play the likes of Virginia. I could have easily scheduled somebody and got a win, but I ended up scheduling somebody and got a game that's going to make us a better basketball team," said Insell.
Brea Edwards led all scorers with 30 on opening night, but she was in no mood to celebrate her career game after the loss.
"I'd rather have the victory than 30 points," Edwards stated.
As coach Rick Insell mentioned, free throws were all the difference in this one. MT missed 13 shots from the charity stripe in a four-point loss.
The Lady Raiders then traveled north to play Central Michigan, but the weather wasn't the only thing MT found to be cold. The Lady Raiders dropped the game 81-59 on a cold shooting effort, making just 28 percent of their shots.
Things started to warm up for the Lady Raiders when they returned to Murphy Center to play Ole Miss. Three players registered double-double performances for MT in this one. Edwards scored 24 points and pulled down 12 rebounds while Olivia Jones posted 17 points and 13 boards of her own, but it was Ty Petty that drew the admiration of Ole Miss head coach Matt Insell.
"Middle Tennessee won the game tonight because of Ty Petty. That's why they won the basketball game. She got everybody else shots and she made everybody on her team better, and that's what a point guard is supposed to do," but Insell didn't end his praise there.
"People can say Jones, Edwards, whatever they want . . . but the engine of that team is Petty. If Petty plays well, Middle Tennessee plays well. I think the coaches in C-USA have it all wrong, because the best player in the league is Petty. And tonight, Petty kicked our butt every way it can be kicked," the Ole Miss coach said.
Petty finished the game with 12 points and 10 assists.
Middle then traveled to Reno to participate in the Nugget Classic in which they opened against Alabama. The team shot an abysmal 17 percent from the field in the 64-46 loss, but came back strong the next night against Nevada in a 90-46 dominating victory.
The Lady Raiders shot significantly better from the field, making good on 54 percent of their shots. They also sank 53 percent from beyond the arc. Edwards led the way for MT with 28 points, and highly-touted freshman Alex Johnson chipped in 20 of her own while missing only one of her 10 shots. The Lady Raiders came strong on the glass too, as they outrebounded Nevada 52-33.
Following the Nugget Classic, Johnson was not only named to the all-tournament team, but was also tabbed C-USA Freshman of the Week. While coach Insell is not at all surprised of her contributions thus far, fans pleasantly are.
The success from the Nevada game helped trigger a three-game win streak which saw Jones become the 29th member of the Lady Raider 1,000-point club. Jones reached the mark on a made free throw in the third quarter of a blowout 31-point victory at Austin Peay, yet she was not aware of the feat until Insell told the team after the game.
"I am happy to reach that mark. There have been so many great players come through Middle Tennessee so to join that elite company is quite an accomplishment, and it means a lot to me. It's even more special that we won the game," said Jones.
Surprisingly, Jones struggled early through the season, Jones is starting to look like the player that the coaches of C-USA expected her to be before the season began. She followed the Austin Peay game up with her second double-double of the season, scoring 14 points and collecting 10 rebounds while leading the Lady Raiders to a victory on the road against Xavier.
The Lady Raiders hoped to pull off a surprise on a national stage when they hosted No. 8 Kentucky on Dec. 13, but it would not be so. UK guard Makayla Epps spear-headed an intense defensive attack that saw MT get out of rhythm and commit 26 turnovers.
"They got us out of our offense several times, and then we broke rank. Instead of executing we broke rank and tried to freelance, and you can't freelance against a good basketball team like they've got," commented Insell.
Although the Lady Raiders kept the score close for most of the game, UK pulled away in the closing minutes to win 68–52.
Perhaps the most pleasant surprise of the early season has been Brea Edwards. Everyone knew she'd be a major contributor this season, but she, not Jones, has been the star of this team thus far. She is not only leading the team in points per game (21 ppg) and three-point percentage (48.5 percent), but she ranks 21st and 20th in the nation, respectively. She also ranks second on the team in rebounds, just three shy of Rebecca Reuters team-leading 58.
Now sitting at 4-4 on the season, the Lady Raiders will look to get back above .500 when they host Missouri State at 11 a.m. Thursday, Dec. 17.
A Dec. 20 contest against Tennessee Tech will round out their 2015 home slate.
For more information on the MTSU Lady Raiders, visit goblueraiders.com.