In the late 1930s, Isaac Ed Hall, a mechanical engineer from West Tennessee, went to do some work for a major pecan shellery being constructed in Georgia.
"Any time someone had a cotton gin problem in the mid-South, they'd call up I. Ed," Hall's grandson, Jack, said recently.
But working on this pecan shellery drew the elder Hall into another Southern agriculture tradition: pecans.
According to Jack, the shellery owners said they needed some individuals to gather pecans from Hall's area and supply the shellery.
"They said, 'Why don't you buy some pecans there, you have some really good seedlings up and down the Mississippi?'" Jack recalled.
So Hall, who also operated a small Tipton County grocery store, began putting out the word that he was buying pecans to supply to the business in Georgia; he also began selling the nuts in his store, and thus the Hall family entered into the pecan business.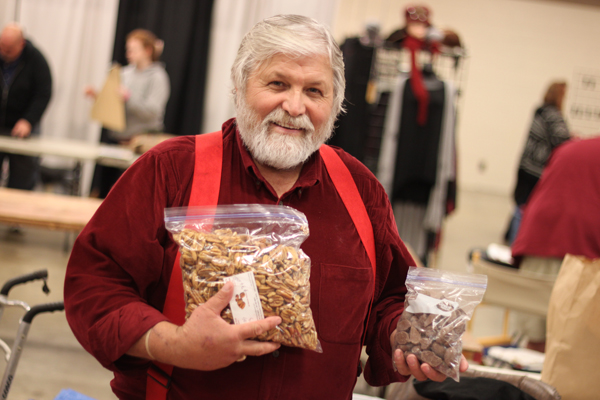 Today, Jack Hall operates a cracking and shelling operation of his own on Highway 51 in Covington, Tenn., about halfway between Memphis and Jackson, not far from the original family grocery store.
"We still have the old grocery store," said Hall, whose father took over the store from I. Ed. "It was a great experience growing up in the store."
While the family grocery store closed in 1995, Jack and his sister, Talley, keep the family pecan business thriving.
They "buy, sell, crack and shell" at their facility, meaning that they serve both growers and consumers.
If someone wants to purchase pecans, ready to eat or still in the shell, Jack Hall is your pecan man. If someone wants to sell pecans, he'll buy them. Jack Hall's Pecans buys pecans by the truckload from professional orchards, or they'll buy a bucket full from area kids gathering them under a tree or two in their yard looking to make a little spending money.
And if someone wants to bring in their own pecans for shelling, and keep the nuts, Jack Hall provides on-the-spot cracking and shelling services at his Covington facility for 60 cents per pound.
"If it's a little bucket that Grandma brings in, just enough for a pie, or 100 pounds, we try and have them in and out of here within an hour," Hall said.
Talley is also known to make some fine chocolate-covered pecans, candied pecans and pralines out of the delicious, protein-packed nuts.
Prime pecan harvest time is November and December, Hall tells the Murfreesboro Pulse, but he makes sure to put up enough to sell to his customers.
"I have pecans year-round," he said. "I never run out of pecans."
His nuts still primarily come from the area near the Mississippi River: Tennessee, Mississippi, Louisiana, Arkansas and Missouri.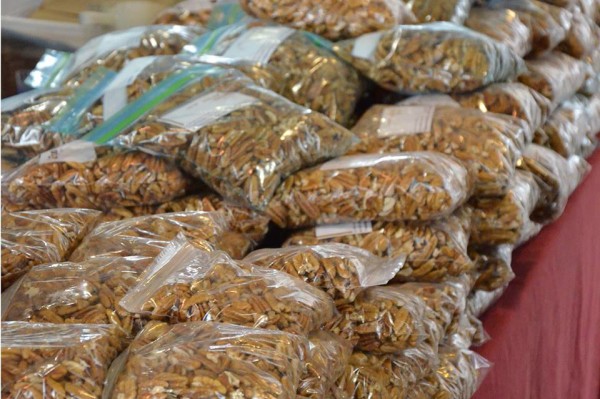 Since the pecan tree is native to the area, it is fairly resistant to disease and frost, Hall said, so while the harvest can fluctuate from year to year, there are generally plenty of fine pecans to be found every year in the Southern United States.
"We'll average 250,000 pounds a year," Hall told a pecan consumer at the Nashville Flea Market. "One year around 2008 we did 800,000 pounds."
He distributes them all over the U.S., shipping out individual orders and attending flea markets, bazaars and events throughout the country.
"We go to state fairs and everything else," Hall said. "People will find out about us and they're asking us to come now . . . they know they'll get quality, they know what kind of business we do."
He said he loves dealing with people, and traveling to these different shows has allowed him to meet interesting folks from all over the United States, Hall said.
"It's a medium year," Hall told one of his customers, discussing the quantity of the fall 2015 harvest. "But the quality is above average."
As for the future of Jack Hall's Pecans, Hall said he would like to acquire some more orchards and see his daughters, Mary Jean and Camille, become involved in the family business.
For more information or to buy some pecans, find Jack Hall's Pecans every month at the Nashville Flea Market in the Exhibitors Building, call (901) 476-9868 or visit jackhallspecans.com.