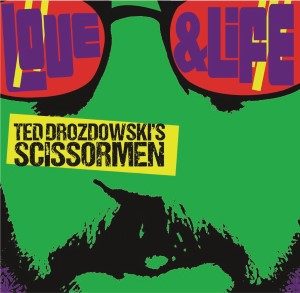 Nashville-based psychedelic blues trio Ted Drozdowski's Scissormen is a local outfit like none other. The group, led by songwriter, vocalist and slide guitarist Ted Drozdowski, brings a plethora of talent to the table; in this case, it's on their latest effort, Love & Life, an 11-track album derived from rootsy Mississippi blues and a swirling sea of personal and historical recollections.
Released on Dolly Sez Woof in July, Love & Life is a trippy addition to Drozdowski's already stacked catalog of work. Aside from his music career, he's also an award-winning music journalist, author and educator, and the trio's release is just another stitch in this creative tapestry. Drozdowski, joined by bassist Sean Zywick and drummer Pete Pulkrabek, crafted a dense piece of work that closely harks back to the blues musicians who molded him into the artist he is today.
The trio kicks off the album with "Beggin' Jesus," a dark and sultry track that has simultaneously Drozdowski "dancing with the devil" and begging for redemption. Drozdowski maintains devilish themes on the next track, "Letter From Hell," as he sings over screaming guitar riffs:
But now I'm going to demon school
When I get my horns we'll see who's cool
Figured I'd tell you I'm doing well
Thought I'd write you a letter from Hell.
The trio plays around with eerie instrumentation on "The River," a ghost story that explores the mystic banks of Mississippi's Tallahatchie River. Later on, Drozdowski pays homage to a few of his influences, with an obvious nod to guitarist Watermelon Slim on "Watermelon Kid" and what perhaps was meant to be a proper sendoff to the late soul and blues singer Mighty Sam McClain on "Let's Go to Memphis." However, the most charged of them all is "R. L. Burnside [Sleight Return]," an electrifying five-minute tribute to Drozdowski's late mentor of the same name, an American guitarist, blues singer and songwriter from northern Mississippi.
Like several albums that have found their way to the Pulse office, Love & Life began as a crowdfunding project, and, in this case, Ted Drozdowski's Scissormen went on to raise almost $14,000 earlier this year on Indiegogo. About five months later, Drozdowski's Scissormen fulfilled their promise to contributors with a dynamic, roughly hour-long release.
Drozdowski and company often frequent Murfreesboro venues, so get a head start on your 2016 concert calendar by marking their dates at Mayday Brewery, set for Feb. 6 and April 2. Love & Life is available on iTunes and SoundCloud. Check scissormen.com for an updated tour schedule and more.