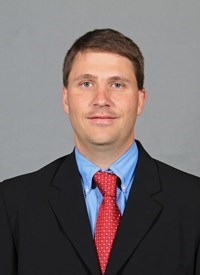 Following a week in which the Blue Raiders lost both their wide receivers coach and offensive line coach, Rick Stockstill will have another position to fill this off-season. Buster Faulkner has accepted an offer to become the offensive coordinator at Arkansas State.
Faulkner joined the MTSU coaching staff in 2011 as the quarterbacks coach where he began developing Logan Kilgore in his sophomore season. Kilgore became arguably the best quarterback in MTSU history, finishing his career in the top three in the program in every major passing statistic.
Faulkner became the offensive coordinator at MTSU in 2012. His inaugural season was the only in which the Blue Raiders offense did not breach the 5,000-yard mark. He coached MT to the 30th-ranked offense in 2015, and a passing game which ranked 15th best in the nation. He is largely responsible for the development of the arm behind that passing game, C-USA Freshman of the Year Brent Stockstill.
"I just want to thank coach Faulkner for everything he did for this program and me personally. He is one of the best coaches, and one of the best men I have ever been around," the MTSU quarterback said. "He helped mold me into the person and player I am today, and I'm extremely thankful for my time spent with him. I have been around this profession for a long time now and I know this is just part of the business. I hate to see him go, but I wish him the best of luck and I know he will be successful wherever he is. With that said, our guys are excited to come back to work and we will continue to take this program to the next level."