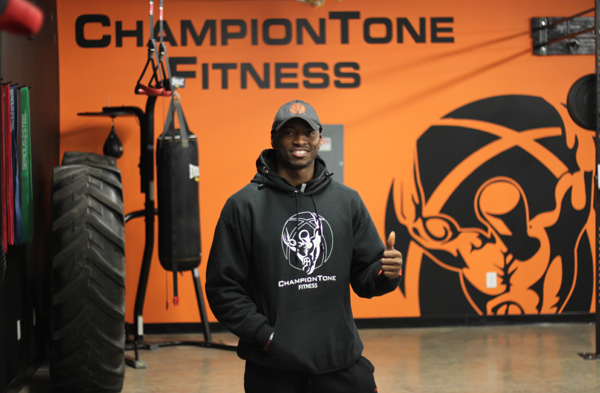 Murfreesboro personal trainer Kelman Edwards Jr. opened his own training facility in late 2015; that milestone is not the beginning of his fitness training career, and certainly not the end of it, but it is the realization of a huge dream.
Edwards, who studied biology and chemistry at MTSU, has long had a passion for helping others achieve their fitness goals.
He began his personal training career in the fitness center at The Pointe at Raiders Campus apartments—even though he did not even live at the apartment complex.
"The GM there was very supportive and now is extremely proud," Edwards said. Looking back, he realizes that it was a risk for the apartment manager to allow him to use their facility, he said, and he appreciates her having the faith in him to allow him to do so.
But over time, Edwards has grown his client base and his entrepreneurial confidence to the point where he has rented his own facility, located on Park Avenue in Murfreesboro,
"Championtone Fitness was built on the idea of individuals unlocking the champion within," Edwards said. "As a trainer, I have the opportunity to listen to potential clients who need to make personal changes but lack the willpower to believe they can do it. It brings me joy to see significant changes both mentally and physically in as little as two weeks!"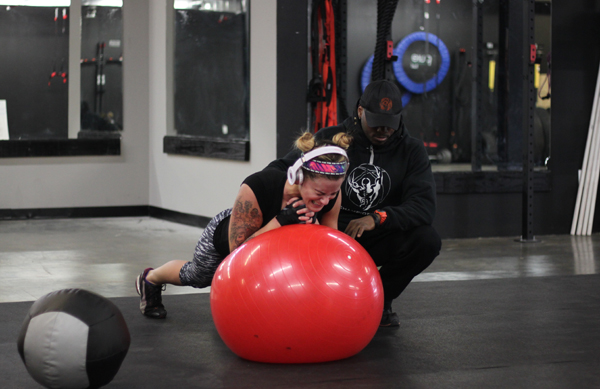 While pushing one of his clients to her limit, the Championtone owner/operator said he didn't want any exercise to be too easy.
"Instead of doing a regular bench press, we add a bicycle pedal with it," Edwards said.
Across the room, another client wears a mask to simulate high altitude while shaking battle ropes.
"That mask makes the exercises twice as hard," the training client, pastor Amos Howard of Living Truth Christian Center in Smyrna, said after the workout.
He calls the decision to train at Championtone "one of the best decisions I've ever made," but, in a word, describes it as "intense."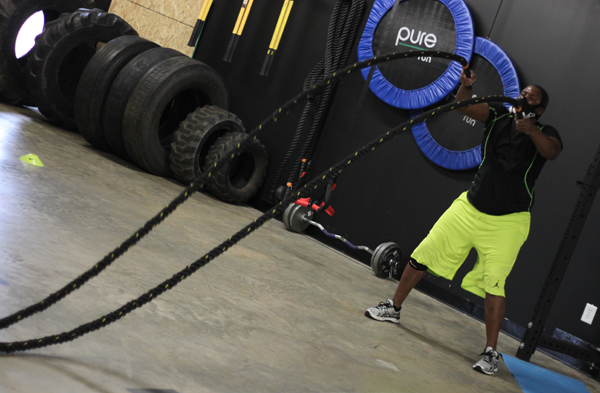 "Now I'm addicted to it," Howard said. "I think more clear, it helps me hear from God, it's a big stress reliever . . .
"Kelman pushes you above your personal limit," he continued. "He's the ultimate trainer; he mixes fitness with health, eating right, getting the proper amount of rest."
Howard's church now hosts a weekly "Sweating in the Spirit," a Bible study followed by a group workout session, a project partially inspired by the Championtone team.
"It's really helped some kids and families fighting obesity," Howard said of Sweating in the Spirit.
Edwards later said that he knows everyone goes through their struggles but that Championtone is there to help people dig deep and find strength to improve.
"My inner champion has always been a great motivator for me. There have been quite a few times when I did not think my business would survive. I was on the verge of losing everything I have worked so hard for," Edwards stated. "My inner champ was the motivator that pushed me not to give up, and remain steadfast."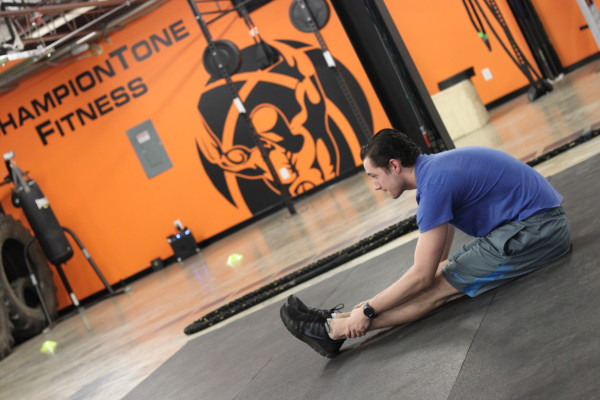 He advises his clients to first identify their own goals, then to systematically plan out the steps needed to achieve them.
"So instead of discouraging yourself from your final goal, you can now set smaller goals that are more attainable," Edwards said.
A couple of ladies walk into the Championtone facility, and Edwards welcomes them as he begins to ask about their lifestyles, diets and fitness goals, going on to explain his participation in, and results from, a raw food challenge.
Championtone serves a wide variety of demographics, Edwards then told the Murfreesboro Pulse; "all fitness levels are welcome."
And when asked what his advice is for someone starting a small business, he replied, "Make sure they are doing it for the right reasons. Money should not be the main focus."
For more information on Championtone Fitness and how Edwards can help you achieve your personal fitness goals, visit facebook.com/championtonefitness or contact him at (615) 473-1952 or championtonefitness@gmail.com.