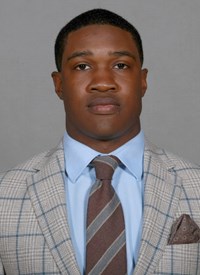 It has been a week of change for the Middle Tennessee football coaching staff. After a 2015 season in which the Blue Raiders featured the most prolific offensive output in MT history, two coaches on that side of the ball will be coaching elsewhere in 2016.
Thayer Evans of Sports Illustrated reported Jan. 4 that MT wide receivers coach Kodi Burns was expected to accept a position with Arizona State as the running backs coach. Burns' Twitter account confirms the reports. Though Burns posted no statement on the matter, his profile now has a photo of Sun Devil Stadium as the header and his bio now reads "Arizona State running backs coach #striveforgreatness." He fills a position left vacant after the ASU interim running backs coach was moved to coach the tight ends.
2015 was Burns' only season in Murfreesboro, and his first as a position coach in the FBS ranks. Prior to his brief stint on the Blue Raiders staff, Burns was the running backs coach at Samford in 2014 in which he coached the Bulldogs starting running back Denzell Williams to SoCon first team all-conference honors. Burns cut his teeth in the coaching ranks under his former offensive coordinator and quarterbacks coach Gus Malzahn. Malzahn took Burns under his wing as a graduate assistant in his lone season as head coach of Arkansas State, and brought him along in the same capacity when he accepted the head coaching job at Auburn in 2013.
Prior to coaching, Burns played quarterback at Auburn from 2007–09, but was moved to wide receiver as a senior in 2010. Burns scored the first touchdown of the 2010 National Championship game on a 35-yard reception from Cam Newton.
For MTSU, Burns oversaw a receivers unit that produced two 1,000-yard receivers (Ed Batties and Richie James) for the first time in school history. James, who re-wrote the school's single-season record book for receivers, grew close to him over the season.
"I'm proud of Coach Burns and he deserves it. He's a great coach and even better person. I'll always keep in touch with him. Hopefully he'll be coaching on Sunday in the next few years," James said.
Just one day later, offensive line coach Geep Wade accepted an offer at East Carolina University to lead their front five.
"It's just part of the business. I learned that when Jimmy Ray (Stephens) left," stated lineman Darius Johnson, who played under Wade for three seasons. Stephens resigned from MT after Johnson's redshirt season.
Wade came to MTSU in 2013 after Glen Elarbee departed for the University of Houston. In his three seasons in Murfreesboro, the Blue Raiders offense has produced over 5,000 yards each year. In 2014 the Blue Raiders ranked 30th in the nation in rushing, and allowed only 17 sacks in 516 dropbacks in 2015.
In 2013, Wade aided in the development of current Green Bay Packer guard Josh Walker. Since then, he has overseen the development of multiple all-conference honorees such as Isaiah Anderson, Jaylen Hunter, Maurqice Shakir, Chandler Brewer and Darius Johnson.
According to head coach Rick Stockstill, both positions are still vacant, despite differing reports from a media outlet not close to the program.
"I still have to go through the hiring process," Stockstill said on Jan. 6.