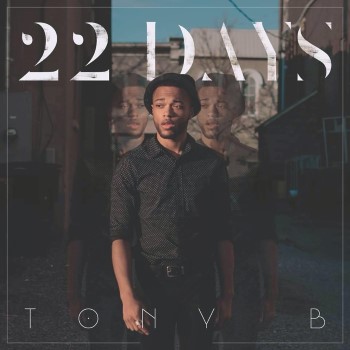 MTSU student Tony B has one of the larger digital imprints of any Murfreesboro artist. This comes largely in part to his YouTube channel, which has amassed more than 415,000 views and 5,000 subscribers. His most popular video, a cover of Adele's recent smash, "Hello," has been watched almost 300,000 times between YouTube and Facebook. Other covers of artists including Justin Bieber, Sam Smith, Katy Perry and Bruno Mars are racking up big numbers, as well. But he releases more than just covers, as is evident with EP Highways and his latest project, 22 Days.
Its seven tracks stick to a consistent modern R&B sound, with Tony's voice—soulful, with an attractively subdued delivery—the obvious focal point of the release. Think John Legend with a vibe similar to The Weeknd or Frank Ocean. His voice is phenomenal, but it's not in your face. This paired with the atmospheric sonics and simple production contributes to the darker tone.
The standout of 22 Days is the lead single, "24." It has the most memorable melodies of the project throughout and a love-tinged chorus of You know you were a natural, and I won't forget it / I wish I had you in my arms. Another highlight arrives with "Know Yourself" (not to be confused with the recent Drake song of the same name). It shakes up the sonic feel of the album by adding electric guitar into the mix, which helps accent the simple chorus. Another sonic standout comes on "Only One for Now," an upbeat, danceable number that features funky bass grooves and other instrumentation.
While the subdued nature of 22 Days is a primary factor behind its appeal, it also limits it to a degree. The voice is there, the lyrics are there, the production is there, but the disc's low-key feel keeps some of the tracks from jumping out and sticking with you. The memorable production on "Know Yourself" and "Only One for Now" helps those tracks out, but without the strong, prominent melodies like the one on "24," it may take several listens for songs to truly resonate.
For music and more information on Tony B, visit reverbnation.com/tonybonline or facebook.com/tonybonline.