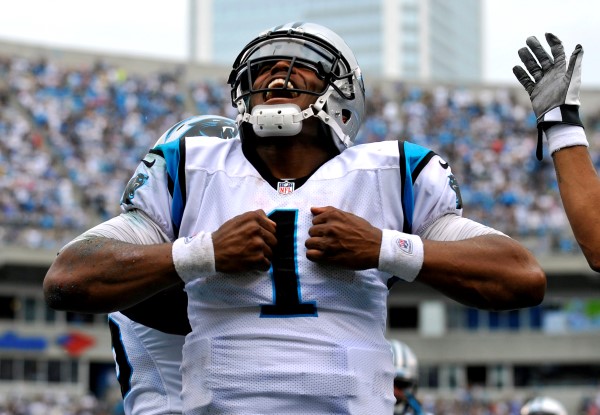 The Train Daddy is back and it's time to get super-freaky. All aboard! Super Bowl 50 is upon us, and she is beautifully golden. That's right— Super Bowl 50 is female and, like Rick James said, the girl's a super freak. A 50-year anniversary is known as the golden anniversary, the Super Bowl is being held in the Golden State of California and all is taking place in the San Francisco 49ers' stadium, a team named after the gold rush of the 1800s. It's golden, baby!
I am pumped up for this Super Bowl, and thrilled that Tom Brady and the cheating Patriots were knocked out. Thank you, Denver. Everything is golden abut the game besides having to listen to the untalented Phil Simms analyze the game. Jim Nantz doing the play by play is fine with me, but Phil Simms is horrible.
The old geezer Peyton Manning has a chance to go out like his current boss, John Elway, old and on top. I am rooting for Manning. What a storyline—John Elway and Peyton Manning, so much history between the two and both with the same goal for the Denver Broncos: a victory! Does Manning have enough juju left to get a victory over"Superman" Cam Newton and the Panthers?
Manning vs. Newton, old vs. new, The Gunslinger vs. Superman, it's a battle, and only one can survive. Cam Newton has looked and played like the league MVP that many believe him to be as he lives up to his "Superman" nickname. Cam Newton is tall as a giraffe, he is fast, he can throw a bomb and he is definitely unique; he is also a nightmare for defensive coordinators. Let's be honest, Peyton has not played like Manning this season. It's been very strange watching him struggle.
So how did the Broncos knock off the Steelers and Patriots with a struggling Manning? Defense, ladies and gents, defense! The Broncos defense has been uptown-funking people up! This is a defense that can help an under-performing Manning win Super Bowl 50.
So how did the Panthers knock off the Seahawks and destroy the Cardinals? Well, Cam Newton and the No. 1 overall offense in the league is the answer. Add in the fact that the Panthers' defense is nearly as dominant as their offense, and the Panthers are a more complete team then the Broncos. This will be a heavyweight matchup to watch, folks!
So I am making a prediction, and I understand the issue of the Pulse with this column will be out for all to see well after the game is played, so if I am wrong, look to the nearest person in your vicinity and say, "The Train Daddy don't know shiz-nit!" I pick the Broncos over the Panthers 27–24; hey, it's my prediction and I have faith (and faith is defined as unquestioning belief that does not require proof or evidence). So let's put the beef in the taco, and smash this enchilada!
Thirteen years and 48 days—that's the difference in age between Manning (39) and Newton (26). It is the largest quarterback age differential in Super Bowl history. Manning, a guaranteed hall-of-famer, is taking on a kid they call Superman, a kid who hasn't even come close to his full potential yet.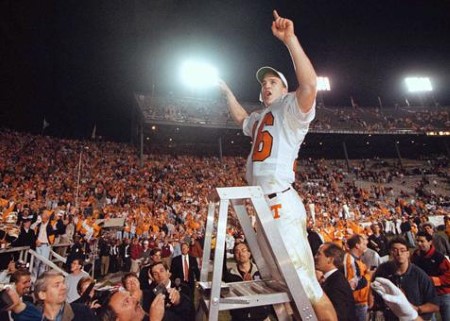 This will also be the first time in Super Bowl history that both quarterbacks were former No. 1 overall picks (both out of the SEC). Manning is the only quarterback to take multiple teams to the Super Bowl multiple times—two times with the Colts and two with the Broncos. Cam Newton can become the first quarterback to win the Heisman, an NCAA National Title, the MVP and a Super Bowl. Stating all of Peyton's accomplishments here would be a tedious task, being such a long list, but here are a few important ones: Manning holds the record for all-time passing yards (71,940) and all-time passing touchdowns (539). The 14-time Pro-Bowler Manning, with one more victory, can also surpass Brett Favre as the all-time victorious quarterback in NFL history. Why so much Peyton talk and so little Cam talk, Train Daddy? Come on, folks, Peyton is a Rocky Top hero of mine, and he is wrapping up his legendary career. Cam has plenty of future left, he is young and healthy. So let's go, Rocky Top, let's go, Peyton, let's go, Broncos and destroy them Panthers!
Super Sunday means massive amounts of food, and we Americans (or, as other countries would call us, Fat Yanks) sure know how to grub on game day. Super Bowl Sunday is the second-largest food consumption day of the year, topped only by Thanksgiving. The average American will eat too much, drink too much and suffer the Monday morning consequences. Imagine this: Every second, 750,000 gallons of water flow over Niagara Falls. Americans drink 325 million gallons of beer on Super Sunday, which would amount to over 7 minutes of a beer waterfall flowing over Niagara Falls. That's right, we Americans are nuts, also eating over 2.5 million pounds of nuts.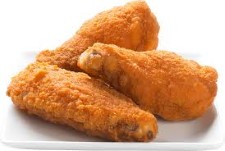 The big daddy is chicken wings! That's right, we Americans eat 1.25 billion chicken wings on Super Sunday, I said billion, folks. That crazy socialist Bernie Sanders hates billionaires, and I am sure he would be sick to know we eat a billion wings without equally sharing out the chicken. That's enough chicken wings for every American to have about three wings apiece, Sanders should campaign on this slogan: "If I am elected president, free healthcare, free college, and three free buffalo wings on Super Sunday!" That might rev his base up, I don't know. I do know free chicken could be very powerful. I love chicken! Add in four million pounds of pretzels, enough popcorn to fill up 13 million theater buckets and about 12 million pounds of chips. This is why America is the greatest country in the world—we throw down, we love food and we love football.
Not only do Americans eat a lot, well, we also gamble a lot. You can gamble on all aspects of the game from the outcome to the color of the Gatorade that will splash the winning coach. You can bet on the result of the coin toss or how long the national anthem will be sung. According to projections, an estimated 200 million people worldwide will gamble on the Super Bowl, wagering over $10 billion. With all that attention and interest, it's a given that the commercials will get bigger and better every year. Super Bowl commercials have continually risen in price, costing $5 million for a 30-second ad. Last year's Super Bowl topped the list of all-time USA-viewed television events with 114.4 million viewers. The list of Top 10 viewed events are all Super Bowls except for one; standing at No. 7 is the finale of M*A*S*H*.
The Super Bowl is without a doubt the most watched and anticipated event in America. Very few events even compare in America. Unless you compare the Super Bowl to walking on the moon, that is. It's estimated that in 1969, 530 million people watched the live global broadcast of the first moon walk. I don't reckon that qualifies as a sport.
On the global stage, soccer and cricket dominate. It is reported that about 1 billion people watched the 2015 Cricket World Cup—crazy numbers! FIFA states that a cumulative global audience of around 715 million people watches the World Cup. The Olympics though, are said to hold the official world record for largest global viewership, with between 4 and 5 billion people, or around 70% of the world's population, watching some part of the coverage. All those stats are quite interesting, but as I said in the world of American sports, the NFL reigns as king. The World Series and baseball in general is a joke, I don't try to hide my dislike for America's once-favorite pastime, slow and boring. I truly have as much love for college football as I do the pros, but the numbers speak truth. Alabama vs. Clemson's National Championship match drew in roughly 25 million viewers, a quarter of the Super Bowl's audience. I love college basketball, I love the NHL, I love great fights—both boxing and UFC—I love sports in general, but football has my heart. Once in a while Americans get a fight as big as Mayweather vs. Pacquiao, but great fights are rare, and that fight was a record-breaking disappointment. Americans love heavyweight fights, but there have been no superstars for over a decade and we're hungry for some talent and competition in the heavyweight division. The NBA only entices me during the playoffs. College basketball just feels so much more pure. The NCAA tournament is one of the greatest sporting events in sports; the NBA playoffs are too long and drawn out. Anybody has a shot in the NCAA. The NBA should save us two months of our lives and just crown the team with the best regular season record, since they typically win the NBA title.
Let's wrap this wiener up (always a good idea, gentleman). The big wiener is getting a makeover—that's right! The famous Oscar Meyer Weinermobile has a new look. Oscar Meyer is giving us Americans a chance to attend the Super Bowl in a giant Wienie-Bago. It comes equipped with a living room, sleeping quarters, TV and Wi-Fi. All you have to do is spend a lot of money—the highest bidder wins. You and your friends could ride to San Francisco, home of the happy rainbow dancers, in a giant wiener. You will be the envy of all San Francisco residents.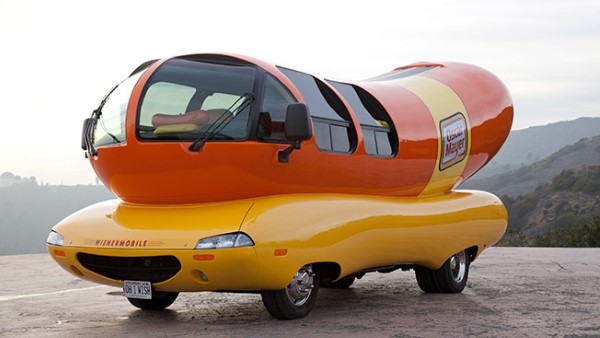 So, the wiener of the Super Bowl—oops, I mean winner—gets more than just the Lombardi Trophy, they also get an 18-karat gold-plated "50" statue, each digit weighing 33 pounds.
Coldplay, Beyoncé and Bruno Mars are the halftime entertainment this year. Nearly 1.5 million people call in sick to work Monday morning after the Super game. The plumbing industry and antacid companies make big bucks after the game, taking advantage of our overindulgences.
The first Super Bowl was in 1967, and the Packers won it. The 49ers hold the record for most points scored (55) in the big game. Kurt Warner holds the passing yardage record in the Super Bowl with 414 against my Titans. The Steelers have the most Super Bowl wins with six; the Broncos have lost the most Super Bowls with five losses, maybe six now if my prediction was wrong. There are only four teams that have never been to a Super Bowl: the Browns, Lions, Jaguars and Texans. That's it, enough rambling. I hope you enjoy, or enjoyed, the game. I hope Cam didn't completely shred the Broncos. If my Broncos prediction was wrong, well, Peyton, congrats on a massive career, and get ready for Cam to have many more spectacular seasons. Train's in the station. Choo-choo!