Anthrax, one of the "big four" of 1980s heavy metal, teamed up with Lamb of God, quite possibly the most successful metal act of the 21st century, for a sold-out evening of headbanging and horns in the air at Marathon Music Works in January.
Lamb of God will be returning to Middle Tennessee in June for Bonnaroo—the annual festival, with its wide diversity of music from jam bands to electronic to classic rock to the bizarre, always has a metal band or two, and this year, Lamb of God will be on the farm.
But the Jan. 20 show at Nashville's Marathon was all about metal, with acts Deafheaven and Power Trip also on the bill.
The crowd did not create the biggest circle pit in the history of metal that evening—there's something about Nashville that prompts a more reserved style of appreciation—but the house was packed with those ready for a four-hour aural assault.
Joey Belladonna, who was with Anthrax from 1982–1994, is back with the band as lead vocalist. The man with the classic 1980s metal tenor performed with a youthful enthusiasm, running across the stage and interacting with fans, and seemed genuinely pleased to be performing in a rock club, even as he proclaimed himself through song to be "Antisocial!"
Look for a new release from Belladonna, Scott Ian and the Anthrax boys, titled For All Kings, to come out Feb. 26.
Lamb of God closed the night, and Randy Blythe did not waste too much time before he was in the crowd surfing around, while delivering his intense growl.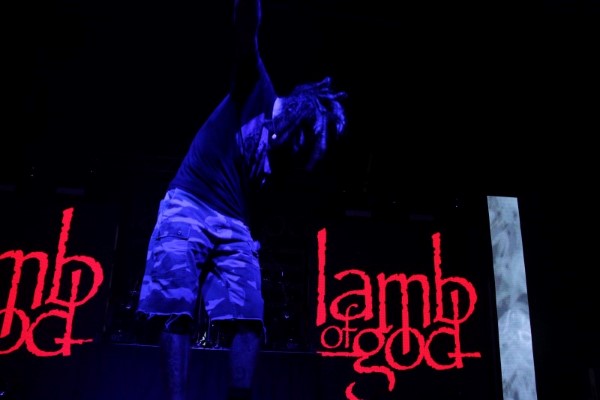 The entire show found Blythe back and forth, up and down across the stage, a force of energetic rage, as the other Lamb of God members delivered their intricate, blasting metal sounds with precision.
The band released its fifth album on the Epic label (and its seventh full-length overall), VII: Sturm und Drang, in 2015. Blythe also recently released a book, Dark Days: A Memoir, dealing with his imprisonment in the Czech Republic following a fan's death after sustaining injuries at a Lamb of God concert. He was eventually acquitted of the manslaughter charge, and Lamb of God continues to grow its worldwide fan base.
Find more on the bands at anthrax.com, lamb-of-god.com, deafheaven.com and powertriptx.bandcamp.com; find more information on shows coming to Marathon Music Works at marathonmusicworks.com.