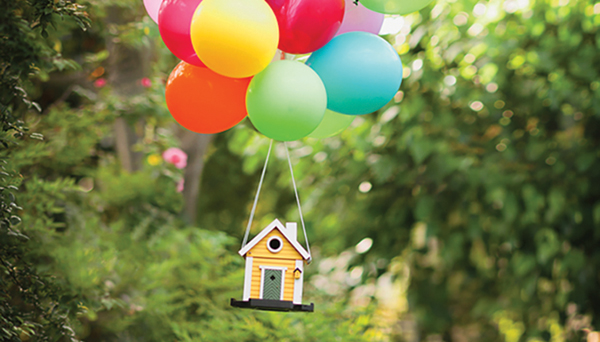 The Garden Show and Party, a yard and garden show being held in Murfreesboro on March 18 and 19, will come around just in time to greet spring and Easter. During both days, from 10 a.m.–4 p.m. you can enjoy displays, art, vendor booths and speakers that aim to enhance outdoor living and beautiful yards and gardens. The Friday night event is a family-friendly party, featuring music and other entertainment. Throughout the event, vendors, floral arrangers and visual artists will be showcasing their products and talents that assist in "living life beautifully."
Garden classes are included with ticketed admission and are limited to the first 40 people for each session on a first-come basis. The schedule of speakers includes:
Simple Herbal Home Remedies
Friday, March 18, 10:30–noon
Aysha Harward of Terra Nektar Farms in Readyville will discuss the history of herbal remedies and using herbs known for flu prevention, and then get into some remedies that are easy to make in the kitchen and that provide relief for a variety of issues from a simple cough to the flu virus. She will demonstrate how to make a herbal tea with herbs that have been known to ease the nerves and provide antiviral protection. She will demonstrate how to make two syrups: herbal cough syrup and one known for known for its antiviral protection. Free samples will be available to attendees along with recipes for the items made in class. If time permits, a wonderful herb that probably grows in everyone's backyard here in Tennessee and is known for its effect on bite and sting relief will be sampled and discussed.
Using Essential Oils to Maintain Health
Friday, March 18, 12:30–1:30 p.m.
Beth Holder will discuss using essential oils derived from plants to maintain our health. Peppermint, lavender and several other oils will be discussed. Beth is a distributor for Young Living essential oils. She will also have a booth at the show.
Square Foot Gardening
Friday, March 18, 2–3 p.m.
Gardening expert Richard Lee will give an intensive presentation on planning and executing square-foot gardening. This technique allows multiple crops in a small area. It promotes rotating crops several times throughout a season to receive the highest yield per foot.
Sustainable Gardening
Friday, March 18, 7:15–8 p.m.
Master Gardener Reggie Reeves will give a great introduction to organic-based sustainable gardening. Approaching gardening as part of our ecosystem, Reggie will touch on basic principles including: improving soil health, water harvesting, reusing waste as a basis to composting, the use of raised beds, fertilization and pest control, and the choice of plants grown.
Sustainable Living: Aquaponics and Using a Rocket Stove Mass Heater

Friday, March 18, 8:30–10 p.m.
Aquaponics is a system of aquaculture in which the waste produced by farmed fish or other aquatic animals supplies nutrients for plants grown hydroponically. The plants, in turn, purify the water. Andrew Cleaves from MidTN Hydroponics and Gardening will present the hows and whys of a good system design that maintains healthy fish along with a healthy and accurate feeding program for high quality and productive grows. Rocket Stoves Mass Heaters, a source of heat in outbuildings, will also be introduced.
Garden, Grow Food, Naturally
Sat., March 19, 10:30 a.m.–noon
Known for his knowledge of organics, Mark Murphy encourages everyone to garden, to grow food, and to do so in a natural style that supports healthy and enjoyable gardening. This talk focuses on philosophies and techniques ideal for home and hobby gardeners, including the core differences between conventional and organic gardening. The review discusses some of the influential people of the organic movement. Of particular interest to new gardeners or to those looking to simplify their approach, Mark will provide an overview of his minimalist organic style; abundant gardening with basic tools and minimal inputs or controls. This session will be a great resource for gardeners who want to build healthy soil, garden in a pleasant manner and share great food with family and friends.
Great Gardens – Fantastic Plants
Sat., March 19, 1–2 p.m.
Award-winning landscape architect Todd Breyer from Nashville is presenting the steps of designing and creating a garden design. This talk includes showcasing plants that are wonderful and easy to grow but are lesser known. Todd has worked in San Francisco and studied at the University of Georgia and in Tuscany, Italy. He received several blue ribbons from the 2016 Antique and Garden Show and is one of the organizers of the Lawn and Garden Show at the Nashville Fairgrounds, where his entry garden greets visitors every year. He is also an active member in several other groups including the Herb Society of Nashville and the Horticultural Association of Tennessee.
Milkweeds and How to Grow Them

Sat., March 19, 3–4 p.m.
Attracting monarchs and other pollinators to your garden is part of the garden's success. Linell, from Monarch Meadow, will discuss how we can assist in the annual migration of monarchs. Tennessee is a stop on their migratory path, during which a generation emerges and needs food sources. Monarch caterpillars only eat milkweed. This discussion will include an overview of the annual cycle, milkweed varieties, and optimal growing conditions.
The Garden Party will be held at the Lane Agri-Park Community Center at 315 John R. Rice Blvd. in Murfreesboro. The location is easily accessible from Interstate 24, either exit 76 or 78A; the Community Center building is the last building in the Agri-Park.
For the daytime events, tickets are $6. The Garden Party on Friday night is a $8 adult ticket. Children 13 and under will be admitted free with a paying adult ticket. There is an on-your-honor seed swap (bring some, take some).
The Garden Party is hosted by Dogbones Network, a company that discovers treasures to help live life beautifully. For more information on the Boro Garden Party, visit facebook.com/borogardenparty or borogardenparty.com, call (615) 715-0003 or email borogardenparty@gmail.com.