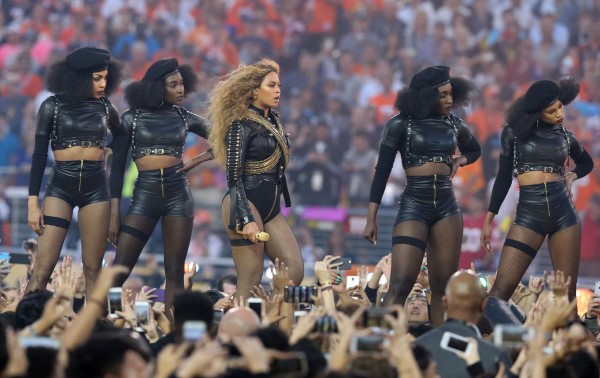 There will be no more football for a time—so sad, we have to wait until the end of summer for kickoff again—but it's worth the wait. Super Bowl 50 is a wrap: the Broncos and Peyton smashed the Panthers and Cam Newton. Peyton won the game and talked about how he was going to drink a bunch of Budweiser and eat Papa John's. Cam lost the game and pouted. Buck up, Cam. You're still one of the best, if not the best, signal callers in the game. It will be OK!
Let me vent this out—the Super Bowl halftime show was a joke, a disgusting display. This great country deserves better than this race-hustling crap. Beyoncé should be ashamed of herself. She made it political. She had the audacity to dress in militant Black Panther motif while dancing to her new song, "Formation."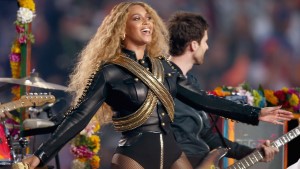 Malcolm X was even shown some love, that's right, the man who believed in racial segregation, black supremacy and the vilification of white people. It appears liberals hijacked the show, to help further divide this country. Sorry if you disagree, but this performance only increases racial tension within the U.S. instead of helping. Martin Luther King Jr. knew how to spread hope and love, not this hateful rhetoric Beyoncé is spreading. Many people will disagree with me, but many more agree. But nearly all would agree that a message of hope and love would be much more effective than this angry black-vs.-white scenario Beyoncé decided to perform. I hate seeing the country divided because of stuff like this.
OK, so enough of that. What shall we discuss this issue? Sex allegations against the University of Tennessee, oh my!" Ronda Rousey and Manny Pacquiao are making news. Steph Curry is serving the sauce; move over, LeBron! And Erin Andrews is suing Nashville Marriott for $75 million. Being secretly taped nude is like hitting the jackpot—someone tape me!
So we all know MMA fighter Ronda Rousey, a woman who was utterly unstoppable. She never lost a match and she dominated every opponent, typically within seconds. Ronda was also on the cover of magazines showing off her beautiful body and co-starred in movies— she was on cloud nine, folks. Then, boom, she tasted defeat and she didn't like the taste. Recently on the Ellen show Ronda opened up and stated she had contemplated suicide after her first loss. Some critics called her a crybaby who was finally realizing she wasn't perfect. They claimed that perhaps it would humble her. She was known for showing no respect for opponents before and after she knocked them out, that's a fact! But talk of suicide is no joke for Ronda, whose father and grandfather both took their lives. She admits mental illness is a huge issue inside her family circle. It appears she is doing better after opening up. Let's hope so and hope she gets back in the ring. I want to see a comeback, and Ronda, you do have a single loss, don't twist it. Ronda said she still feels undefeated. . . . Whatever makes you feel good, Ronda.
Another megafighter made news recently, and it was bad news for him. Manny Pacquiao compared gay couples to being worse than animals, and while that comment may be acceptable in the Philippines, here in America that kind of statement will get you into trouble. Nike cut ties with Pac-Man and said "adios, amigo." Ronda Rousey even commented on it, stating, "There was no 'thou shall not be gay,' God never said that." I didn't know Ronda was a theologian.
The University of Tennessee is under fire and it is very serious. The ramifications are huge for the future of this beautiful campus and Butch Jones' career. The Southern culture the folks of Knoxville embrace may also be under attack. So what's up, Train Daddy, why is this?
Well, someone screamed rape—actually, a bunch of people screamed rape over a period of time. This has led to a federal lawsuit that claims the University created a hostile sexual environment and did not correctly handle allegations of sexual assault. These unproven allegations all mainly deal with the football team. On one side, you have Tennessee administrators, the coaches and nearly every current player defending the program and the culture that's under fire. Then on the other side you have plaintiffs painting an entirely different picture, one that would be devastating for the campus of UT.
I am not going to get into the specifics of every incident that has led up to this, but let me break it down a bit. There are women who say they were raped by football players while the football players say not true, all lies. One incident involves former wide receiver Drae Bowles, who states he drove a friend home who said she had just been raped by two of his teammates; both of those players have pleaded not guilty and currently face criminal charges. Drae Bowles states he was later assaulted by another player for defending the woman. After this incident, says Drae, he contacted Tennessee head coach Butch Jones and told him about the incidents and, according to the UT player, Butch told him he "betrayed the team."
Rape is obviously very serious and a crime that deserves extremely harsh consequences. Rape can come down to a "he says/she says" argument and the outcome is always negative for both the guilty and the innocent. Women who are raped deserve justice, as do men who are falsely accused. It's very hard for me to trust the words of college students who are drinking and partying with athletes. There were probably bad decisions made that night. Rape has serious consequences, so falsely accusing someone of rape should also have serious consequences. I don't know what has been going on at UT for the past couple years; I just hope the truth comes out and the innocent party isn't too damaged after it's all settled.
Butch Jones defended his integrity, stating, "I will fight all of these false attacks on my character, and I know that once this process has been completed my reputation will be affirmed." Athletics director Dave Hart also stated, "I trust in Butch Jones implicitly." Butch passionately stated he never attempted to belittle or demean anyone attempting to help another, and that he has done nothing wrong.
Tennessee has to prove its case in court; just settling won't be enough. Sure, you could probably pay the plaintiffs off to go away and it might eventually bring closure, but not the sort of closure the University would want. In the court of public opinion, settling would be a form of admitting guilt to these charges.
I hope and pray this isn't true, and that Tennessee can prove the case against them. If it is true, then it's a deserved black eye for the University and the football program. I bleed orange, I hope it is all lies, and I hope the truth will be revealed.
New subject: Erin Andrews! OK, I understand nasty women like the Kardashians, Paris Hilton or Pamela Anderson are releasing sex tapes (even Screech from Saved by the Bell released one). Disgusting! I guess they all did it for attention or the hope of rising in popularity.
But when someone as classy and dignified as ESPN's Erin Andrews has some peeping tom secretly tape her in the nude and release it, it's a different story. Andrews was shocked to learn that in 2008 a man walked up to the counter at the Nashville Marriott Hotel, asked what room Erin was staying in, then demanded a room next to hers, and crazy as it sounds, they consented. One year later a nude video of Andrews surfaced on the Internet.
While at the time she had no idea this was happening, she was videotaped through a peephole by this voyeur. She was in the nude and alone getting ready for a Vanderbilt game. The man behind the video was sentenced to prison for 30 months. Yikes!
Currently there is a trial going on—after all these years, Andrews is suing the Nashville Marriott for $75 million. She stated this incident dramatically changed her, and for months tabloids and media outlets accused her of purposely letting this tape get out. It was nearly three months after the release of the video that they finally arrested the individual responsible and Andrews was cleared. Nearly 17 million people have viewed the video, and the number is rising rapidly as the court case is a hot topic in the news world.
Some women purposely put out trashy sex tapes and nude photos for the entire world to view; that's their choice. Andrews, though, had no say. She was wronged by this man and the hotel and she deserves justice.
Move over, LeBron, there is a new star in the NBA, and this star is serving opponents the sauce. Curry, anybody? Steph Curry dishes out the cuisine, and it tastes spicy! This small 6′ 3″ point guard is quickly transforming the game of basketball. Curry is a 3-point monster—he has made a 3-pointer in his past 129 games and counting, and holds the records for most 3-pointers made in a season as well as in a game.
He is already a lock for his second-straight MVP award. Curry can find spaces anywhere, making it impossible for defenders to guard him. Right now he is on pace to finish the season with 407 3-point shots. Oh, yeah, he is also leading the Golden State Warriors to the history books. They are on track to finish with the best regular season record of all time, smashing the '95 Bulls record. It's rumored that Nike missed out on a deal with Curry because they wouldn't consent to letting the religious superstar have a Bible verse on his signature sneaker; your loss now, Nike. Under Armour signed the superstar and allowed the tongue of the shoes to read "4:13," a reference to Philippians 4:13, which states "I can do all things through Christ who strengthens me." My respect to Under Armour! Nike should be ashamed. They're called signature shoes for a reason.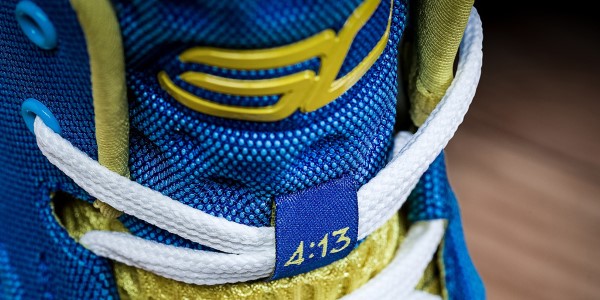 That's it, ladies and gentleman. Thanks to you all for reading. It's because of you that I do this. It gives me great joy hearing people talk about what I write. Even if you disagree with what I say, thanks for reading. I do stand firm on Beyoncé, though—no more Beyoncé booty dancing for me until she apologizes. I reckon that will be never. I will miss the booty dancing! Train's out the station. Choo-choo!