By the time my college years ended and my career began, I was burning to meet Michael Storey. My mental picture of him grew brighter with each disclosure. Consider it: A homeless man living in Nashville was well known as far away as Murfreesboro, I had to meet him.
I knew only that he had a wrinkled face, specifically the smile lines, that he was not able to see well and was 64 years old. I wondered what kind of person could live outside with a wife who was slowly dying from Amyotrophic Lateral Sclerosis (ALS).
I contacted photographer Scott Walker and told him about my exploration.
"I have met him twice in the same area," he said. After mentioning his location, he said, "Go search!"
In the meantime, I did some more inquiring, and the first thing I revisited was the fact that ALS is a degenerative disease. ALS is a nervous-system disease that weakens muscles and impairs physical functions. This is a rare disease; fewer than 20,000 people in the United States are diagnosed each year. ALS has no known cause or cure and can last for years or be lifelong.
This disease happens to be the same diagnosis that my mom suffered from in a span of 10 years. Given this rare similarity between Michael's past and my own, I was determined to find him.
After 10 long months of unsuccessful attempts to find Michael in downtown Nashville, I put the story on hold.
Then, on Ash Wednesday, I made my way to Madison Church of Christ's Benevolence Center. Here, men from Room in the Inn come to stay sheltered from the elements of the outdoors. When Room in the Inn ceases to take in more homeless people due to limited capacities, a bus takes them to Madison—which is where I was that day.
As 13 men stepped off the bus and made their way into the building, snow began to fall silently onto their caps. I explicitly remember one man with a broken hand who entered the building as well as a larger man in a wheelchair. I wondered . . . what would it be like to live outside in the snow with a disability?
The men calmly gathered around the dinner table as some of the sweet cooks came out to serve them barbecue, potato salad and cornbread. I sat down at the table with them to eat as well.
An elderly man turned around in his seat to see me. He resembled the elderly character Carl Fredricksen from Pixar's animated film Up.
Looking at me over the large glasses sitting on his bulbous nose, the man told me his name, although I didn't ask.
"They call me Blind Mike," he said with a broad smile.
I analyzed his features, knowing I've seen this man somewhere. I didn't know him by name, but I knew Blind Mike. He gestured to his wrinkles.
"Don't call me old," he said. "Call me elder."
I took this preliminary statement as a sign that he would be blunt. Before I had the chance to ask a question, he continued.
"My wife died in my arms," said Blind Mike with tears welling up in his eyes. "It's like she waited on me for her last breath. She had a disease called ALS, you see. Now let me tell you something, we were in Tent City at the time . . ."
"The Tent City featured on Netflix?" I inquired further.
"Well, there's more than one 'Tent City,'" said Blind Mike, "But ours was the original Tent City in Nashville."
This had to be Michael Storey. I was sure of it. I mentioned that I knew him from somewhere and asked for his first and last name. Sure enough, Blind Mike responded with the name Michael Storey.
Michael Storey is known for helping his wife fight the long process of a terrible neurodegenerative disease while living out in the wilderness. Come to find out, Michael had received an apartment for part of the period after her disease was diagnosed and also received help from hospice to fight the extensive battle alongside Rebecca Burcnette. Rebecca Burcnette, the only love of his life.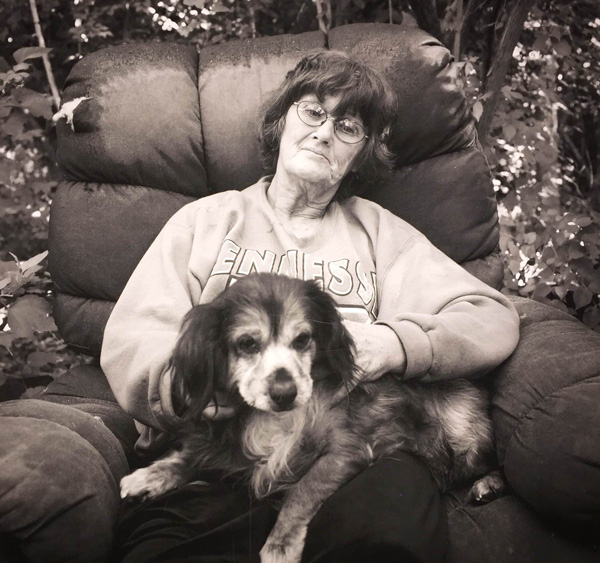 "I've been married multiple times," said Michael. "But she was different. She was it."
Michael brought his previous wife to Nashville on a honeymoon. While the thing that brought him to the great city of Nashville was his honeymoon, what made him stay was the Southern hospitality. Interestingly enough, the ever-growing hospitality industry has proven to be the key to Nashville's continued growth and success.
"I've been around the world," said Michael. "My dad was rich. He helped build the Piggly Wiggly grocery store chain. But I don't want to go around the world no more. I wanna live and die right here."
Even as one of the most loyal Nashville residents, Michael has still yet to experience some of the wonders of Music City. Michael explained to me that one day he was "working away at the river" the first night he met her. The first night he met Rebecca Burcnette.
Michael and Rebecca were watching the General Jackson turn around on the Cumberland River and was, thus, how they fell in love. When asked if it was his dream to board the General Jackson, he responded with a quick negative.
"The dream was when I met her," said Michael.
Ever since then, they were together until death did they part. Apparently even death can't keep Michael away from Rebecca. She passed away at 61 years of age, three years after diagnosis, but Michael still carries her in his heart . . . and his wallet.
"We went 10 years without a fight. No fighting. Just loving. It's so precious," said Michael with tears coming back to the surface of his tear ducts.
He pulled out his wallet and removed his glasses. With one hand wiping his face and the other pulling out a card, he showed me her photo. He carries it everywhere he goes. Showing me her identification, he says "that's all I have left of her, other than the photo at The Room in the Inn."
At The Room in the Inn, Rebecca's photo is featured on the wall. Michael mentioned multiple times that one can find her "around the corner" of the halls. She is still featured on the wall in a La-Z-Boy recliner with her dog, Sheeba. He kisses the photo every time he visits.
"After she passed away," said Michael while holding his Contributor nametag. "I didn't let myself go under all the way. I sell the paper now. I'm so proud of that. Been seven years since she passed away; started selling papers three years ago."
Michael found pride and joy in selling The Contributor. He proceeded to pull a paper out of his backpack.
"Hey, can I give you a paper? I've always wanted to help someone who's been in the same situation I have with ALS. Can I do that for you? I know you'll like it."
The front page of The Contributor issue he handed me featured "Doug the Pug." When I told Michael that I've met that dog at a concert, he was thrilled. Doug the Pug is a famous traveling dog whose owner blogs about his journeys. One of those journeys happened to be the Pentatonix and Kelly Clarkson concert I attended last year.
Upon my exit, Michael requested a hug. When I told him I would see him again soon, he seemed skeptical. Most homeless individuals have adapted to the inconsistency of life. People come and go, and he must've thought I would do the same. We parted ways, until he saw the snow that covered my car.
An inch of snow had gathered on the windows of my green VW Beetle. I didn't have a scraper, so I dusted it off with my hands. Michael saw this from the window of the Benevolence Center door and rushed to the rescue.
"You'll never get out of here with all this covering your windows!" he exclaimed. "Here . . ."
Michael dusted off my back windows as I fixed the windshield. Keeping in mind he can't see well, he did a pretty decent job.
"There," he said with a smile. "Now you can go."
"Hey," I said while he walked back to the shelter. "Why do they call you 'Blind Mike?'"
"I have cataracts," said Michael. "Couldn't see your face this whole time."
Cataracts cloud vision, which makes it hard for Michael to see, but that hasn't stopped him yet. Michael continues to help others through sharing his story . . . Michael's Storey.