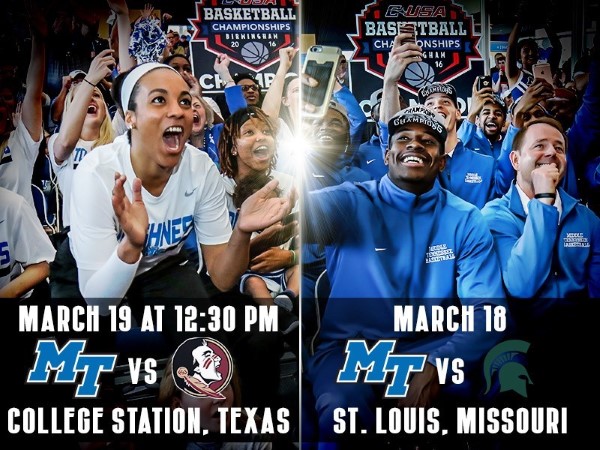 Saturday, March 12, marked one of the greatest days in the history of not only Middle Tennessee State University basketball, but for the sports program as a whole. Both the men's and women's teams claimed the Conference USA tournament title, an achievement that led to Lady Raiders coach Rick Insell referring to Murfreesboro as "the basketball capital of the state of Tennessee."
The men got things started off in a nail-biter of a game. In a back and forth contest that saw six ties and six lead changes, the Blue Raiders found themselves down in the final minute, but tied the game with just seconds remaining. After a big defensive stop, the Blue Raiders were in position to take the lead.
The play call was what any team would do, get the ball to the best player, and junior forward Reggie Upshaw did not disappoint. On an attempt to get to the basket, Upshaw drew a foul to get to the charity stripe with only 2.9 seconds on the clock.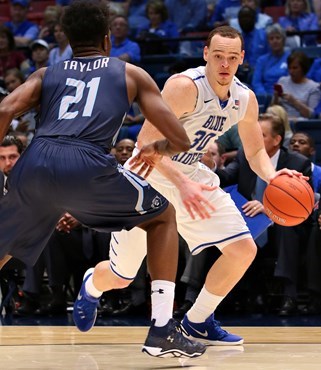 It has been a turbulent year at the free throw line for Upshaw. His accuracy at the line dropped by nearly 15 percent from a year ago, and it has been an issue that seemed mental and not mechanical. All things considered, Blue Raider fans were reasonably tense as the game weighed on Reggie's shoulders, but coach Kermit Davis wasn't.
"In the huddle Coach Davis just said 'When Reggie knocks down these two free throws we'll be in our 13 (defensive set),' so he kind of foreshadowed that I'd make them. That just gave me confidence to make them," Upshaw said.
It was his two free throws that put the Blue Raiders on top and, after a desperation three-quarters court heave by Old Dominion, sealed the victory. Senior forward Perrin Buford and Upshaw were both named to the C-USA All-Tournament team, with Upshaw receiving Most Valuable Player honors.
Reggie sinking two game-winning free throws was a stark contrast from weeks earlier against WKU, a game in which Upshaw missed nine free throws in a six point loss. After that game, Upshaw became indignant toward the press while fielding questions on his free throw shooting. He was much happier to discuss free throws after claiming the CUSA Tournament victory, however.
"It was great just to be in that situation, especially with the free throw problems I have been having, just to be able to knock those two free throws down shows I've put in a lot of work since that WKU game with my free throws," Upshaw stated.
Thanks to Reggie's hard work, players, coaches and fans gathered at the Kennon Sports Hall of Fame on MTSU's campus for a Selection Sunday party. After much anticipation, and a very long wait, the Blue Raiders' seed was the very last one to be announced. However, as Kermit Davis alluded to in an interview on the Darren McFarland and Derrick Mason Show on 102.5 The Game, at least one player knew ahead of time thanks to a online leak of the bracket.
When the announcement was finally made, it was revealed that MTSU, a 15-seed, would travel to St. Louis to play the 2-seed, Michigan State. Since the NCAA Tournament expanded to 64 teams, only four teams have pulled off a 15–2 upset. The Spartans are currently a 16.5-point favorite over the Blue Raiders, and are given the second best odds, 11-to-2, to win the National Championship. However, MTSU senior Perrin Buford's confidence is not shaken.
"I mean, why not us? That's how I go about it. I'm a confident guy and I know my teammates are just as confident. We're going to prepare the best way we can and try to get the job done," said Buford.
The Spartans not only have one of the best freshman big men in the country, forward Deyunta Davis, a projected NBA Draft lottery pick, but they also are led by senior guard Denzel Valentine, a finalist for National Player of the Year.
When asked if MT has seen a player like Valentine, Coach Davis replied, "No, because of his size and his versatility. He's got that kind of size (six feet, six inches at 223 pounds) that dominates the ball at the point guard position, so yeah, he's a special talent."
The Lady Raiders also faced Old Dominion in the C-USA Championship game, but they claimed a dominant victory in a game that was never really in question.
Junior guard Ty Petty, senior guard/forward Brea Edwards and freshman forward Alex Johnson were each named to the C-USA All-Tournament team, with Petty being honored as tournament MVP.
While Petty was earning MVP honors and leading MTSU to a conference tournament title, her high school team, Riverdale, was winning yet another state championship.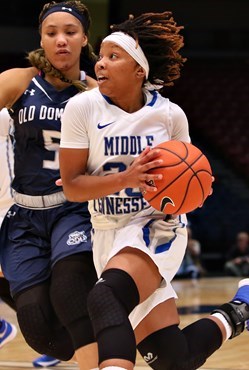 "I actually was keeping up with that. I knew that they had made it into the state championship, but I didn't know, because once the (Riverdale) game was going on that's when I was preparing to go play in the championship game myself, so I didn't know how it turned out. But after we won a lot of people came up to me and told me that Riverdale took the gold, so I was pretty excited . . . I'm not gonna lie, I was really excited!" Petty exclaimed.
Like the Blue Raiders, the Lady Raiders also gathered at Kennon Sports Hall of Fame to see where their efforts had landed them in the tournament. When the announcement was made it was revealed the Lady Raiders were awarded a 12-seed and that they would play 5-seed Florida State.
FSU finished the season ranked 10th in the nation. They boast a team that mixes size (four players six feet or taller who average more than 10 minutes per game), and strong guard play.
"It's nothing new for us to go into a game and we know they're a little taller, little stronger, maybe jump a little better, but, what I'm looking at, we got some Volkswagen bodies out there with Rolls Royce engines," Insell commented on the height disparity.
The Lady Raiders will be performing in a new role from the one they've been playing all season. While the Lady Raiders were favored in almost every conference game this season, they will now play the underdog.
"I love it!" Insell exclaimed, "I love it when people say 'We can't win' and 'We can't achieve' I love that!"
The men will play their first-round game on Friday, March 18, at 1:45 p.m. on CBS; then the women play theirs at 12:30 p.m. on Saturday, March 19, on ESPN 2.