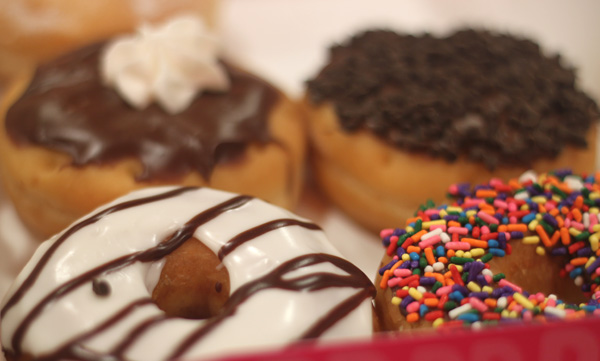 Luckily, for those in Murfreesboro craving a doughnut, no matter what time of day or what part of town, a fresh, hot doughnut is never far away. Whether you want it topped with bacon, filled with cookie dough, baked with blueberries or even sprinkled with Fruity Pebbles or piped with jelly, the pastry shops of Murfreesboro have plenty to offer.
______
DONUT COUNTRY
1311 Memorial Blvd.,
Open 24 hours a day (Closed Saturdays from 3–9 p.m. and Sundays from 2–9 p.m.)
1691 Middle Tennessee Blvd.,
Open 5–11 a.m. daily
For more than three decades, Murfreesboro's Donut Country has been a safe 24-hour sweet treat hangout for MTSU students, visitors to the community and all doughnut lovers in the area.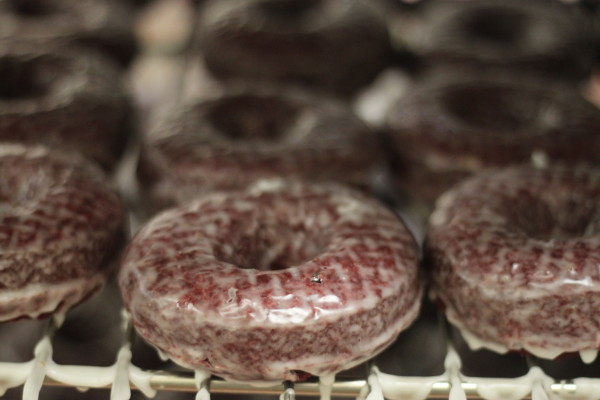 "Donut-making is half science and half art," said Carol Egles; she and her husband, Rick, bought Donut Country more than 28 years ago because they wanted to try their hand at pastry making, and now their daughter, Wendy, co-manages the shop.
To create the next day's delicious glazed donuts, twists, and apple fritters, the Donut Country crew works through the night.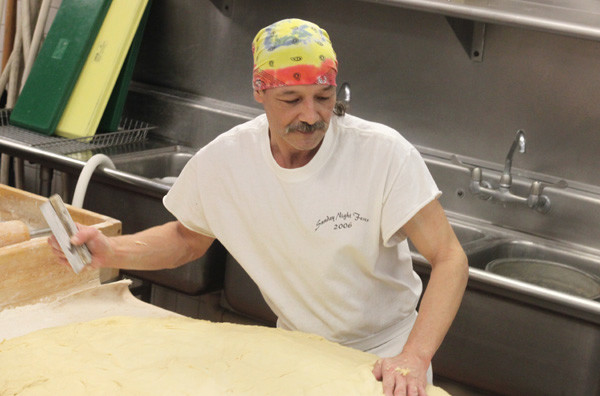 "Once the yeast sets, it's on," said James Barry, a Donut Country kneader and baker who has been with the business for 27 years.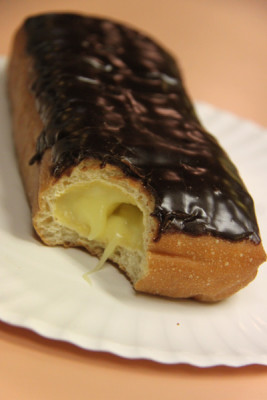 Barry and the team make dozens of the Country's eclairs, twists, doughnuts and cinnamon rolls each night.
"Valentine's Day was a doozy," he said. "I hand-cut the (doughnut) hearts one at a time; there were 4 to 700 a night."
"On Sunday mornings, when there's a Donut Country box in our classroom, it's a good day," says Karen Kisling, a patron of Donut Country who visited the shop with her sister from Cincinnati to try a favorite, the cinnamon roll.
MTSU sophomore and Donut Country employee Lindsey Elmore says her favorite is the blueberry cake doughnut, while 10-year-old patron Tyler Burks from Watertown went with a chocolate glazed doughnut.
Murfreesboro native and 15-year Donut Country customer Ashley Schoen states her favorite is the original glaze.
"They're just fat and fluffy. It's good to have when you get up in the morning," Schoen says.
Don't forget to sample Donut Country's spicy pimento cheese made with bacon and jalapeños.
______
YUM E DONUTS
2486 Old Fort Pkwy.
Open Tues.–Sat. 6 a.m.–2 p.m.; Sun. 6 a.m.–12 p.m.
Once called "Yum Yum's" and located on Church Street, the bakery and doughnut shop was moved by Lisa Wyatt to the Old Fort Parkway location a few years back, along with a new name, Yum E Donuts.
Wyatt's daughter, Alisha Netherland, creates cakes and decorates for Yum E Cakes in the same pastry shop.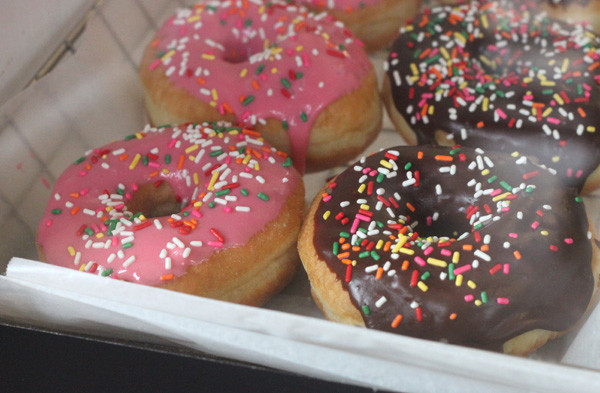 "She has the patience to [decorate]; I love to cook," Wyatt said.
A Murfreesboro resident picked up a pink owl cake and cupcakes from Yum-E Cakes to serve as a "smash cake" for her daughter's first birthday party.
"We might have to share it," Jaclyn Kollar stated after taking a look at the cake.
Wyatt said that she wants the shop's chocolate glaze to taste like fudge, and that "everything is rolled up and cut by hand."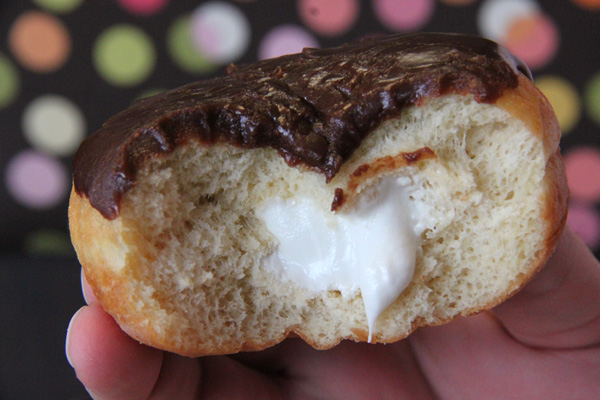 "It's all about the chocolate—it's nice and fresh," David Petree said about the chocolate glaze donuts from Yum E Donuts, and said he and his 3-year-old son, Chase, frequent the shop on a weekly basis for freshly made doughnuts.
"I like the fact that we make our own icing," said Ruby LaFever, a Yum E employee for about four years.
She said they give free donut holes to first-timers to the shop.
"They'll come back, I promise," Brooke Martin said, a Yum E employee for the past few years.
"[Wyatt's] not just my boss, she's like family," Martin stated.
Yum E loyalist Don Barnes said he favors the Bavarian cream, while his wife likes the cinnamon twist, and thinks that part of Yum E's success comes from the fact that Wyatt makes the shop feel like home.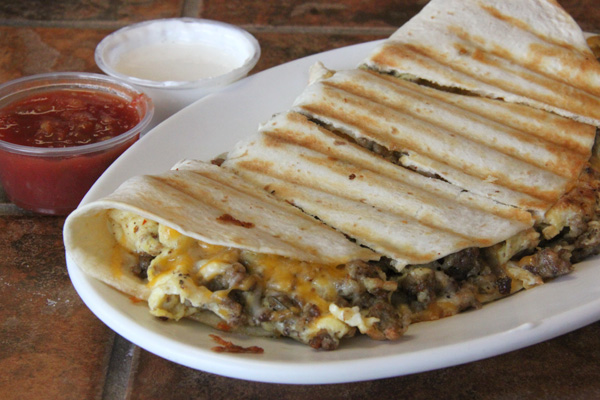 Wyatt told the Pulse that her job doesn't even seem like a job.
"I'm truly blessed," she said.
Along with a variety of homemade pastries, including delicious donuts with shop-made strawberry icing and pink sprinkles as well as cinnamon rolls, Yum E also offers breakfast choices including pigs in a blanket made with donut yeast and sausage links, and breakfast quesadillas.
______
KWIK MART
310 N. Front St.
Mon.–Fri. 6 a.m.–11 p.m.; Sat. and Sun. 6 a.m.–10 p.m.
Downtown dwellers are within walking distance to their neighborhood Kwik Mart, and many are coming to find the store's doughnuts and fritters are holding their own in the city's doughnut industry.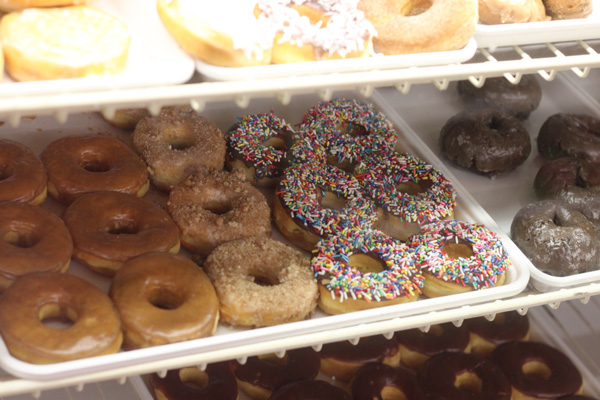 Kwik Mart's kitchen, which takes up about a third of the store floor, is the place where every glazed, jelly, chocolate-covered and sprinkled doughnut is made fresh each morning. Mahmood Ismail, a Kwik-Mart employee, said he arrives each morning at 5 a.m. so that he's ready to greet the regular patrons who come by for at least one of the freshly made hot glazed or jelly doughnuts to begin their morning or for a mid-day snack.
______
THE ARTFUL DOUGHNUT
810 Medical Center Pkwy.
Mon.–Thu. 7 a.m. – 2 p.m.; Fri. and Sat. 7 a.m.–6 p.m.
Order your doughnut with maple glaze, bacon, banana and chocolate sprinkles if you like. The Artful Doughnut takes on the morning with creative flair.
Artful owners Scott and Nancy Broden take the minimalist approach to doughnut making.
They produce simple, cake-like doughnuts and leave the creativity up to the customers.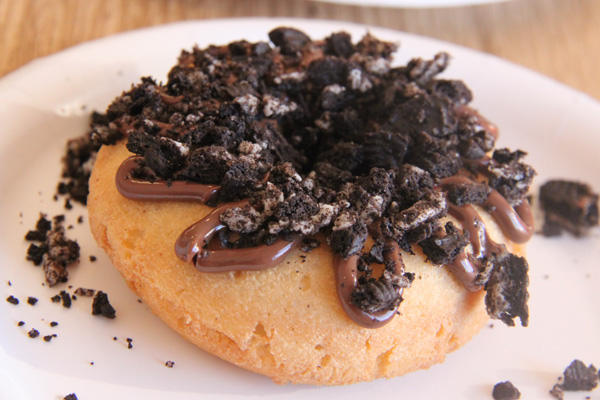 "Pick your own glaze, pick your own topping, pick your own drizzle," says Scott.
The Artful Doughnut shop is a family affair, as both Broden' sons, Zane and Silas, help with the family business. According to Zane, a Junior at Central Magnet, he's a big fan of Fruity Pebbles and says the maple glaze and bacon are big hits in the shop.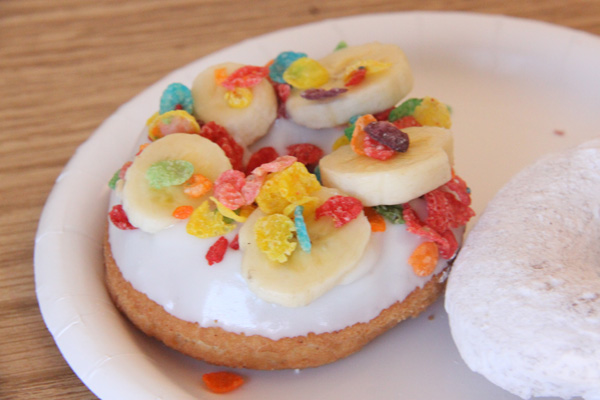 Patron Andrew Oakley went with a Fruity Pebbles, vanilla glaze and banana slice creation.
"I'm a cereal-holic," Oakley said. "That's my entire breakfast in a simple doughnut."
"It's hard to go wrong with bacon," Nicole Dool stated after ordering a doughnut with chocolate glaze and bacon.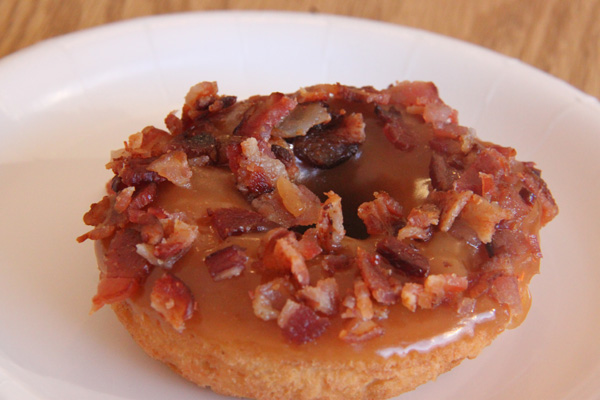 A Blackman high school student Snapchatted her doughnut creation.
"This one tastes like Christmas—chocolate glaze with Bavarian cream," said Olivia Rogers, while her mother, Robyn, said that Artful's delightful cinnamon sugar topping reminded her of her favorite childhood pastries.
The Artful Doughnut also displays various paintings from community supporters. In recent weeks, the shop has displayed art by La Vergne Middle School, Blackman United Methodist Church and local artist Gary James.
______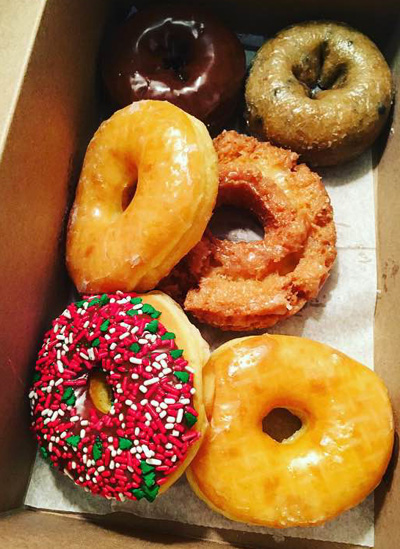 DONUT PALACE
1623 N.W. Broad St.
Mon.–Sat. 5 a.m.–1 p.m.; Sun. 5 a.m.–12 p.m.
"It's the spot," said Theresa Malone, who visits Donut Palace a few times weekly with her family. Malone said she stops in because the shop offers fresh and gooey doughnuts, along with her favorite ham and cheese offering.
Sovannara Chhim helps run the shop alongside his mom, dad and brother.
"We gotta make everything perfect," said Chimm about preparing their pastries and other offerings like pigs in a blanket.
Chimm and his brother are cutting, frying and baking doughnuts at 2 a.m. daily, before their customers arrive starting at 5 a.m.
"Our Sunday school class loves Donut Palace. We always have snacks for Sundays, and when somebody brings food from the palace we get excited!" Trinace Campbell, a Donut Palace long-time fan, said. "I love their vanilla-covered donuts and pigs in a blanket."
Zerian Moore and other regular Palace patrons said that the Palace offers doughnuts that are sweet but not too sweet, with just the right amount of glaze.
"They are light and fluffy—I try them all," Moore said; he stops in about once a month to buy and share the Palace's pastries with his fellow Nissan co-workers.
Stop into the Donut Palace for 69-cent glazed and chocolate doughnuts and 89-cent jelly-filled varieties.
______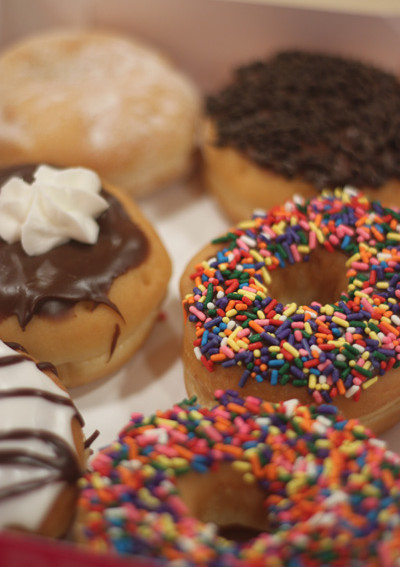 DUNKIN' DONUTS
833 Memorial Blvd., 3028 S. Rutherford Blvd., 2943 S. Church St.
Mon.–Thurs 5 a.m.–10 p.m.; Fri.–Sat. 5 a.m.–11 p.m.; Sun. 6 a.m.–9 p.m.
Earlybirds and night owls can conveniently pop into their neighborhood Dunkin' Donuts, now with a third Murfreesboro location near the MTSU campus. The shops are filled with the aroma of coffee and all sorts of doughnuts, including monthly specials and decadent delights like the chocolate-chip cookie-dough-filled doughnut.
The new location has a sitting area just right for students to lounge and grab a coffee or a sausage and egg sandwich.
"I love the blueberry blend and the vanilla cupcake blend," said Murfreesboro resident Eleni McKnight, commenting on Dunkin' Donuts' coffee creations, and said she preferred Dunkin' Donuts coffee to other bagged brands at the grocery, as well.
Dunkin' Donuts' doughnut shells are shipped to the store pre-made but then heated up in-store, then filled with the franchise's favorite glazes and jellies each night, according to an employee.