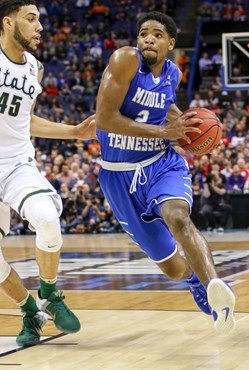 A historic week for Middle Tennessee State University athletics came to an unfortunate end on Sunday, March 20. After both the men's and women's basketball programs played their way into the tournament, both were eliminated over the weekend. It was not, however, without the making of history.
The men kicked off their NCAA Tournament bid against No. 2 seed, Michigan State. It was a game in which MT was told they didn't stand a chance. Despite receiving only a 2 seed, odds makers in Las Vegas gave Michigan State the second best chance to win the National Championship. Multiple analysts had selected the Spartans to go, at least, to the Final Four. However, the Blue Raiders apparently hadn't heard they were supposed to lose and they had different plans.
The Blue Raiders pounced on the Spartans like a predator on prey. MT jumped out to a quick 15–2 lead, making good on their first six shot attempts. The quick lead set the tone for the Blue Raiders, as they fended off a few strong comeback efforts by Michigan State. MTSU never relinquished the lead to the mighty Spartans, and a monstrous Reggie Upshaw dunk sealed it in the final minute of the game. The Blue Raiders became just the eighth 15th seed in NCAA Tournament history to earn a tournament win.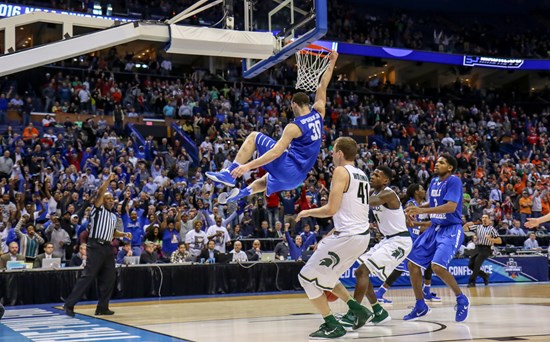 Upshaw, fresh off his C-USA Tournament MVP run, was incredible once again. Reggie logged 21 points on 8-of-14 shooting from the field while hitting three of his six three-point tries.
For head coach Kermit Davis, it was his first NCAA Tournament win in his second opportunity.
They would look to enter an even more elite group on Sunday, but first it was the women's turn to play Cinderella.
On Saturday, March 19, the 12th-seeded Lady Raiders took on No. 5 seed, Florida State. MT looked like they may follow in the footsteps of their male counterparts through the first 28 minutes of the game, but a late third quarter three-pointer gave FSU the momentum they needed to put MTSU away.
"More than anything, I think it kind of got away from us at the end of the third quarter. We were down and we missed a 3-pointer, then they go down and hit one. That was big. They got up seven. Then we started the fourth quarter with a turnover and they hit another 3, and then they were on a roll and they began to play downhill. That was, I think, the difference in the ball game," MT head coach Rick Insell stated.
Despite playing against much larger defenders, Alex Johnson led all scorers with 22 points, and also added four rebounds and four steals.
Senior Brea Edwards capped off her brief MTSU career with another double-double, finishing with 11 points and 10 rebounds.
Ty Petty capped off her junior campaign in the way she has all season. Petty has featured the ability to make plays by scoring and passing all season, and her 10 points and seven assists against FSU were a testament to that.
Sunday, the Blue Raiders looked to build off their shocking first-round win by becoming just the second team to advance to the Sweet Sixteen as a 15 seed. Considering that their opponent, Syracuse, was only a 10-seed, it seemed far more probable a feat to accomplish than the one they pulled off on Friday.
However, Syracuse jumped out to a quick 4–0 lead, eventually building a 12-point lead in the first half. However, MT closed that lead to just four late in the half on the strength of a 9–2 run.
JaQawn Raymond and Giddy Potts opened the second half with two straight three-pointers, giving the Blue Raiders a two-point advantage, but that lead didn't last long. The Orange went on a 21–2 run to put MTSU away. Middle shot only 25 percent from the field, as opposed to the 65 percent made by Syracuse. The Orange came away with a decisive victory, 75–50.
The Blue Raiders can hold their heads high, though. True, they could have become just the second 15 seed to advance to the Sweet Sixteen (Florida Gulf Coast University is the only school to do so, in 2013), but people can always recall where they were that time a 15 seed beat the 2 seed in the tournament. On top of that, MTSU received unprecedented exposure as a result of their victory over MTSU.
In an interview on the Morning Zone of 104.5 The Zone, MTSU athletic director Chris Massaro stated that the Blue Raiders received 250 billion @mentions on social media between Friday and Sunday. Massaro also remarked that the application the athletic department uses to count those @mentions malfunctioned after the 250 billion mark was reached, so the total was probably much more than that.