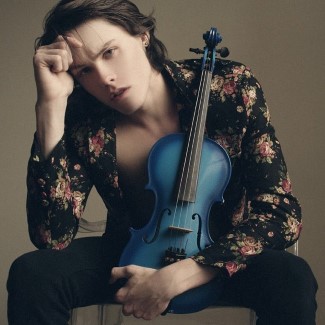 MTSU student Sterling Scott produces electronic music and plays violin under the name Sterfry, and on this self-titled EP he combines his two passions into one intriguing sound. That's right, he combines classical violin with trap and dubstep production to create a sound all his own. It's an odd blend for sure, but this five-track EP proves the odd blend can go down much easier than one would think.
Sterfry kicks off with "#ViolinTrap," which uses a crescendoing string section to lead into a beat drop filled with trap percussion with the strings remaining over the top. Underlying strings and other electronics make their way into the mix as the song goes on. After the second crescendo and drop, the rhythmic violin returns, but it's electronically altered in way that gives it a digital feel without losing the natural sound of the instrument.
On the EP's second track, a remix of a song called "White Lies," Scott's production takes a turn to the Far East, with his violin being accompanied by sounds akin to a guzheng (a Chinese instrument similar to harp or zither). Things don't stay traditional for too long, as electronic drums kick in periodically to pick the energy back up. The following track, "Dancing in the Rain," starts out with the tranquil sounds of the instrument, but then, as with the other tracks on Sterfry, there's a mood switch. As the song reaches its first chorus, things pick up with a primarily dance-music sound. However, the violin is still in play, of course, as featured vocalist Sunshine sings love-tinged lyrics centered around water, such as:
You walk like a river and you smell like the rain
Crashing through the room like a tidal wave.
The final cut (excluding the instrumental version of "Dancing in the Rain" that closes the EP) is the best "banger" on the release. "Maelstrom" is an uptempo instrumental that could add a classical flair to your party playlist. Scott takes a modern dubstep approach to his sound, which may not sound like a good idea, being as seemingly every DJ has some sort of take on this style. However, the unique sound of the violin helps that song—and the EP as a whole—to stand out. If you're interested in a innovative take on EDM, Sterfry and his violin are your best bet.
Sterfry's self-titled EP can be found on Soundcloud, Bandcamp, iTunes and Spotify.