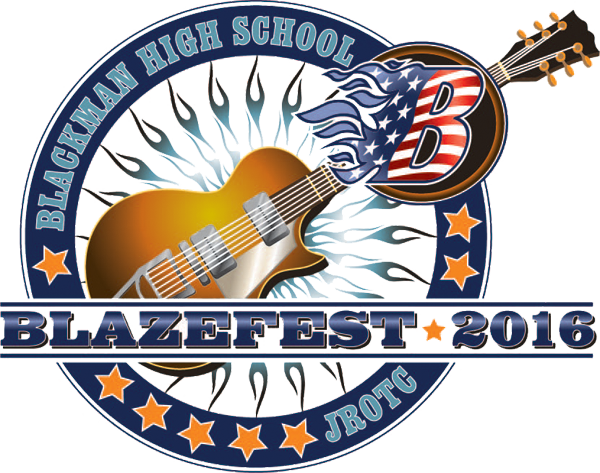 Parents, members and supporters of the Blackman High School Junior Reserve Officer Training Corps (JROTC) program will present the first ever Blazefest on Friday, May 6, as a kick-off for a fundraising campaign to build the program its own building.
Currently, the group's "drill is three days a week, outside, sometimes in 20-degree weather," says Kat McCauley, whose sons, Ian and Aidan, are both members of Blackman's JROTC.
The proposed building would give the cadets an indoor location that other area JROTC programs could use. Additionally, the JROTC program can share it with Blackman cheerleaders, color guard and other school organizations who need a large indoor place to practice or meet, and the possibility of renting it out to other groups can help fund the building over time.
Approximately 1,200 Rutherford County high school students participate in JROTC, and McCauley is hard at work alongside other parents organizing and promoting "Blackman's Baby Bonnaroo."
The May 6 concert, held at the The Inferno, as the BHS football field is known, will feature performances from The Nearly Deads, Junkbox, Mize and the Drive, the Blackman High Rock Band, the New Vision Baptist Church Band, Lacey Caroline and Up From Down.
Plus, Woody and Jim, the morning DJs from 107.5 The River, will MC the event.
The event organizers say they want the community to know that Blazefest will be family friendly and fun for all ages; for some local youngsters, the event will mark their very first live concert experience.
"There will be every kind of fair food under the sun," McCauley said. "Fried Oreos, kettle corn . . .
All of the high school students in Rutherford JROTC programs go to other counties to have rifle competitions and drill competitions, McCauley explained, but the proposed multipurpose building would serve all of the JROTC programs in Rutherford County.
McCauley credits Blackman's JROTC program, its regimentation and discipline, its emphasis on character and ethics, and their instructors for doing tremendous things for her son.
"Ian has taken to it like crazy. I have seen him progress from an introverted boy to a poised young man," she said. "The manners on these kids are impeccable."
While the JROTC is sponsored by the U.S. military, "JROTC is a service organization" also, McCauley points out. "Each cadet does service hours as part of curriculum."
Local JROTC members may volunteer with organizations ranging from the Red Cross to the Stones River National Battlefield, and the cadets will be working all day during Blazefest, whether it's on latrine duty, acting as roadies for the band or taking tickets.
While Ian will be graduating this year and will not be able to use the building during his time in high school, "It will be part of his legacy there," said McCauley, also the owner/operator of Nobody's Grille and BBQ along with her husband, Dave.
Other parents and students are enthusiastic to help the JROTC grow and obtain this 7,000-square-foot building—the only hurdle: it will cost an estimated $225,000 to build.
While the group plans to try and obtain financing for half that amount, they want to be able to pay the other half in cash, "so it has to be a big fundraiser to kick this off," said McCauley.
The Rutherford County Board of Education has endorsed the group's plans for the building, but program supporters must fund the project through their fundraising efforts.
But McCauley said everyone involved is "doing this as a group," and supporters believe that the building can be ready by summer 2017.
"It's amazing how all of the parents have come together," said McCauley. "Everyone's pitching in, it's an old-fashioned barn-raising."
Pre-sale tickets for Blazefest are available starting April 11 at Nobody's Grille and BBQ, located in the Clarion Inn on Old Fort Parkway, or from any Rutherford County JROTC program. For more information on the May 6 fundraiser concert, find a Blazefest page on Facebook, or email blazefest2016@yahoo.com; for more information on JROTC, contact Col. Gary Spry at spryg@rcschools.net or visit usarmyjrotc.com.
JROTC CREED
I am an Army Junior ROTC Cadet.
I will always conduct myself to bring credit to my family, country, school and the Corps of Cadets.
I am loyal and patriotic.
I am the future of the United States of America.
I do not lie, cheat or steal and will always be accountable for my actions and deeds.
I will always practice good citizenship and patriotism.
I will work hard to improve my mind and strengthen my body.
I will seek the mantle of leadership and stand prepared to uphold the Constitution and the American way of life.
May God grant me the strength to always live by this creed.