On March 31, several Blue Raider football prospects traveled to Nashville for the Middle Tennessee State University pro day. Due to inclement weather, the pro day was moved to the campus of Tennessee State University, where players got the opportunity to perform in front of scouts representing teams from the NFL and CFL. No player was more impressive than safety Kevin Byard.
The biggest question for scouts concerning Byard was whether he was fast enough to play in an NFL secondary. Prior to pro day, Byard's most recent time on his 40-yard dash was 4.6 seconds, a time that is even considered a tad slow for a linebacker. KB answered those scouts' questions satisfactorily as he cut his time to an impressive 4.4 seconds. Byard continued to impress scouts as he bench-pressed 225 pounds 22 times, jumped a 38-inch vertical and jumped a broad jump of 10 feet. Once considered a fifth-round pick at best, Byard skyrocketed his draft stock on pro day and now could go as high as the second round. NFL Network analyst Ian Rapoport has even referred to Byard as the "top non-Combine invitee."
A lot has changed since last August. Byard has lowered his 40 time and his body fat percentage, but it isn't all good news for other Blue Raiders. Linebacker T.T. Barber and offensive lineman Darius Johnson were considered locks to join Byard in the draft just a few months ago. Two mid-season injuries to Johnson vastly limited his time on the field to impress scouts. He was able to perform at pro day, however, and was impressive himself. Johnson ran a 40 time on par with expectations from other offensive lineman, and his 32 bench reps would have been tied for fourth-best at the NFL Scouting Combine. Yet for Barber, a late-season injury has kept him from performing in front of scouts in the off-season.
So, what is it like for a prospect to find himself on the outside looking in? We had a discussion with Darius Johnson the day after the pro day to find out.
Murfreesboro Pulse: So, tell me, what's the journey been like? Before the season, you were a shoo-in as a draft pick. You struggled with injuries all season. I know that was a big setback. What's it been like for you since the season ended and your rehab? Looking at your numbers from yesterday it looks like that ankle is doing pretty good, right?
Darius Johnson: Yes, sir. Me personally, I've felt like this journey has been very humbling, and then frustrating, too. You know, being hurt two times with the same thing. I broke it. It's really been humbling, you know, and I just have to have a talk with myself and reach deep down and just work harder. I have to work harder in different areas so I can try and be better than all the other guys who went to the combine and the senior games.
How rewarding is it to come in, after everything you've gone through this year, and put up those impressive numbers you put up yesterday?
I mean, I know it's rewarding, but I know this is just one step into my goal that I'm trying to accomplish. Even if I do get a chance to go to camp, camp is not even my ultimate goal. My goal is to be on a team and to play. Everything is just one step. I did good yesterday, that was one step.
I know coach Stockstill has talked a lot about the quote hanging in the locker room, "Do you get satisfaction from your teammates' success?"
Johnson: Oh yeah! It was real good to see everybody come back, and everybody perform, and see what their hard work has come to. It was a good atmosphere. It was like old times, like we were in a game, you know? I felt like everybody did good, and it was good to see everybody back. We fed off each other's energy, so it was really good.
So, how about KB's performance?
KB, man, he shut a lot of doubters up! I'm proud of him. He's been working hard. He's one of the hardest workers I've ever met. He's focused, and honestly I feel like he could go first-round.
I saw (Byard) post a picture of him with no shirt on from around the time the season ended, and yesterday, he looked liked Tarzan. So, the hard work he's put in has definitely been apparent. Were you surprised to see the transformation in his physique?
I mean, nah, I wasn't really surprised. I know KB, I've known KB the whole time (they've been playing together). Me and him are cool. I knew he was gonna work hard, so I knew the next time I saw him his whole body was going to change. So when he ran, when he took his shirt off to run, I knew he was going to be all ripped up. That's just a testament of his hard work.
So, as for you, have you met with any NFL reps?
Well, at pro day I talked to quite a few. I had the Bengals call me this morning, so I feel like everything is moving into motion. I'm going to just keep on praying, keep on praying, keep on working hard, everything is just falling into place.
Is there anything in particular you can say of what they said to you?
A lot of people told me I had a good workout. They told me that I'm a really good player, they like my play. They asked me a lot of basic background questions and things of that nature. Everybody really wanted to know if I could move after my injury, and I feel like at pro day I proved that. A lot of people were really impressed with my performance. Especially me at center. I requested to do some center work, and I felt like they were impressed with that as well.
We in Murfreesboro know you as this monstrous offensive lineman that's been a dominant force for the Blue Raiders. What do we not know about you outside of football?
If I'm not playing, if I'm not in the weight room, I'm either reading a book or drawing a picture, trying to motivate or inspire somebody to just crack open a book. I know a lot of people in our society just don't read anymore. A lot people just don't have knowledge on a lot of subjects that I feel like they should have. So, I just try to inspire everybody—little kids, college students, older people who are 60 or 70 years old—to read if they don't read. Or I'm in my room drawing a picture. At my high school I was in the Visual and Performing Arts magnet, that's how I was allowed to go to Dr. Phillips High School, and that was my passion. To paint, sculpt; I know how to weld sculptures and stuff like that. So those are things a lot of people don't know about me.
So, what's the last book you read?
I read more than one at one time, but I think the last book I read was Hebrewisms of West Africa.
So, are you more of a non-fiction reader, then?
Yeah, I'm more of a non-fiction reader.
I know you are all into making it onto a roster, but if that dream doesn't come true, what's your next endeavor?
Well, I really don't know. I purposefully put myself in a position to have a lot of options. You know, this game is not the only thing I have to do, or the only thing I can do. I could possibly go coach. I could possibly go into strength and conditioning. I got my first degree in criminal justice, and I'm almost done with my second bachelor's degree in concrete industry management.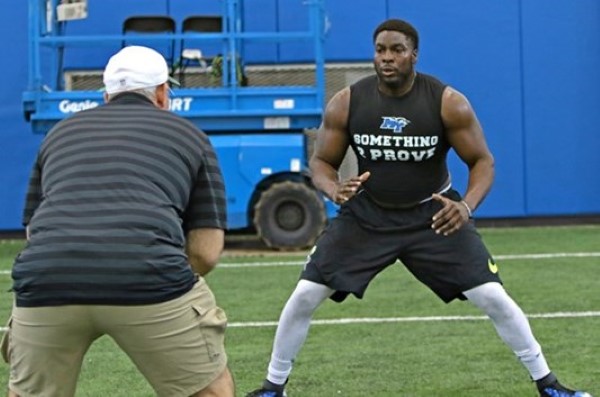 As a football player yourself, what are your thoughts on everything going on in the NFL with concussions and the call for more safety?
I feel like it is a good thing that they are trying to make it safer, but I feel like they can't take away from the game altogether. There has to be equal balance of both, to make it safer, but not take away from the game. But, I do feel like it's a good thing that they are trying to make people aware [of concussion symptoms].
Is that anything you've dealt with?
Yeah, I have. I feel like if you haven't had a concussion you ain't really out there doing nothing. That's my opinion, but I haven't had one where I just forgot everything. But, I feel like it's just football. It's an aggressive game, and it has to be played very aggressively.
What would you tell an NFL team if they asked, "Why should I draft you?"
I'm an extremely hard worker, I'm a very humble person. I will not settle for mediocrity. I will play all five positions, put me wherever and I'll learn it just like that. I will always give 100 percent effort in everything I do.
Is there any one team that you can envision yourself with, or you really want to play with?
I mean, next to home would be cool, but I just want a chance. I just want a chance to make my dreams come true.
~~
Johnson will get the opportunity to see if his dreams come true at the NFL Draft, to be held April 28–30.