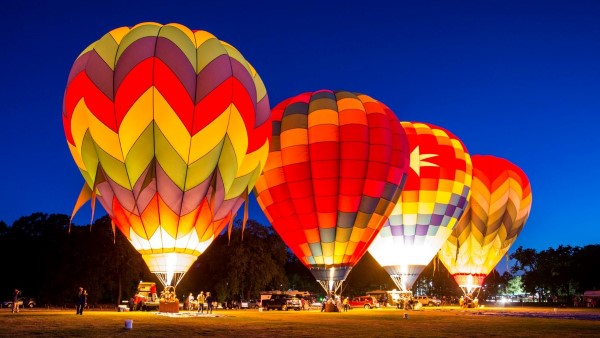 It's not much of a surprise that, "It's on my bucket list," is a common response to the question, "Have you ever been up in a hot air balloon?" be it from your boss, your mother-in-law, your boss's mother-in-law, or just a suddenly attentive, wide-eyed neighbor with their just as suddenly wide-eyed kid right beside them.
It just so happens there's the inaugural 2016 Franklin Hot Air Balloon Festival, Saturday, May 14 from 3–9 p.m. in Franklin's Westhaven Community that can help cross off a "to do" on the ol' bucket list.
With half a dozen balloons being supplied for this year's Franklin festival by Middle Tennessee Hot Air Balloon Adventures, LLC, who hub out of Franklin, there's a bit of Tennessee history that this family owned and operated balloon touring company has been a part of for over 40 years. Owner/operator Logan Bedford, who started the company in 2010, learned to fly hot air balloons with his father, Henry Bedford, who has handled the burners for over 40 years, floating commercially as a pilot and instructor under Federal Aviation Administration licensing, advertising and chartering, as well as successfully competing in international events, as well as in the southeastern United States.
Like his father, Logan is flying as a licensed FAA pilot and instructor, and as a Balloon Federation of America and Aircraft Owners and Pilots Association member. He has also competed and flown all over the globe in France, Mexico, New Zealand and elsewhere. The Bedford family and friends have been at it for a while, and Logan says he's aiming for the company to be involved in bigger and bigger launches around the area as the company grows. It's a nice little part of Tennessee life to look up and notice several behemoth balloons slowly floating across your horizons, and it seems an enjoyable part of the pilot's life, up there in the baskets floating along.
For the balloon enthusiast, Logan will bring out, from smallest to largest, their 2010 Head AX8-88, their 2010 Head AX8-105, their 2015 UltraMagic AX9-M120, all of which are striped and/or checkered with a sunrise sky's orange and yellow colors, each holding between 3 to 6 passengers plus the pilot. His whopper blue, yellow and red checkered 2007 UltraMagic AX10-T180 that holds up to 9 passengers, plus the pilot, is with them, too. There may be a couple more floating around there, too.
It's understandable some could develop a fear of heights just imagining all of this, and if that's the case, this year's Franklin Hot Air Balloon Festival is prepared to cater to such sensitive needs, as well as those of the vertically curious. Franklin's Westhaven community is setting up everything from on-ground live music, craft vendors and food trucks, as well as the KidZone. The VIP experience includes all-you-can-eat BBQ, a tented area, a commemorative T-shirt and access to the bar. The balloons will be tethered to the ground at three points by 100 feet of rope until around sunset, when the balloons will take flight untethered, creating another wondrous spectacle to be remembered and shared in the niche history of Middle Tennessee.
General admission for the 2016 Franklin Hot Air Balloon Festival is $15 (kids 5 and under admitted for free), while the VIP experience is $60 (21 and up). Ticket purchasing information can be found at franklinballoonfestival.com, or by calling (615) 977-6786. Franklin's Westhaven Community is located just off our shared Highway 96.
Contact information for Middle Tennessee Hot Air Adventures, LLC, can be found at tnballoon.com.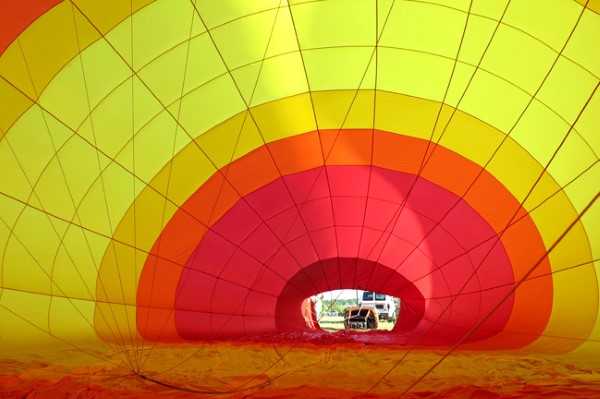 Typically, folks with motion sickness are not bothered by looking at hot air balloons or even while riding as a passenger, according to Hot Air Adventures. Weather does play a huge factor on whether the balloons leave the ground (severity of rain and heat), though, so check your local forecasts around the time of the event.
If you can't make it to this particular air balloon festival, there will be a couple more around this summer. The Alabama Jubilee Hot Air Balloon Classic will be this Memorial Day weekend, May 28–29 down in Decatur, and the second annual Music City Hot Air Balloon Festival at will be at Nashville's Percy Warner Park this year on Sept. 4.