This April locals and out-of-towners will bust out their bicycles and hit the streets of Murfreesboro for a weekend of non-stop music, art and culture.
The Boro Fondo Cycling, Arts and Music Festival has become a local staple each spring since its debut in 2013. This year, festival organizers predict it will draw the largest crowd yet.
Organized by members of the Murfreesboro House Show Alliance, Boro Fondo is a three-day festival that combines various aspects of the local culture and music scene into one accessible event. To set the scene, beginning on Friday, April 22, hundreds of attendees will hop on their bikes and travel to various houses and venues around town to soak in music by local and national bands. Beginning at noon and going until the music stops, festival attendees can catch brief musical sets in various front yards and businesses. But it's not just about the music this year.
In addition to musical performances, the festival will feature various forms of art, including 3D art installations, performance art, body painting, photo booths, recycled art, classical art, line art, found art and much more.
To preface the big event, organizers recently held a new fundraiser, labeled The Boro Fondo Blocko Bazaaro: Arts Fair & Flea Market Fundraiser, to help cover the costs of the free fest. Organizers invited artists, antiquers, performing artists and crafters to set up booths. The Bazarro, held at restaurant/music venue The Block, featured musical performances in addition to the booth setups.
History:
To understand the significance of Fondo, it's imperative to know its origins, especially for those in their first year attending. Before there was Boro Fondo, there was Tour de Fun, an annual bike and music festival now held in Nashville each year. The then-two-day event garnered a lot of support during its first few years and made pedaling from house to house until the wee hours of the morning a new way to experience local music.
When Tour de Fun creator Tyler Walker moved to Nashville, so did the event, leading three music enthusiasts—Phillip Maloney, Asher Johnson and Eric DeTorres—to reinvent the festival locally. With Walker's support of the idea, the three organizers began working on Boro Fondo.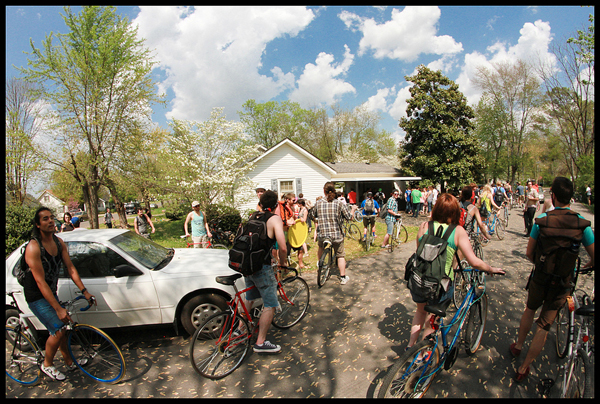 Who to See:
With more than 70 acts scheduled to perform at Fondo this year, the lineup is stacked with both local favorites and bands from across the country.
This year's performances range from local acts like the Acorn People, Oh Grandpa, Chasing Lights, Jacques Merlino, La Fever, Flummox and Tomato Face to Nashville bands such as Ambrose Way, Charge the Atlantic and The Morning After Crew to others including Kentucky's Bad People, Texas-based Trane Spitta and Detroit's Undesirable People.
So while Tennessee's weather is impossible to predict, Boro Fondo attendees can hope for a weekend of nice weather to catch both new and familiar music and sip PBR. (Remember to drink plenty of water, too.)
Check out the full schedule of performers below and keep up with any additions or changes to the schedule on Boro Fondo Festival's Facebook page.
BORO FONDO SCHEDULE
—FRIDAY 4/22—
The Green Dragon
714 W. Main St.
2:15-2:45 Michael Toman Music Group
2:45-3:15 Neighbors
3:15-3:45 The Verge
3:45-4:15 Ambrose Way
4:15-4:45 Lavender Town
4:45-5:15 Bring Me Solo
5:15-6:45 The Hearsays
6:45-7:15 Robert Seiben's Sidecar Sazerac
7:15-7:45 Lo Beggar
Mayday Brewery
521 Old Salem Rd.
8:00-8:30 Sweet Cheeks
8:30-9:00 Ashes of Folly
9:00-9:30 Carter
9:30-10:00 Commander Keen
10:00-10:30 Genie, Child of God
10:30-11:00 Negra
11:00-11:30 Slacker
11:30-12:00 Flummox
12:00-12:30 Mesmer Tea
—SATURDAY 4/23—
Murder Hut
2103 Sherrill Blvd
11:00-11:15 Seizer
11:15-11:30 Spookytooth
11:30-11:45 Apathy Wizards
Purr Palace
1206 Minerva Dr.
12:15-12:30 Chad Downing
12:45-1:00 Chasing Lights
Foxden
106 Foxdale Dr.
12:30-12:45 Zach Taylor
1:00-1:15 Trane Spitta (TX)
The Kitchen
1311 Minerva Dr.
1:15-1:30 Pelvis Lesley
1:45-2:00 Boyfriend
Neighborland
1314 Minerva Dr.
1:30-1:45 Tok (MO)
2:00-2:15 Acorn People
Ivy House
312 2nd Ave.
3:00-3:15 Visioner
3:15-3:30 The Mad Gear
Dads Garage
416 2nd Ave.
2:30-2:45 Undefeated
3:00-3:15 Clay Cages
MPD
2369 Middle Tennessee Blvd.
3:45-4:00 The Deathless
4:00-4:15 The Chewers
4:15-4:30 Skeetzo n' Krysis
4:30-4:45 Rusty Shackleford
The Boro
1211 Greenland Dr.
5:00-5:15 Col. Keg and Die Lagerbiers
5:15-5:30 Casual Sects
5:30-5:45 Uncle Skunkle
5:45-6:00 Mouth Reader
Mothershack
432 E Lytle St.
6:15-6:30 True Fear
6:30-6:45 Brothers
6:45-7:00 Badge Collector
7:00-7:15 Sheep Shifter
Icon
115 E Lytle. St.
7:30-7:45 JNN
7:45-8:00 Mothyards
MOAB
Suite 100 710 Memorial Blvd.
8:15-8:30 Aye Mammoth
8:30-8:45 Day Drive
8:45-9:00 Davega Bike
Garage Bar
405 N Front. St.
9:00-9:15 Bad People (KY)
9:15-9:30 Abyss Walker
9:30-9:45 Behold The Slaughter
The Alley
223 W. Main St.
10:00-10:15 The Shy
10:15-10:30 Oh Grandpa
10:30-10:45 LaFever
Liquid Smoke
2 N Public Sq.
10:00-10:15 Renisance
10:15-10:30 The Morning After Crew
10:30-10:45 Illuminate
Wall St
121 N. Maple St.
10:00-10:15 The Strumms
10:15-10:30 Tronatemybaby
10:30-10:45 Tomato Face
Courthouse Steps
10:00-10:30 Vagabond Songwriter Carinne Carpenter
10:30-11:00 Alex Cunningham
After Party (Tune in to find out)
Fondo Stage
Tame and The Strange
Apache Jerico
Shades of Reykjavik (Iceland)
Richie
Southern Demon Herd Stage
Zguurd
Undiscover
Taco Supreme
Since When
Melt Stage
Ives
Sterfry
Vacent Audio
Warlok
—SUNDAY—
The Block
123 SE Broad St
1:00-1:30 Adrian+Meredith
1:45-2:15 Jaques Merlino
2:30-3:00 Al Deluca
3:15-3:45 Cold Creeks
4:00-4:30 Light Beam Riders
4:45-5:15 Mountains Like Wax
5:30-6:00 Charge the Atlantic
6:15-6:45 Sky Hammer Mortars