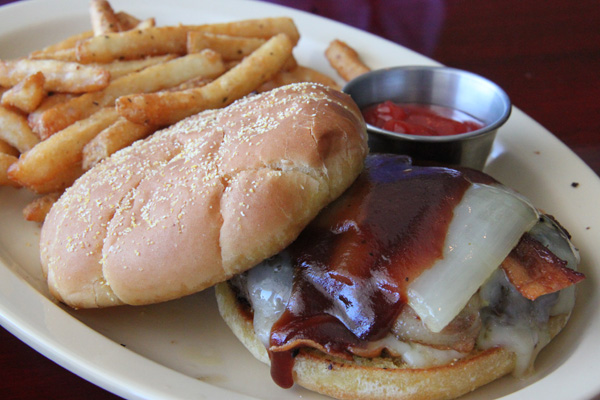 Restaurant and bar industry veteran Curt Minton has opened his own place, Station Grill, located in the All Things Possible shopping center at the intersection of Northfield Boulevard and Lascassas Pike.
Station Grill offers its patrons an assortment of burgers and pizzas, as well as Nathan's all-beef hot dogs, available topped with chili, peppers, grilled onions, and more, in a roomy, clean, well-lit atmosphere.
It's standard American bar and grill food, just a little on the "upscale" side. The buns are nicely toasted, the burgers are juicy, toppings like artichoke hearts, pesto aioli and caramelized onion are available for pizzas (or hot dogs, if you like) and "We try and make sure your tomatoes are red, and your lettuce isn't white," Minton said.
Yes, this bit of common sense can actually set a restaurant apart from the competition in this town, as many places do seem to serve pieces of hard white stuff masquerading as lettuce in their salads.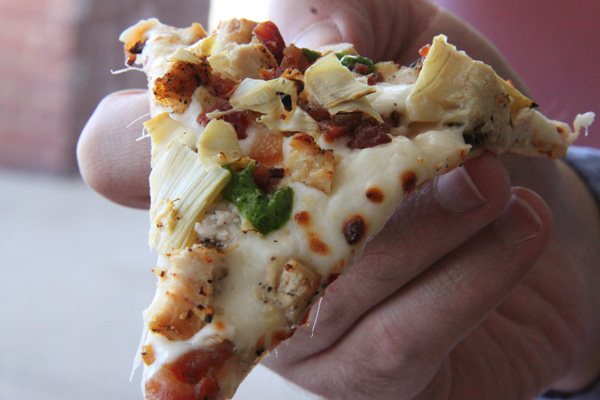 There are also hot wings, cheesecake bites, a Reuben sandwich, hummus and a house-made black bean vegetarian burger on the Station Grill menu.
But the most eye-catching items are the creative nods to Murfreesboro culture.
Try a Cannonsburger, a traditional burger with lettuce, tomato, onion and mayo, named for the area's traditional pioneer village.
Then there's the York—named for Sgt. Alvin C. York, also the namesake of Murfreesboro's large veterans hospital—a hot dog topped with provolone, grilled onion, bell peppers, mushrooms and spicy mustard.
The Black and Blue Raider pays tribute to MTSU's Blue Raiders with blue cheese crumbles atop a burger.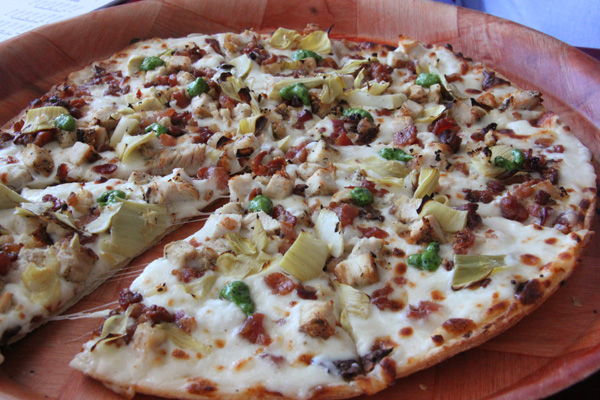 And the Station Grill includes the area's other schools as well: The Patriot pizza, with cheddar and jack cheeses, sausage, bacon, pepperoni, onion and tomato, recognizes the Oakland Patriots, while the Star and Panther pizzas celebrate the Siegel and Lascassas schools. The Win-Em-All dog is named for Riverdale's mascot, while Blackman supporters in the mood for something spicy can order their hot wings at "Blaze" level.
A large photo cutout of Uncle Dave Macon, the famed Middle Tennessee-bred banjo-playing entertainer, looks on as a customer orders the near-namesake Uncle Dave Bacon Burger, and local art from Kelly LaMure and other area artists also adorns the walls.
The Station Grill fries are well-seasoned, with a nice crispiness on the outside, able to withstand the power of a mighty portion of chili and cheese on top.
"We started out real ambitious," Minton said. "We were going to make our own pizza dough, make our own fries. . . ."
But that approach soon turned into a simpler philosophy: finding products that customers liked but that were not so labor-intensive.
And while Minton acknowledges that opening a restaurant is somewhat "taboo on this side of town," the residential neighborhoods in that portion of Murfreesboro and in the Lascassas area are rapidly growing, and Station Grill has already earned a loyal group of regulars.
Trivia night on Wednesdays with Brainiac Trivia is a popular weekly event for the restaurant, and the establishment serves a decent variety of beer; they have PBR tallboys for $2.25 but also a nice selection of IPAs, teas, ciders and even some Samuel Smith varieties.
Minton partnered with John Richards, of Murfreesboro's Concert Productions and Concert Musical Supply, on opening Station Grill in the summer of 2015, and he said his own experience in restaurants and customer service, along with Richards' various skills, have allowed the business to overcome its initial kinks and still be standing strong.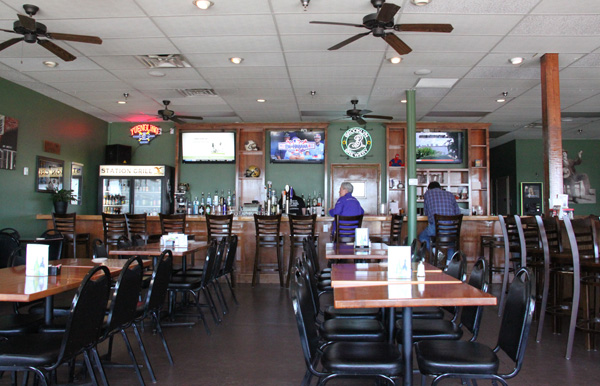 "He's the jack of all trades, master of most," Minton said of his partner, saying Richards was great with electronics—even with pizza ovens he has never before worked on. Richards has experience in construction, and has a full woodworking shop where the Station Grill bar was fashioned.
Plus, Richards insured that the Station Grill has not one, but two power amps, and a powerful subwoofer capable of sending low frequencies to the far reaches of the shopping center (for night hours only, of course).
Minton said fostering a community, Cheers-like atmosphere is important to him, and he encourages the bartenders to try and remember people's names and what they do for a living.
So if this sounds like your kind of place, if you'd like to try a beef hot dog topped with artichokes or if you just want to shoot a game or two of pool in the Lascassas Pike area, roll on into the Station.
The Dish:
Station Grill
2053 Lascassas Pike
11 a.m.–midnight, everyday
Uncle Dave Bacon Burger with fries: $9; The York with fries: $7; 10-inch Patriot, Stones, Panther or Star pizza: $9
(615) 295-2583
facebook.com/stationgrilltn