"I like to use the Maglite as a communication device," said Tammie McLendon, as she prepares a group of people to go into an abandoned hospital late at night to investigate paranormal activity.
Her team, the Stones River Paranormal Society, is based in Murfreesboro, but tonight, a cool April evening, they are leading a group through the Old South Pittsburg Hospital—a very active site for spirits, according to McLendon and the others on the team—and the paranormal enthusiast is telling of an adventure in which she believed beings from the other side were communicating with her by turning her flashlight off and on.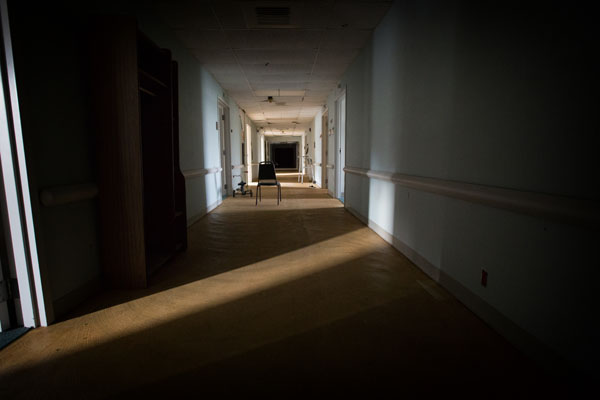 "Always carry plenty of batteries," McLendon continued. "Ghosts use that energy (from batteries in electronic devices) when they are trying to manifest; they'll take energy where they can and drain the batteries."
The team also looks for signs such as drastic deviations in temperature for further evidence of a spiritual presence, she said.
This is not the Stones River Paranormal Society's first look into the Old South Pittsburg Hospital, located about an hour's drive from Rutherford County. The hospital has become a favorite site for the team's Ghost Hunting 101 program, where people interested in participating in a paranormal investigation can join the very experienced team on an overnight look into the unexplained. The hospital is a very popular investigation location for other ghost-hunting groups as well. The walls of the hallway are adorned by the signatures and artwork of paranormal research groups from all over, and from hundreds of individuals who have ventured into the structure since its closing to see what still lurks within.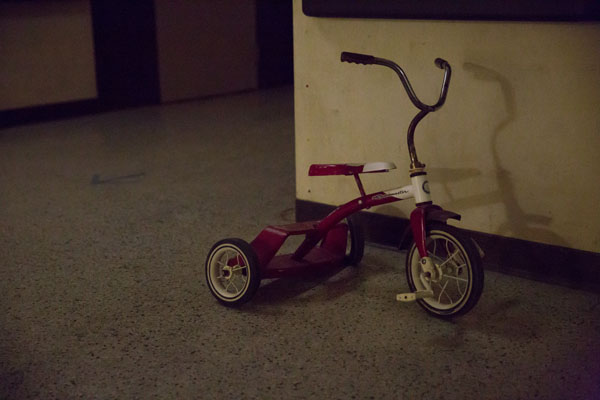 The Old South Pittsburg Hospital opened as a medical facility in 1959 and functioned until 1998; the third floor continued to operate as a psych ward and detox center until 2001, but since then the facility has not been in operation as a hospital, though a portion of the building did house an antiques and book store for a time.
"There were rumors there was a doctor here who did a lot of experiments and unnecessary surgeries," McLendon said, suggesting this may be a cause of some of the uneasiness from another realm.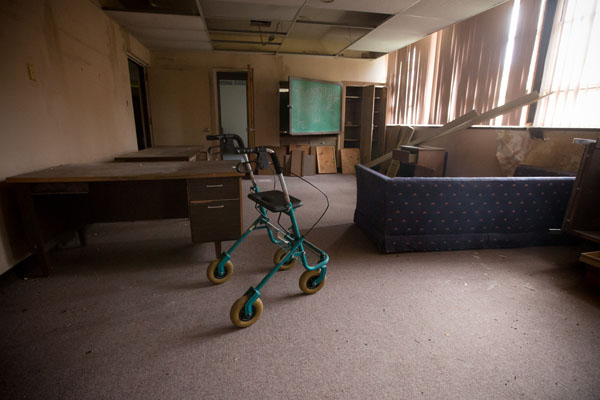 The facility houses many different ghostly beings, she said, including the spirits of young children, the "Naughty Nurse" (who seems to prefer making contact with males), James (the former maintenance man whose shoes are still in the basement), and Nellie, an elderly patient on the third floor.
Even prior to a hospital occupying the land, the area's history includes a Cherokee settlement, Civil War battle and a large plantation fire that resulted in numerous deaths.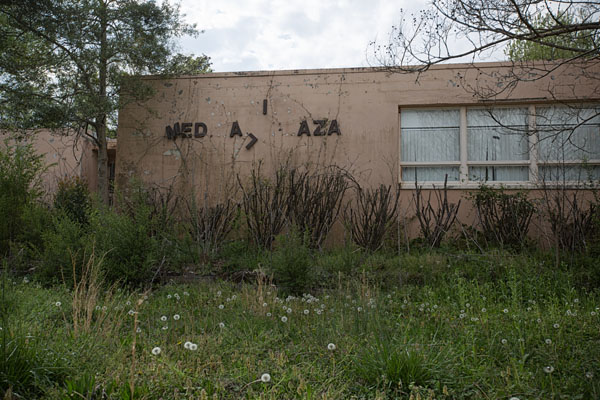 Big John, another Stones River Paranormal Society team member, explained that the combination of limestone and underground springs below the hospital property acts as a conductor for the paranormal happenings; that combination is a battery of sorts found at many places with high levels of paranormal reports.
On a previous occasion when the group investigated the facility, some got to an area where there was an "uneasy feeling," McLendon said. One lady began experiencing chest pains.
"We asked it (the mysterious being) if it was causing it. It said 'yes,' and that it had been restrained in the hospital by someone close to her age," McLendon said.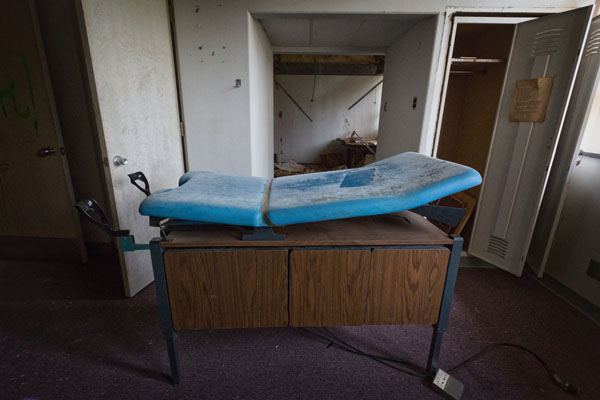 The lady at this investigation ended up having a heart attack, and had to be transported from the abandoned hospital to a real hospital.
"She said it was her first investigation, and her last," McLendon said.
But some of the guests at the April 2016 excursion who have previously investigated the hospital said they'd had an experience and came back for more.
One participant said that, during her first investigation, while in the basement, others in the group attempted to communicate with James, the legendary former hospital maintenance man who has been suspected of mischievously tossing bolts at basement visitors from the afterlife.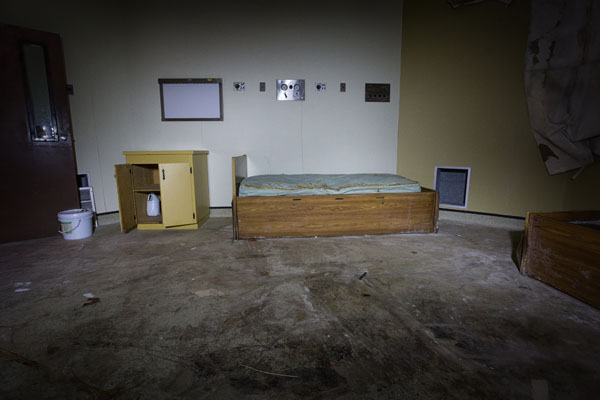 The investigator said she asked where the fire extinguisher was, and then she saw an illuminated face appear directly above the fire extinguisher in a flash of blue flames.
Also, in the pharmacy area of the abandoned hospital during that visit,"The K2 went crazy," McLendon said, adding "I got a message saying 'I'm dead.'"
The K2, a device that measures spikes in the electromagnetic field, has become a popular instrument among paranormal investigators.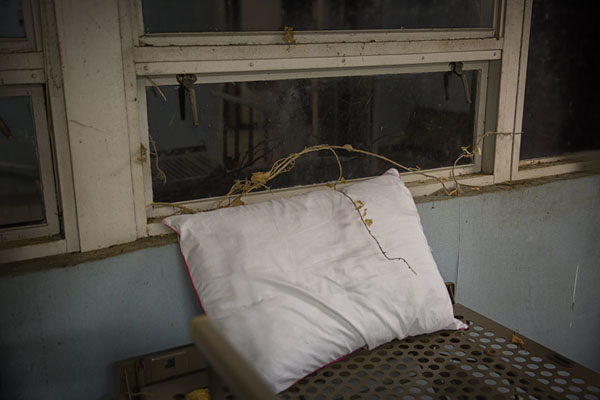 Another Stones River Paranormal Society team member, Big John, explained another device the group uses to seek evidence of the paranormal—an electronic tool that scans different radio frequencies, which he calls the "ghost box."
This box scans different frequencies, and does sometimes pick up different radio stations. "In areas where there's a lot of radio, you can't use these, but at areas where there's no radio, like at the bottom of Ruby Falls, and it picks up something . . . you know it's real," Big John said.
"We've had conversations with this [that lasted] an hour."
Big John said that the SRPS is a "fact-based group," that they do not take every bump in the dark as evidence of a ghost, that they first try and explain any strange happenings with natural explanations, and only after trying to debunk their own evidence, will the group claim a piece of video or an event as evidence of paranormal activity.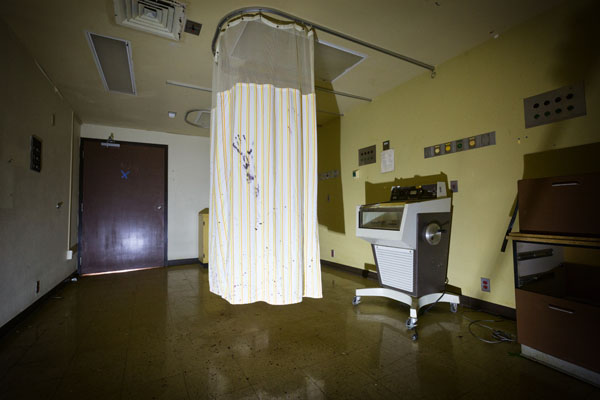 However, he said the group's members have experienced some things over the years that they simply could not explain away without acknowledging that they came in contact with a spiritual realm.
He also said that the group is a "faith-based team," that most in the group hold Christian values and that looking for evidence of the paranormal does not conflict with their faith.
"A lot of Christian people call us to investigate," Big John said. "There was a Christian singer who called us. He said he couldn't talk to his pastor about it, but they had something in their house bothering their granddaughter."
After the Stones River Paranormal Society investigated the dwelling, they pinpointed the source of the otherworldly torment to be coming from an old doll in the attic.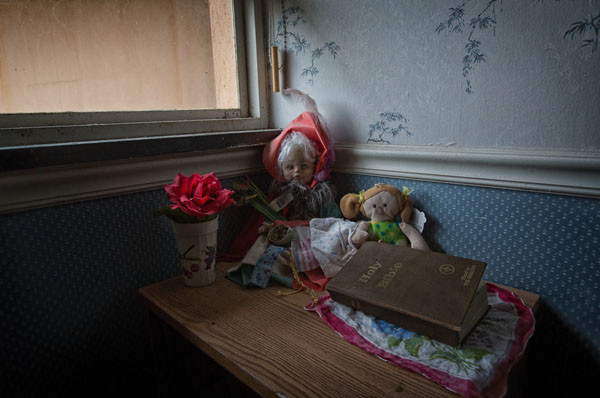 "As soon as we got rid of that, it went away," Big John said.
While the team spends years investigating the mysterious, and gathers hours upon hours of video and audio recording, solid evidence can be difficult to come by. After all of their time and efforts in the hospital and in multiple other locations around Tennessee, their evidence of the paranormal amounts to footage of a plastic bag moving on its own, a vague purple outline of a figure on an infrared image, a fuzzy audio recording of a voice saying "hey" and an odd shadow that moves in an unexplained way.
Still, the group's members remain dedicated to learning more about the other side, to communicate with those who have long since exited the physical world, and to one day capture that definitive proof of a paranormal experience.
For more information on the Stones River Paranormal Society and their upcoming events, visit stonesriverparanormal.com.