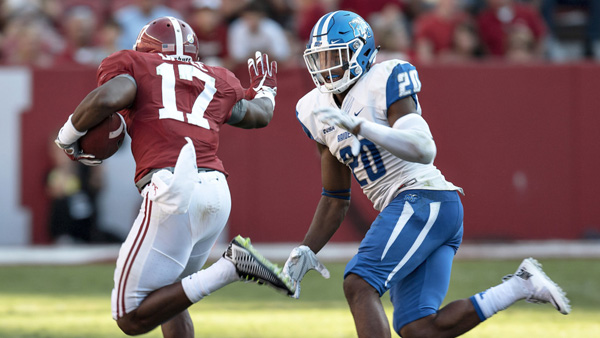 From the time a player buckles his chinstrap for the first time before his first Pop Warner practice, it is his dream to be drafted into the National Football League. A very small percentage of people ever get to realize that dream, but for Middle Tennessee State University safety Kevin Byard, that dream came true the night of April 29.
Byard had a good feeling of where he was going before the draft began. Shortly after the NFL season ended, the Titans released veteran safety Michael Griffin, creating a vacancy at the position. The Titans had interviewed Byard and had him in for several workouts over the following months.
When asked by a media member about the prospect of being a Titan back in February, Byard said "I think it'd be a great experience for me. Just being there in Middle Tennessee and knowing that's where a lot of my fans are, that would be great."
KB had such a strong feeling of where he would be drafted that he even had a Titans cap in the ready at his home in Georgia where he, his family and friends gathered to watch the draft. The moment Byard had dreamed of came when the Titans made the first pick of the third round.
"It's the greatest feeling in the world," Byard told titansonline.com. "As soon as I heard the general manager's voice, it was just a whirlwind of madness from me. It is a dream come true. Just a few years ago I never thought I would be in this position. I just have to thank the man upstairs."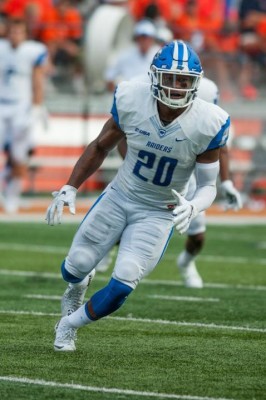 Byard was once projected to be drafted no higher than the fifth round, but, after an outstanding performance at MTSU's pro day, KB eased concerns from NFL scouts about his speed. After running the 40-yard dash in 4.47 seconds, his stock skyrocketed.
The transformation Byard made in his physique and athleticism between the Senior Bowl and the draft is a testament to his work ethic and determination, and he isn't nearly satisfied to just be drafted.
"I am going to go in there and work as hard as anybody coming in. I am going to go in there and make an immediate impact on special teams, and I am going to go in there and try and fight for a starting job, that is my plan."
Byard was the only Blue Raider drafted, but he wasn't the only one to find his way onto a roster.
Linebacker Cavellis Luckett, whose combination of size and speed raised the eyebrows of many NFL scouts, was signed by the Baltimore Ravens, and offensive lineman Jaylen Hunter inked a contract with the Seattle Seahawks. Running back Jordan Parker has accepted an invitation to the Atlanta Falcons mini camp, and offensive lineman Darius Johnson signed with the Detroit Lions.