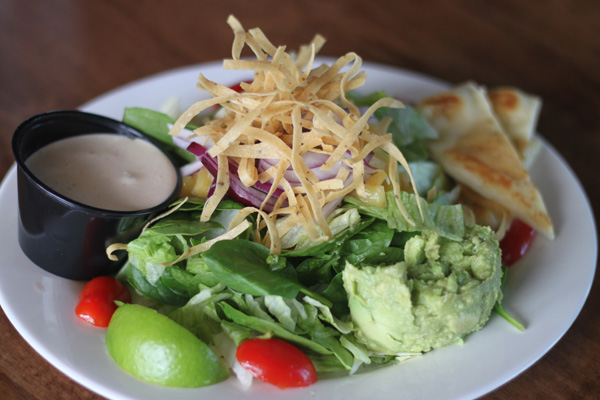 Recently, the Pulse took a look at all of the doughnut shops in town. While that sweet assignment was incredibly delicious, some on the team felt that, after all of that deep-fried dough and sugary filling, it was time to switch gears. While nearly every restaurant in Murfreesboro has a salad of some sort on the menu, here are a few delicious salad choices that stand out from the rest. For strict vegans, there are plenty of creative combinations that include all sorts of fruits and veggies from avocados to blueberries, but even if you like to add turkey, steak or even hot chicken to your salad, the eateries of Murfreesboro offer plenty of ways to dine low-carb if you choose. Behold, some of the superstar salads of Murfreesboro. Enjoy, y'all!
The Goat
2355 Adwell St.
Under the minimalist label "greens," The Goat serves up some of the most beautiful salad presentations in the land.
Taste their Avocado Lime Salad and your life will change for the better. This one combines the sweet scent of grape tomatoes and grilled pineapple (yes, grilled pineapple) salsa with the awesomeness of chipotle ranch dressing and avocado.
The generous helping of guacamole and pita slices go great with the taste of spicy blackened chicken, though the meat is optional. The Goat offers a fresh approach to dining with a unique special every day, like $5 tacos or $5 Farmhouse tots, and there you can celebrate any occasion with cocktails like the Elderberry or the Edison made with expertise as you sample some springtime salad goodness.
After you try my favorite salad there, the Avocado Lime with blackened chicken, go back sometime and sample the Goat's Italian Chop, created with greens, smoked ham, salami, capicola and pepperoni; or choose from salad dressings such as bourbon honey mustard or red wine vinaigrette, and add grilled or blackened mahi or braised pork to make The Goat's fresh wedge or spinach salads all the better.
Wall Street
121 N. Maple St.
For the last four years, Wall Street has customized a specialized salad menu twice a year, reflecting the beautiful seasons within our great state of Tennessee, one exemplifying the fall and winter harvest, and another to convey the vibrant colors of spring and summer, according to manager Hanna Reagan.
The 2016 spring and summer seasonal menu includes the Strawberry Steak Salad, beautifully decorated with fresh greens, mandarin oranges, strawberries, apples, pistachios, red onion, feta cheese and cooked-to-order grilled sirloin steak. Dressing selections include Fuji apple vinaigrette, honey-lime vinaigrette and raspberry vinaigrette.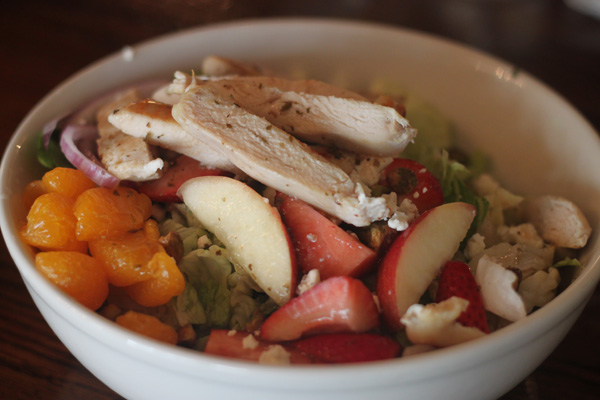 A meatless option at Wall Street is the eatery's Greek Salad, exquisitely combining the freshness of cherry tomatoes, cucumbers, black olives, red onions, and feta cheese crumbles, lightly tossed within a feta vinaigrette dressing.
The Blueberry Steak Salad will soon be a regular offering on Wall Street's staple menu, while the Fiesta Taco Salad offers avocado, black olives, shredded cheddar, red onions, tomatoes, tortilla strips and either grilled or fried chicken.
Marina's on the Square
125 N. Maple St.
"They have amazing croutons: buttery, crisp garlic heaven. The ranch dressing is unlike any other restaurants'. It's thick and flavorful," said Marina's patron Kristin Walker Carlton. "The salad itself is always fresh and well blended."
She added that her 5-year-old daughter, Eloise, is a big fan of Marina's ranch dressing.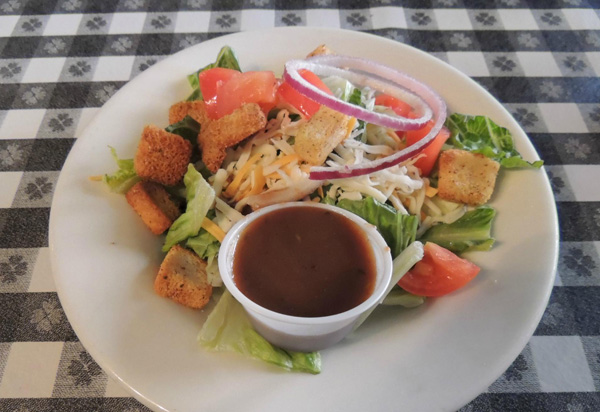 Murfreesboro locals know to go to Marina's on the Square for their local little Italy fix, and menu classics like Chicken Marsala, Eggplant Parmesan, Tortellini and and Cajun Chicken are served up with a fabulous garden or caesar salad.
For a full green meal, try one Marina's meatless salad offerings, including anti-pasto, spinach and eggplant salads.
My mom and I often frequented Marina's for mom-and-daughter time, as well as celebrations before my MTSU Honors College graduation, my first grown-up job, and before marrying my sportswriter husband.
Enjoy this unassuming local gem on the Square today!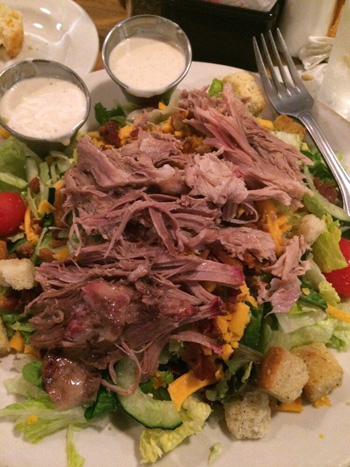 Jim 'N Nick's
436 N. Thompson Lane
I'm the type to order like a rebel, so I combined my two favorite Jim 'N Nick's dishes into one hot salad: the Chopped Southern Salad topped with their Nashville Hot Chicken. According to several Jim 'N Nick's servers and chefs, I'm the first to go for the gold and create this delicious accomplishment, not yet on their menu.
Picture a wonderful, fresh Southern mix of pecans and veggies with scrumptious, hand-cut, very hot chicken draped on top. Heaven!
Looking for a different salad favorite? Try the Pig in the Garden salad. One longtime Jim 'N Nick's patron said her go-to pick is the Pig in the Garden topped with smoked chicken or turkey instead of pork.
You can grab your pals, and head to Jim 'N Nick's for their Carolina-style pork sandwich and scrumptious fried green tomatoes, and tell them yours truly sent you while you're eating those delectable cheese biscuits.
But if you order my rebel creation, Nashville Hot Chicken atop the Chopped Southern Salad, the fresh bacon, crisp vegetables and spicy meat provide the perfect foundation for Jim 'N Nick's white sauce.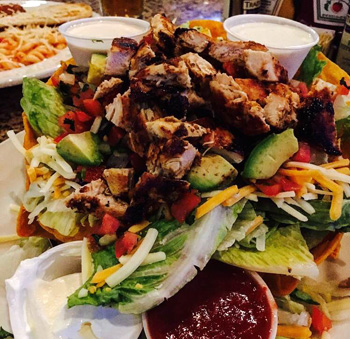 The Boulevard Bar & Grille
2154 Middle Tennessee Blvd.
The Boulevard Bar & Grille mixes Sam Malone's iconic, semi-fictional Boston bar with all of the good things about a sports bar. Located across the street from MTSU's campus, The Boulevard is rapidly becoming the go-to hang out for MTSU athletes and professors, families with toddlers, newlyweds and patrons of all ages.
A staple salad favorite of mine at the Boulevard is their Taco Salad. Topped with big slices of avocado, a hearty helping of blackened chicken, pico, tomatoes and crisp lettuce, this salad is no joke and can easily be shareable, or lunch for the next day. With a drizzle of spicy ranch and a dollop or two of sour cream and salsa, The Boulevard's Taco Salad keeps your taste buds hopping.
Their actual namesake salad offering, The Boulevard, is topped withpecans, strawberries, mixed greens and cranberries.
Monday is the perfect time to try their Berry Chicken Salad, Honey Crispy Chicken or the Black and Bleu Salad since most of the menu items, including salads and burgers, are half price.

CJ's Restaurant & Catering
352 W. Northfield Blvd.
Meals at CJ's Restaurant & Catering begin with a complimentary portion of fresh caprese salad. The colors of the basil, tomato and fresh mozzarella salad represent the Italian flag. The caprese is served drizzled with tasty balsamic dressing and a side of warm Fire Crackers, salty crackers that are perfectly seasoned and baked golden brown. Further explore the establishment's delicious salad offerings by trying a salad topped with raspberry or blackberry chipotle chicken or steak, or keep the meal meat-free with the heirloom tomato salad.

Cathay Asian Bistro
1845 S. Church St.
To some, seaweed tossed with cool, fresh cucumber, sesame seeds and soy sauce sounds absolutely wonderful, and sea vegetables are packed with minerals and low in calories. Give it a try, and you may be just as impressed with the suprisingly crisp seaweed salad at Cathay Asian Bistro as anything else on their extensive Japanese, Chinese, sushi and hibachi menu. Their standard house ginger dressing is also quite tasty. Both the seaweed and house salads are available as part of Cathy's all-you-can-eat special at dinner.
Sam's Sports Bar
1720 Old Fort Pkwy.
Sam's Sports Bar is the place to be for all things sports, and their food and beverages do not disappoint—sandwiches, ribs, nachos, pizzas, with delicious sides to accompany. One more surprising, less sportsman-like offering on the menu is the Southwest Chicken Salad. This unique salad fuses "southwest" flavors creating the perfect combination of taste and texture. It combines fresh greens (none of that ice berg stuff) with crunchy thin-sliced cabbage and carrots, sliced grilled chicken, sweet Asian peanut sauce, tangy honey-lime vinagrette and crispy tortilla strips.
~~~
What's your favorite salad in town? Comment below or holler at the Pulse at facebook.com/boropulse.