The annual International Biscuit Festival returns to downtown Knoxville, Tenn., this May, where lovers of the biscuit will surely want to risk it.
Biscuit makers will compete in the biscuit baking contest on Saturday, May 14, on Clinch Avenue in Knoxville. The contest features four categories of competition: savory biscuits, sweet biscuits, student biscuits (open to those under 18) and special biscuits (for those over-the-top, incredibly imaginative biscuits). Contest officials have already chosen three finalists in each category based on recipes submitted, and those finalists will bake live in front of a panel of celebrity judges and an audience of biscuit lovers at the fest. A grand prize winner will be chosen from the winners of the four categories.
Last year's champion, Kara Case, won with her blueberry biscuits cleverly titled "Blue Suede Shoes."
"We always look forward to the creativity that goes into the recipes we receive," said Chris Kahn, chair of the Biscuit Baking Contest. "We anticipate the 2016 season to continue to impress us in all categories."
The day will also include Biscuit Boulevard, where the region's finest restaurants and bakers bring signature biscuits for all to sample. Biscuit fans can buy a Biscuit Boulevard ticket for $10 and try five different signature biscuit creations.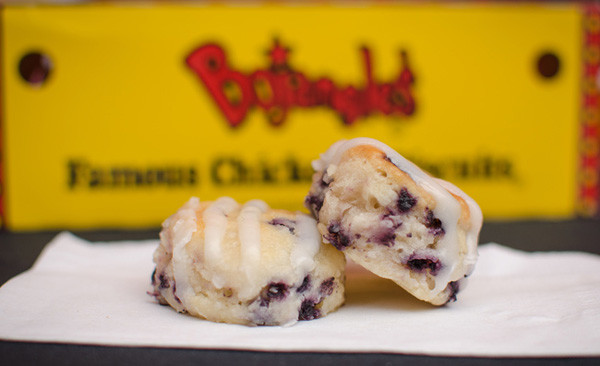 Biscuit Boulevard will open at 9 a.m. Saturday, May 14, and runs along Market Street, just south of Market Square in Knoxville.
Biscuit Bazaar gives guests the opportunity to browse and purchase various biscuit-compatible products, while the Biscuit Songwriting Competition and performances and a Mister and Miss Biscuit Pageant also highlight the day.
On display throughout the month of May, Coffee & Chocolate, Rala, Pioneer House and Bliss Home host this year's Biscuit Art Exhibition, featuring biscuit themed artwork.
Knoxville venues will host the Southern Food Writing Conference in conjunction with Biscuit Fest weekend, which brings together authors, chefs, publishers, publicists and others who love Southern food and those who write about it.
On the evening of Friday, May 13, the festival presents the Biscuit Bash, a gourmet dinner experience with dishes and presentations from world-class chefs.
And the 50 States of Biscuits project, a year-long partnership between the International Biscuit Festival and Great American Country, features a specialty biscuit from a different state each week.
Read about biscuits from all over the country, and learn more about the 2016 International Biscuit Festival, at biscuitfest.com.