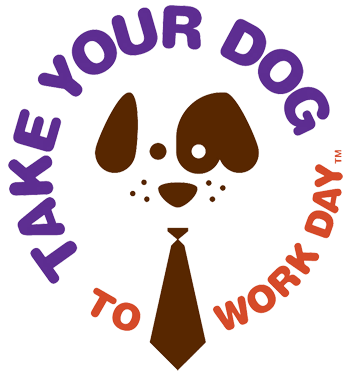 June 24 marks Take Your Dog to Work Day, celebrated annually the Friday after Father's Day.
Pet Sitters International promotes the day in hopes that some non-pet owners will witness the special bond their co-workers have with their pets and become encouraged to adopt a friend of their own.
This year, Cultivate Coworking, in partnership with the Murfreesboro Pulse, hosts a special event on Take Your Dog to Work Day, which will include a photo booth (for well-mannered, leashed pets) with photos by Brenton with Giesey Productions, treat bags, information from the Beesley Animal Foundation on their services and other pet-related fun.
This will take place from 10 a.m. to 4 p.m. on Friday, June 24; Cultivate Coworking is located at 107 W. Lytle St.
Local professionals who'd like to participate in the day but can not make that event are encouraged to post photos of their pets in the workplace on social media using the #cowoofing and #TakeYourDogtoWorkDay hashtags.
For more information on Pet Sitters International and the history of Take Your Dog to Work Day,
visit takeyourdog.com.
There's even an official song:
Some Murfreesboro business owners don't limit their pooch's time in the workplace to just one day. Here are a few locals who seem to believe every work day is a good time to bring a dog along.
Ruby, Violet and Olive  •  Lisa Eischeid
Local attorney Lisa Eischeid has always been a dog lover. Her three labs, Olive, Violet and Ruby, are regular fixtures at her downtown law office.
The matriarch of the trio, Olive, has been an office regular for almost 10 years. Olive trained Violet, the black lab, in the ways of being an office dog.
Ruby is her special needs dog; she was born with juvenile cataracts, but after eye surgery, Ruby became an office dog, as eye drops every two hours were needed.
The Eischeid dogs offer calming benefits to the office—during one meeting with a particularly upset client, Olive pushed her way into the office, sat next to the tearful client, and offered her a calming head to pat.
Many may also recognize the dogs from their participation in the annual trick-or-treat event on the Square.
Ace Booge  •  Legacy Ink Design
Ace, a 4-year-old Staffordshire terrier, has been the Legacy Ink shop dog since he was born.
"He looks dark and mysterious, but he is so happy all the time to see everyone; his tail whacks anything in its way," according to shop manager Liz McLean. "His daily duties include hourly snuggles, getting us out for walk breaks and greeting customers. . . . This is a small business; he really is one of us."
Ace loves to show off his sit, stay and roll-over tricks, and his favorite rewards are belly rubs and chicken.
The Legacy crew says the dog brings a sense of calm and warmth to the office, and they are often surprised how many people coming in the door say "hi" to Ace even before speaking to the humans.
Also, the shop offers screen printed dog shirts for those wanting their canine companion decked out in the company logo.
Muffy  •  Penny's Closet
You'll often see Muffy behind the counter when you visit local boutique Penny's Closet.
Muffy is a 5-pound Chihuahua who turns 14 in October.
"We got her at the age of 10 when my oldest sister, Nina, died of uterine cancer, and she became our spoiled baby," said Penny Bolton "We love her with all our hearts! . . . I didn't want her to be left alone after experiencing such a loss, so we immediately started taking her to the store. She goes to work with me every day. You would've thought that she'd grown up there. She has amazed us with how adaptable she's been, adjusting to all the customers who come in and out. Her main vice is she's going to lick you to death."
As Penny's sister battled cancer, she developed a limp. Penny believes the dog was mimicking Nina, as Muffy began to walk with a limp as well. But upon arriving at Penny's house, Muffy wasn't limping anymore.
It was Nina's last words that sealed Muffy's place in the Bolton home, "You be a good girl for them Muffy!"
Penny and her husband Don were formerly cat people, but now Muffy often travels with them, and as a Service Dog and is allowed on flights with the Boltons.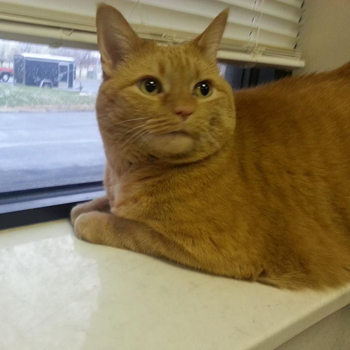 Frankie •  Franklin Printing
Let's not forget the felines on this pet-friendly day. They are welcome, too!
Adopted from Rutherford County Pet Adoption & Welfare Services (PAWS) 10 years ago, Frankie, a pleasantly plump, handsome ginger tabby, is a favorite fixture at Franklin's Printing.
After the loss of their previous longtime office cat, Vanson, Franklin's salesman John Weatherspoon called shop co-owner Fay Golczynski from PAWS. He'd found a pale, scrawny, ugly little orange kitten, who insisted on talking on the telephone himself with Fay. Fay had been especially attached to Vanson, so during the initial trip home from the veterinarian's office, she didn't want to even make eye contact with this little kitten, but he was persistent, he finally put both front paws up on her shoulders and made her make eye contact with him. That's all it took!
Tom, the longtime pressman, suggested naming the cat Franklin, after the print shop, which became Frankie.
Frankie is in the kitchen window each morning when the first people arrive. He meets and greets everyone every day. Frankie even attends employee meetings in his own chair, and visits everyone in the office throughout the day as well. Frankie can be a great stress reliever to his co-workers.
"You can tell him anything, he keeps secrets really well," Fay says.
Frankie can count, too: Tom gives Frankie six treats every day. One day, he gave him a larger handful, but Frankie only ate his typically allotted six!
(June is also Adopt-a-Shelter-Cat Month. All of cats at PAWS this month are available for "Name your Own Price". For more information, visit paws.rutherfordcountytn.gov.)