Former MTSU student Anderson East is set to make his Bonnaroo debut at This Tent on Saturday afternoon of the festival. The soulful singer/songwriter (whose real name is Michael Cameron Anderson) is already making waves in the Nashville scene, thanks to his critically acclaimed 2015 album, Delilah, released on Elektra Records and Low Country Sound, and his relationship with country star Miranda Lambert. We talked with the Athens, Ala., native about his time in Murfreesboro, what it's like recording on a major label and returning to the Farm as a performer.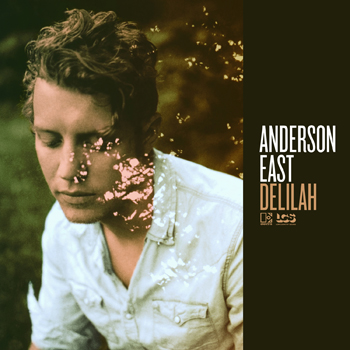 Murfreesboro Pulse: How was music introduced into your life?
East: Mainly, I grew up in the church. That was a very heavy, influential part of my music today. My mom was the piano player, my granddad was the preacher. Pretty much any time the doors were open, I was hearing that kind of music. In teenage years, that's when the rebellious side comes out. You just want an electric guitar, distortion pedal and a Marshall stack to throw everybody off. So I think it's just the typical "kid with a guitar" story, and it just kind of bred from there.
Were there any particular artists you were listening to during that time?
Growing up—it wouldn't be considered the coolest type of music—I was just listening to what was on the radio. Where I'm from, there's no music scene, there's no real bars, there's no musicians. So it's really just what you found on the radio.
My first job was at the first record store ever in Athens; it was a chain, Sam Goody-type store, but from there every paycheck I got went into buying some records there. I got into jam band music, singer/songwriter type stuff and some classic R&B around that time. As much as my musical taste can vary, that's usually what I keep going back to.
How did you end up studying music engineering at MTSU?
Around that time, my parents were pretty adamant about me going to college. My parents got me a four-track tape recorder when I was about 12 or 13, and I was just completely fascinated with that and making records and then listening to records and figuring out why my records didn't sound like a Michael Jackson record or something like that. So I thought if I can go to school and be in a recording studio and figure this process out, that sounded pretty damn good to me. I knew I wanted to be in Nashville, and MTSU seemed like the best education you can get for that kind of thing. So that's it; when I was 17 I boogied on up that way.
What was your biggest takeaway from your time at MTSU?
Honestly, I learned my vocabulary of what being in a studio is like as far as gear and a little bit of the technical prowess from it, but what I would say is the biggest [takeaway] is some of the people I met. One of my biggest friends to this day I met when we were both about to skip a songwriting class (laughs). We still write songs together today.
Do you have any favorite spots you like to hang out or play in Murfreesboro?
I'm sure everything has changed, but I used to love going down to Liquid Smoke. They had jazz nights on Tuesdays; I loved going down and listening to that. Is Liquid Smoke still there?
Yeah, man. They're on the square, and still do vinyl nights and whatnot.
I love that place. We used to always play down at Main Street, which is what it was called when I first got there, then it changed to 527, and I'm sure it's changed again. That club's where I cut my teeth and figured out how to put on a rock 'n' roll show.
You've released music independently in the past, but your latest album was released through a traditional label. What are the biggest contrasts between those two experiences?
I'm super-grateful for having the experience that I had. I'd say the biggest difference would be, you're able to focus more on what you're actually doing musically and putting on a show. As an independent guy, you're trying to make the record, figure who's gonna make the artwork for the record, how you're gonna put the record out, and I've gotta play shows; how do I book these shows? So you're trying to juggle everything and wear so many different hats, and at the end of the day, I haven't picked up a guitar in a week because I'm trying to play music so damn hard.
Coming from MTSU, they make you take those music business classes, and everything I ever heard was "record labels are the devil; they're gonna take all your money, and you'll have to give up all your control to 'em." It was like the DIY thing was the hip, cool thing to do. But for me and my experience, and I know I'm a rarity, but everybody I worked with over at Atlantic, Elektra and Low Country, they're people that are genuinely there to make art again, something they feel proud of, that I feel proud of. They want the artist to be able to grow and develop and make the kind of music that they want to make, and they're there to support that. It's completely backwards from what I've been taught.
It's an amazing thing; I'm extremely grateful. It's a really talented team, and I learn from them all the time. The resources are where if I have question, I don't have to go read nine books or spend days on the Internet; I just make a quick phone call, and it's done. I can get back to actually writing a song or getting to the next show.
What advice do you have for young songwriters or musicians that are studying at MTSU or just playing in their bedrooms?
I'd say, there's a lot easier things to do in the world besides writing songs, but to me, it was the only thing I loved or really cared about. You go into it knowing it's the biggest long shot in the world, but if you just do the work and are still passionate about it, then that's it. Just keep on doing the work and keep on striving to be better than you were yesterday.
Then just have fun with it. When you're a kid and pick up a guitar, you just wanna be Keith Richards and wanna have fun. You wanna just be loud and obnoxious and feel like you have something to say and then you go say it. Me when I'm 10 years old compared to when I'm 20, and now I'm 28, I'm just still trying to be that 13-year-old kid in my parents' basement and having fun. Keep having fun with it, and when it's not fun anymore, find something else to do.
Are you looking forward to playing Bonnaroo this year?
I'm actually really, really excited. I went to the first three [festivals] years and years ago, and I haven't been back since. To be going back and playing, it's really cool. I went and sold lemonade one year and did all kind of random shit just to get a free ticket. To go back and have a ticket for playing, I'm really excited about it.