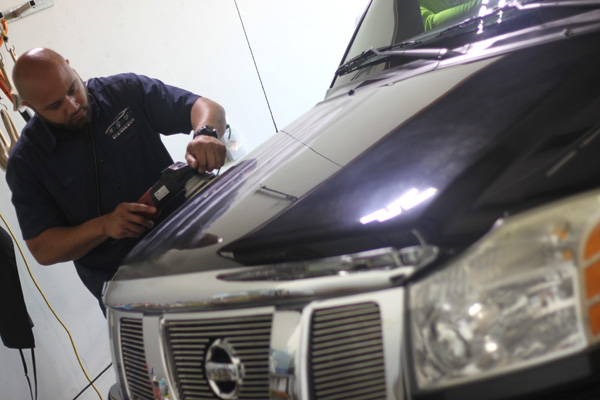 Master Detailer Jason Bogard has recently moved his car detailing business, Auto Glam Detail, to a larger facility on Broad Street, near Northfield Boulevard and Sylvan Park Grill.
After just two years in operation in Murfreesboro, his business outgrew its former location, and Bogard said he is excited to have the additional space and its potential for even more growth.
He attributes much of his entrepreneurial success thus far to looking at a transaction from the customer's perspective.
"I tell my employees all the time, 'Would you pay this much money to have this done?'" Bogard said. "If I don't feel comfortable with the work that is being done, I won't charge my customers that price."
Many of his regular clients will bring their cars in every two or three months, while Bogard said he sees some as often as every week.
The touring Christian band Finding Favour entrusts its tour van in Auto Glam's hands lately.
"They told us that it was the best it has ever looked," Bogard said.
The owner and founder of Auto Glam took a moment to tell the Murfreesboro Pulse the story of his small business.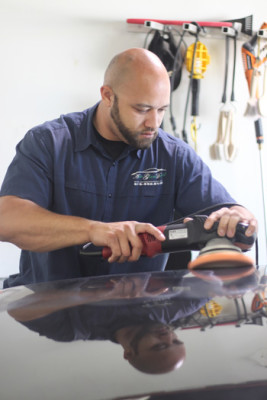 Murfreesboro Pulse: How did you get into the auto detailing business?
Jason Bogard: I always liked cars. I started detailing when I was 15.
People would tell me how meticulous I was, and that I was doing a good job. I was self-teaching, reading magazines, buying different waxes . . .
I later joined the military; I was a reservist.
[During that time] in North Little Rock, Arkansas, I worked at Splash Car Wash.
When I got out of the reserves, I went to work for full-service detailers for about two years and got some more experience under my belt.
Then I moved to Murfreesboro and started with mobile detailing—took Murfreesboro by storm!
My parents moved here first, and I got down here to be closer to my parents.
I took my car to be cleaned, and the job was OK, but I started researching the market and I thought I could bring something better to Middle Tennessee.
Once I got in the groove of things, I hired some guys and opened a storefront on College Street in May of 2014. The city is growing so fast, we just exploded. Check online and read the reviews; I'm one of the top-reviewed detail shops in the state.
I treat every car like it was my own. A lot of shops push out quantity, but I look at quality. People's cars are their babies. They want the work to be excellent.
The military helped me a lot, the discipline.
And my mother and father stand behind me, there's family support.
Dad is here just about every day. He helps me a lot.
My mom works full time [elsewhere], but it was my mom's idea to get the building [Auto Glam's original location on College Street]. I was nervous about having all of that overhead. . . . She helps me with the business management approach.
My brother-in-law, Robert Alexander [who lives in Chicago], does some good work for us, too. He's helping with the new building.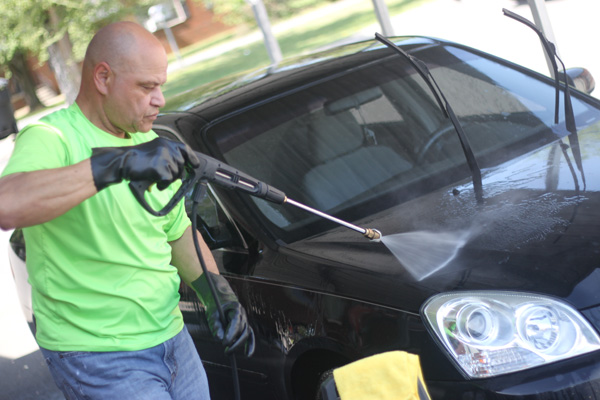 What's your favorite part of running Auto Glam?
I'm here every day, it's very demanding, but having something like this that's directly connected to my name. Just walking through a door that is your own, it's very rewarding.
I don't have to punch a clock. When I do have the time, I can spend time with my family, take trips.
Every customer that gives me a 5-star review: that's kind of addictive. That's the most rewarding thing, when someone tells you your work is excellent.
I love to have a clean car and know other people do, too.
What's your least favorite part?
Paperwork. I'd rather be out in the shop working. [I dislike] doing the books and that sort of thing.
The lack of sleep, sometimes.
Anytime anything malfunctions, you have to replace it. You have to be good at logistics.
Not making it to a family function on time. Having your own business does cut into that a little bit.
Who are some of the business owners or other people who have inspired you?
Jesse Rodriguez was that Master Detailer in Arkansas, he taught me everything to become a Master Detailer.
Ben Thomas has always been a big supporter.
Whenever I go back to Arkansas, I always go in and talk to them, and they always give me good advice. They keep me on track. I can call them when I need them.
They give me advice on chemicals, everything.
What are some of the challenges you have overcome (or are still working on overcoming) with starting and growing your business?
Just the basic stuff that most business owners go through—having to make sure that those days that I am exhausted to still come in here and make sure the cars get done just as well.
How are you getting the word out about your business?
When we first started, we went door to door to every car dealership on Broad Street. We got some no's, but got our first yes from a commercial truck dealership. They were our first customers and they put in a good word for us with other dealerships.
Facebook, Amazon Local, Groupon, Living Social and all of that got us in the door with our regular customers. We've had a lot of customers come in from the ad in the Pulse.
What is your advice to someone starting a business?
First, make sure you have a good team in place. Whether that's family, friends or employees, people who think logically and logistically.
The second thing, is staying disciplined. You're not going to be able to do all of the things that you can if you're working a regular job. But you can reap long-term rewards if you sacrifice a little.
~~~
For more on Auto Glam Detail, visit autoglamdetail.com or drop by the new facility at 1501 NW Broad St.