The Center for the Arts presents Christopher Durang's comedy Beyond Therapy as part of its Gallery Series. The show (rated "R" for adult language and subject matter) runs June 17–26 and is directed by George W. Manus Jr.
In Beyond Therapy, Bruce (Matt Smith) and Prudence (Memory Strong) are deeply into therapy. Prudence's macho therapist (R.J. Polito) is urging her to be more assertive, while Bruce's wacky female therapist (Heather Gay Lanier), wants him to meet women by placing a personal ad. She does not fully comprehend that Bruce has a male lover, Bob (Zach Parker), who is not pleased by Bruce's desire to date a woman: Prudence.
Bruce doesn't know how to handle poor nervous Prudence, and Prudence doesn't know what to make of her unpredictable new boyfriend. They do learn to live beyond therapy in this delightful Off Broadway hit that moved successfully to Broadway. Fernando Ochoa rounds out the cast as Andrew.
Time says the show "Offers the best therapy of all: guaranteed laughter," while Women's Wear Daily says Beyond Therapy is "Filled with offbeat laugh lines, wry observations on the contemporary urban psyche and situations that range from farcical to absurd."
Manus formerly operated his own theater on Main Street in Murfreesboro, Out Front on Main, but decided to close the venue two years ago.
"I lost my father," Manus said. "It became increasingly important to be at home and care for my mom and her health."
But Manus is still active in the local theater and art scene.
"Since that time, I played Brother Boy in Sordid Lives for a second time, the two leads, Louisiana and Magnolia Capote, in a murder mystery dinner, all at the Center. In addition I have gone back to pursue my career in drag and the art of female impersonation, making history as the show director for Ignite in Murfreesboro. After it closed I found my new home at Chameleon's Lounge in Smyrna, where I perform shows every weekend," Manus said. "I did manage to squeeze in a lead role for Jonathan Gower's music video as my alter ego Iona, and also a role in Matt Riddlehoover's film Paternity Leave."
Beyond Therapy will show at 7:30 p.m. June 17, 18, 24 and 25; and at 2 p.m. June 19 and 26. The Center for the Arts is located at 110 W. College St. For tickets and more information, visit boroarts.org.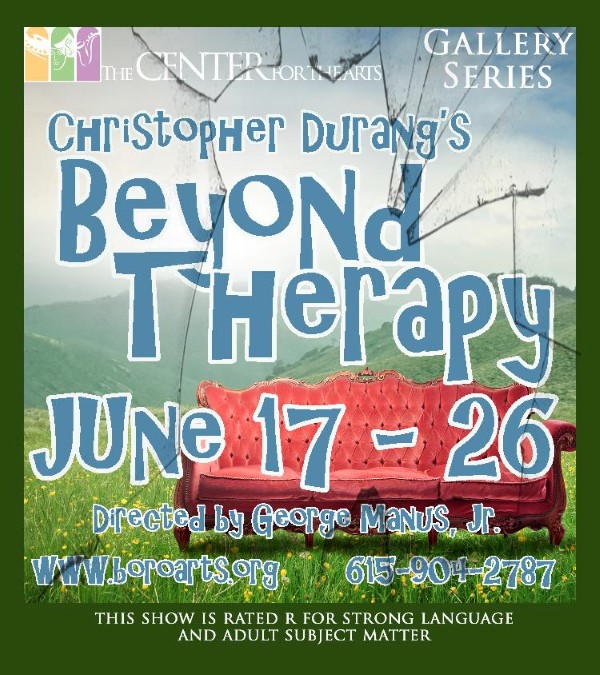 Enter to win 2 tickets to one of the June 24–26 performances here: