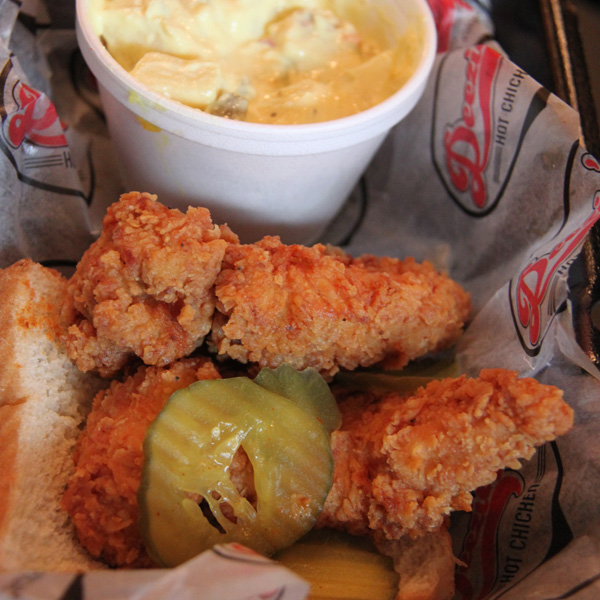 Fans of hot chicken, and even fans of fried chicken tenders without the spice, have a home in the 'Boro now that Deezie's Hot Chicken has come to town.
Many self-proclaimed hot chicken experts put Deezie's on par with Prince's and Hattie B's, which is not something to be taken mildly in Tennessee.
The restaurant, located in the Oaks Shopping Center on Thompson Lane, directly next to Marble Slab near the Marshalls, specializes in hot chicken, the recent "It" dish from the "It" city.
The menu at this Murfreesboro eatery is not huge, but there really is something for everyone at Deezie's; the cayenne-laced chicken doesn't have to be sweating-your-eyeballs-out hot (though it can be . . . if you want).
The main stars are the wings, chicken tenders or chicken quarters, which can be ordered original (breaded and fried without the heat), mild, medium, hot or xtra hot, or seasoned with a Cajun dry rub, lemon pepper blend, or with Sweet Heat barbecue sauce.
There's also fried fish, fried pickles, french fries, and if you are trying to avoid fried food for some strange reason, you can select slaw, baked beans or potato salad as your side.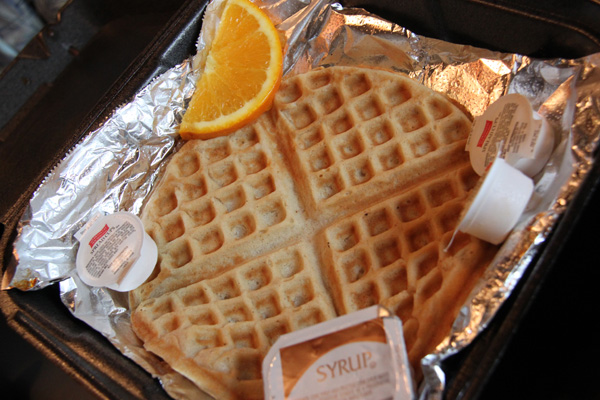 Here, you can also get your hot chicken with waffles, so that's a fine combination. If the chicken is a little too hot on its own, wrap it in a soft waffle and pour some syrup on it—sweet heat!
Deezie's also gets some bonus points for having a honey bear on each table, which sit alongside a bottle of Louisiana Hot Sauce, just in case your chicken is not hot enough. But from what I understand, if you order hot, it will be hot enough. (This fried chicken enthusiast went with medium, and it was perfect; there was a little sweating going on, but nothing too extreme.)
"Making chicken hot is not hard. Making it hot with flavor can be difficult. Deezie's nails it. The service has always been great too," wrote one Yelper, Chrispy R. "Deezie's is a great spot."
Another customer agreed that his chicken tenders, ordered "hot," delivered a delicious, slow burn.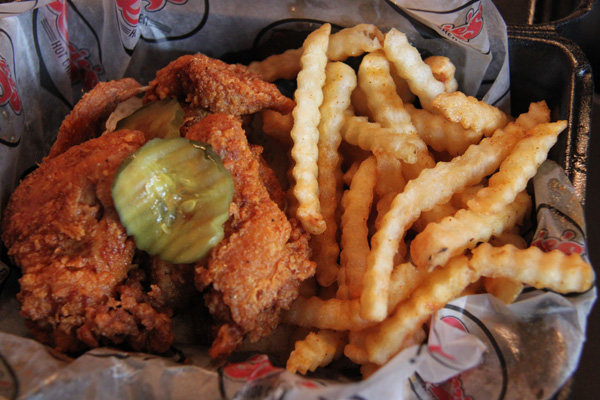 "Some foods make a good first impression but the more I eat the less I like about it. These tenders were the exact opposite: they started out good and got better as I ate more. I ordered 'hot' and at first I thought they were a bit tame, but the hot on these tenders creeps up on you," said Wes. "I'm not a fan of hot foods simply for the sake of being hot. The heat in good hot and spicy food enhances the flavor and works with it to create an experience."
Some critics say the Deezie's chicken can be a little overly salty, and that the branded paper basket liners and cups make it feel like more of a "chain" than a family-run hot chicken joint. Mac and cheese reviews vary from "good" to "out-of-a-box," and the waffle condiments are margarine and corn syrup rather than butter and maple syrup, but overall, most seemed very impressed by Deezie's Hot Chicken.
The restaurant itself is not large; there are six small tables and a snack bar, but all orders are packaged in Styrofoam, so if there is no seating available at the restaurant it is easy enough to take your meal elsewhere for a little alone time with your spicy chicken.
The hot chicken phenomenon has crept into Murfreesboro—"salute the chicken!"
Deezie's Hot Chicken
452 N. Thompson Lane
Mon.–Sat.: 11 a.m.–10 p.m.; Sun.: 12–8 p.m.
Breast quarter: $5.99; three wings, a waffle and one side: $8.99; Lunch special with two tenders on bread, pickles, one side and a drink: $5
(615) 962-8203
deezies.com