If channel surfing on the couch after a day's good work ever ends up settling on The Tonight Show with Jimmy Fallon's The Ragtime Gals barbershop quartet bit, then it's understandable that four-part harmony is quite catchy and soothing, if not completely mesmerizing.
The Middle Tennessee area is actually well-to-do in the barbershop musical realm, and has been for quite a while. The barbershop quartet idea is seemingly novel, introduced into many American lives through theatrical musicals seen or on the radio, or, if one is lucky enough, outside of an actual barbershop on some sunny afternoon way back when. It's simply a pure, clean-cut American musicality.
Many may not know that Nashville is the home of the Barbershop Harmony Society's headquarters (formally, the Society for the Preservation and Encouragement of Barber Shop Quartet Singing in America, Inc., or SPEBSQSA), located at 110 7th Ave. North in that easy-to-miss three-story gray building, a block off Broadway. An appropriate Norman Rockwell painting is draped down the north side of the building that's the home of the oldest preservation and promotional organization in the country committed to keeping that melodic sound alive, well and archived. All they really need to do for more attention would be to have four of their members busking in front. But the Barbershop Harmony Society is taking it a bit further—a lot further—with the 2016 International Barbershop Quartet Convention taking place in various locations around downtown Nashville July 3–10. It's probably going to be as ridiculously entertaining as anything Fallon can do with three of his songbird writers baring their voice boxes on a 30 Rock stage garbed in pinstripes, white pants, boater hats and all.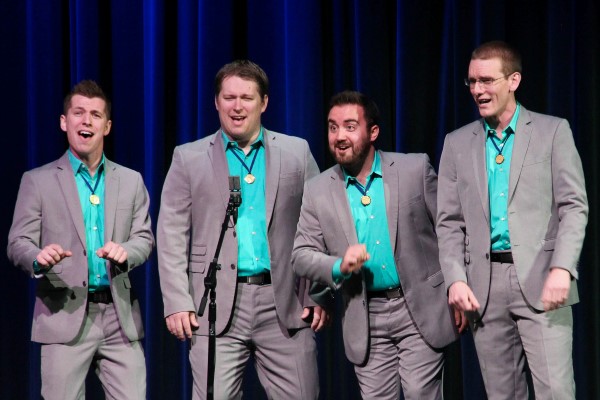 The Barbershop Harmony Society was founded in 1938 by Owen Clifton Cash and Rupert Hall, whose absolutely hilarious original invitation to a "song fest," in Tulsa, Okla., began the initial gatherings that would eventually became the Barbershop Harmony Society:
Gentleman,
In this age of dictators and government control of everything, about the only privilege guaranteed by the Bill of Rights not in some way supervised and directed, is the art of Barber Shop Quartet Singing . . . It is our purpose to start right in at the first, sing every song in numerical order, plow right down the middle, and let the chips fall where they will . . . Just thinking about it brought back to your Committee found memories of a moonlight night, a hay ride and the soft young blonde visitor from Kansas City we dated on the occasion years ago.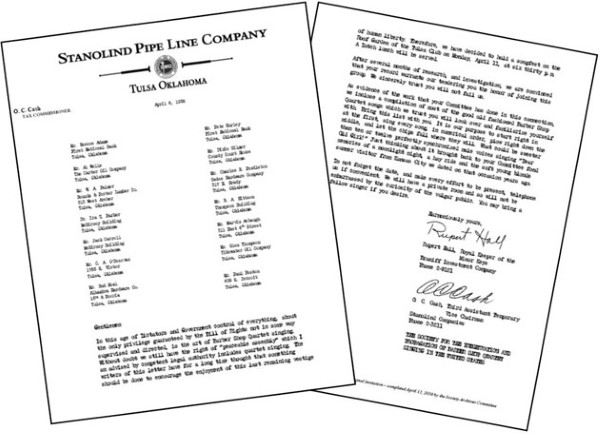 Hall signed it as "Royal Keeper of the Minor Keys," to the 14 friends they invited and that letter got them 26 people in all, "crashing the party," in attendance, according to Cash, with some "breaking off into quartets, as well," or, stripping the song fest down to its primal, bare bones choral structure of the lead vocalist, backed by the bass, tenor and baritone in unison. Though it was only males invited to the first gathering during the '30s and the genders are still usually not mixed, females have a prominent role in the headquarters' archived history with their groups referred to as Sweet Adelines Quartets because of the different vocal ranges between men and women. Since Cash and Hall's creation of the #1 chapter, the idea grew over the years and throughout the country, eventually and appropriately placing their archiving/promotional/preserving headquarters in our Music City. So, we landed the International convention this year.
The first couple of days of all this madness, July 3–4, deal with everyone getting settled in the city, lodging and registration-wise, while the first day of actual singing, July 5, will be at the Schermerhorn Symphony Center, where the Harmony Foundation Youth Barbershop Quartets will get together and compete for the gold medal. They're open to registration as long they are made up of vocalists under 25 years old, and have qualified at their own local levels. July 6–9 are reserved for the International Quartet Contest at Bridgestone Arena with the quarterfinals at 10 a.m. on Wednesday, the semifinals (top 20) at 11 a.m. on Thursday, and the Finals (top 10) at 7 p.m. on Saturday.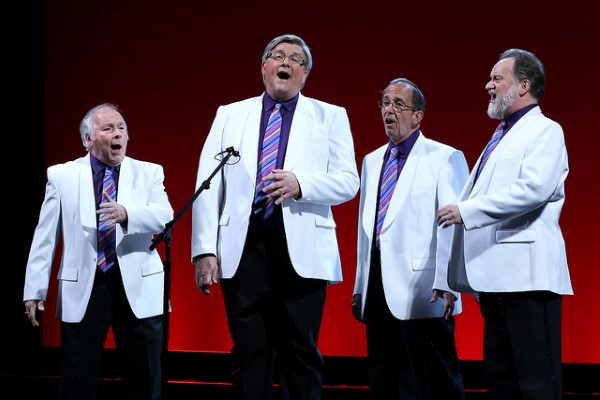 The Association of International Champions Show, Pitch Perfected: And Evening of Vocal Harmony, will be at the Schermerhorn at 7:30 p.m. on July 6 and 7; the International Chorus Contest will be Friday, July 8, at 10 p.m. in Bridgestone, while the World Harmony Jamboree acts as the convention's "parade" of quartets and choruses held at Davidson Ballroom in the Music City Center.
All information and very detailed scheduling pertaining to the 2016 Nashville International Barbershop Harmony Society Convention, can be found at barbershop.org. A trip to that building on 7th Avenue North in Nashville can help you out in finding any particular choruses to follow and/or see live, or how to begin a chorus or quartet of your very own. These guys mean business when they say they're there to promote and preserve this fine art of Barbershop Harmony.