Summer is coming, and Murfreesboroans know that means it's time for the annual International Folk Fest. Now in its 34th year, the Folk Fest is hosted by local dance troupe the Cripple Creek Cloggers. This group, led by Steve Cates, has been traveling to other countries to share Appalachian traditional dance and music since 1977. In return, the Cripple Creek Cloggers host dance troupes from all over the world here in Murfreesboro.
"We couldn't bring everyone [from Murfreesboro] with us, so we decided to bring the other countries' dancers here," says Cates.
In 2016, International Folk Fest will feature groups from Germany, the Czech Republic and Puerto Rico. Cates is excited for each of the groups.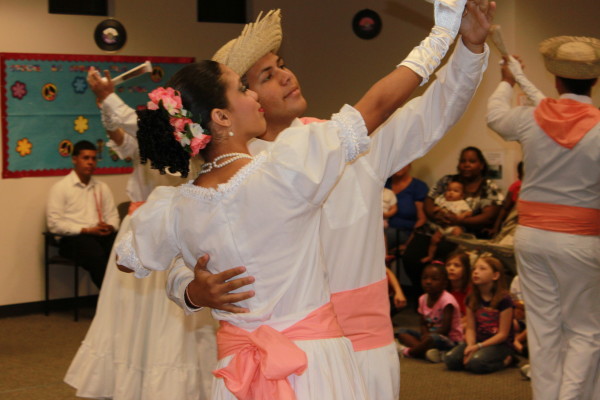 "It's always special to have a group from Puerto Rico," he says, since the Cripple Creek Cloggers' first-ever international trip was to perform in San Juan, the Puerto Rican capital. He adds that because there are many Spanish speakers here in Middle Tennessee, Folk Fest tries to always have a group from a Spanish-speaking country.
The visit of the group from Germany is also exciting for Murfreesboro's dancers because they are planning their own tour of Germany and Poland next year.
"It will be great to meet face-to-face and discuss the logistics and possibilities," of the upcoming trip, says Cates.
The Cripple Creek Cloggers also have a special relationship with Czech Republic due to the group's friendship with folks at the folk dancing headquarters in Prague. The Czechs have hundreds of traditional dance troupes, says Cates, and their friends there always send a group with a new style or background to join the festival in Murfreesboro.
Our international visitors have a very busy time during the festival here in Murfreesboro, performing both for the general public and for special groups during the week. This year there will be an additional full show of all three groups on Friday night (June 17) at Lebanon High School, which will be sponsored by the school's FFA group. On Saturday morning, Carpe Artista will be hosting a performance by the Puerto Rican contingent at the Train Depot in Smyrna, as well. And of course on Saturday all three groups will perform for the public at Murfreesboro's Square.
Throughout the week, Uncle Shuffelo and His Haint Hollow Hootenanny, a two-family ensemble from Bedford County, Tennessee, will also be performing and providing the traditional music for the Cripple Creek Cloggers' performances.
The organizers also go to great lengths to provide time for the different groups to explore Middle Tennessee and learn about our history and culture. Each group is assigned local guides who help them choose the places they'd like to visit. Oaklands Historic House Museum will host the groups for free, and the Heritage Center also provides advice and assistance. Past expeditions for the groups have included trips to Tennessee Walking Horse farms, the Jack Daniel's Distillery, and downtown Nashville, as well as many local places of interest in Murfreesboro.
This year, Chris Highers of Main Street Music has also invited the groups for an evening of music and fun at his business, so the groups can get to know one another and socialize. Music at this event will be provided by Johnsongrass, a family group of musicians out of Fairview that plays traditional Appalachian music.
As always, the different groups will be performing at venues around the city during the week, many of which are helping the festival by providing meals for the performers. The Folk Fest organizers have enjoyed great success in the past few years as families open their homes, provide dinner for the performers, and enjoy a performance with family and friends. If you are interested in hosting a troupe for a future festival, get in touch with Cates at appdancer@aol.com or (615) 896-3559.
The 2016 Schedule Includes:
Tuesday, June 14
Smyrna Public Library
400 Enon Springs Rd. W., Smyrna
Germany – 10 a.m.
St. Clair Senior Center
325 St. Clair St., Murfreesboro
Puerto Rico – 10 a.m.
Wednesday, June 15
Linebaugh Public Library
105 W. Vine St., Murfreesboro
Czech Republic – 10 a.m.
Friday, June 17
Lebanon High School
500 Blue Devil Blvd., Lebanon
7 p.m. ($10)
Saturday, June 18
East side of the Rutherford County Courthouse Square
8:30 a.m.–12:30 p.m.
Train Depot, downtown Smyrna
Puerto Rico – 11:30 a.m.
Visit mboro-international-folkfest.org for more information and performance times.