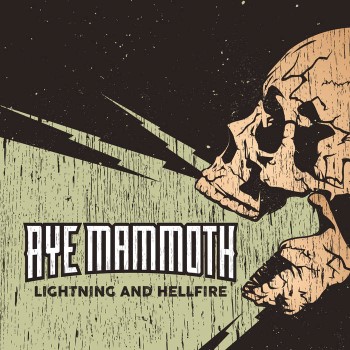 Local sludge-metal outfit Aye Mammoth is gearing up to record a new EP, entitled Venomous Bones, in July, so it's as good a time as any to talk about the band's mean, lean 2015 offering, Lightning and Hellfire.
Aye Mammoth's third project since forming in 2012 and the follow-up to 2014's Bring the Dawn cram-packs 13 songs into 32 headbanging minutes, giving listeners an unrelenting dose of doom, sludge and thrash. The group taps into influences like Black Sabbath and Led Zeppelin while giving everything a distorted, metallic touch. Much of this comes from the record's aggressive sonics, which may sound overdriven to some but are ultimately what gives Aye Mammoth such a hefty sound. It's loud, it's up-tempo and it wants to demolish your eardrums.
After a surprisingly ethereal instrumental opener, things pick up with the 91-second "Here Comes the Hellfire," a driving intro with distorted vocals akin to King Crimson's "21st Century Schizoid Man." Listeners should be advised that song title is a warning. The trio of vocalist/guitarist Micah Loyed, drummer Phil Stem and bassist Paul Haggard roll right into the blues-metal combo of "Revelator" and "Gravewalker" and pound out cut after cut of hard-rock and heavy-metal fierceness for the remainder of the record. Other highlights include the spacy lyrical moments on "Howling Lightning" and dance-ready "Devilsbane," which features some unexpectedly groovy rhythms from Stem.
The only downfall of Lightning and Hellfire comes in its later moments. The tracks "Dread of the Deep" and "Starkiller" each take half-steps down in tempo that, because the record is so unrelentingly fast-paced up to that point, result in an energy drop that may be a letdown for especially rabid fans.
Things cap off with re-recordings of "Rattle Your Bones," "Raise Horns" and "Thunderbolt" from the band's 2013 self-titled debut, with much improved recording quality this time around.
While it can be easy to zone out from its non-stop rocking at points, Aye Mammoth's latest is worth a dive into. Lightning and Hellfire is one of those records that goes by quickly, ends before you can get tired of it and makes you wanna put it back on—that is, if your headphones can handle it.