It's the summer of 1776, and the nation is ready to declare independence . . . if only the founding fathers can agree to do it! This month, the Center for the Arts presents the musical 1776, running July 8–24. Directed by Cyndie Verbeten, with musical direction by Fran Gerbuhr and choreography and co-direction by Kate Adams, this production brings history to life onstage as 1776 puts a human face on the pages of our country's past.
Through the production, the audience sees the men and women behind our national icons: proud, frightened, uncertain, witty, charming and ultimately noble figures determined to do the right thing for a fledgling nation. Follow feisty John Adams as he struggles to push the Continental Congress down the path to independence, with colorful characters like Benjamin Franklin, Thomas Jefferson, Richard Henry Lee and Edward Rutledge pitching in for the cause. Featuring a funny, insightful and compelling story along with a striking score, 1776 is a triumphant celebration of the American spirit.
Each performance, the cast will welcome a prominent member of the Rutherford County community to play a cameo role of a portrait painter. Included in this list are: Sen. Jim Tracy; Steve Sax, president of Murfreesboro Electric; John Dietrich, vice president of Franklin Synergy Bank; Phillip Barnett, former president of the Center for the Arts; Dave Davis, logistics chair for Wine Around the Square; and Bart Walker, president of WGNS.
The Center will also have voter registration in the lobby at each performance.
Director Cyndie Verbeten is very excited to finally be directing 1776, which has been a dream show of hers for many years.
"1776 has been on my bucket list for 18 years. I saw it on Broadway in 1998 and, being a history lover, was completely enchanted by the telling of this momentous period in time. I hoped for, but never expected the levels of excellence and dedication this cast has brought to the show. Those men and women were real people, and the cast represents each one with integrity and charm—if not a bit of poetic license," Verbeten said. "The timing of this show is, as a friend so aptly stated: 'just what the community of Americans needs right now! It's irreverently funny with moving dramatic numbers, all of which tell the story of America's birthday.'"
Winner of three Tony Awards including the Tony Award for Best Musical, 1776 premiered in 1969. In 1972 it was made into a film adaptation and was revived on Broadway in 1997. The show is rarely tackled by theater companies, due to the large number of men needed for the show. The Murfreesboro cast of 24 men and 2 women includes both seasoned stage veterans and some making their theatrical debut.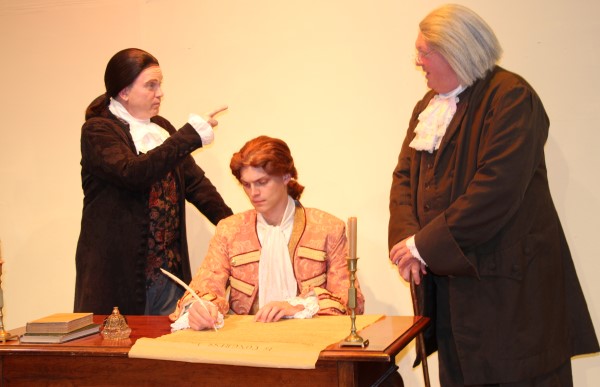 The role of John Adams is being portrayed by David Cummings, who argues for independence and pours his heart out in letters to his beloved wife, Abigail, played by newcomer Lori Joffs. He is joined by Chris McLaurin as Benjamin Franklin, Cavender Lane as Thomas Jefferson, John Frost Jr. as Richard Henry Lee, and Chad Witemeyer as Edward Rutledge.
The complete cast is:
Aaron Hall – Dr. Lyman Hall
Adam Sanders – Samuel Chase
Cavender Lane – Thomas Jefferson
Chad Witemeyer – Edward Rutledge
Chris McLaurin – Benjamin Franklin
Colin McLaurin – Leather Apron
Dakota Green – Josiah Bartlett
Dale Tipps – Roger Sherman
David Cummings – John Adams
David Naylor – Lewis Morris
Gary Davis – Judge James Wilson
Haley Ray – Martha Jefferson
Joe Bosnak – John Hancock
John Frost Jr. – Richard Henry Lee
Kevin Compton – George Read
Kyle Schrage – Charles Thomson
Lori Joffs – Abigail Adams
Matthew Wells – Robert Livingston
Rick Stewart – Caesar Rodney
Robert Martin – Stephen Hopkins
Slate Bowers – The Courier
Stephen Belk – Thomas McKean
Steven Scott – Reverend John Witherspoon
Ted Verbeten – John Dickinson
Tony Laughlin – Andrew McNair
Zachary Richardson – Joseph Hewes
Tickets can be purchased at boroarts.org, by calling (615) 904-2787, or in person at the Center's box office at 110 W. College St. in downtown Murfreesboro. Performances are at 7:30 p.m. on Friday and Saturday evenings and 2 p.m. on Sundays, July 8–24.