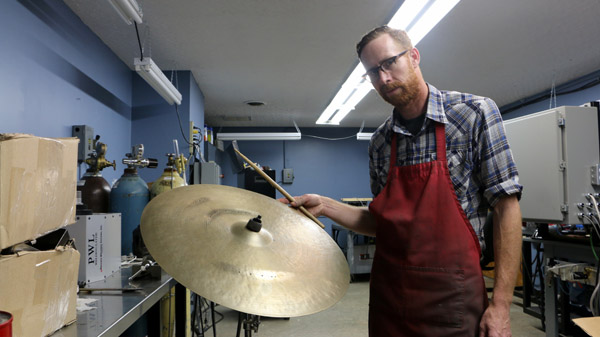 On many days, 38-year-old drummer Jake Winebrenner's office is onstage or in the recording studio with local bands like Flea Market Hustlers or Rhythm Kitchen. On other days, it's at Process Welding Systems, a welding company located in La Vergne, Tennessee.
However, when Winebrenner's not working his day job or night job, he's tucked away in a back room at Process Welding Systems, repairing cymbals for clients from Nashville and across the world. Winebrenner—a musician, father and welder—can now add another name to the list: cymbal repairman. And, as far as he can tell, he may be the only one.
"It's a fluke," Winebrenner explained. "This wasn't an idea I had stored in my head until I could find the right equipment—I found the right equipment and then the idea was born."
Less than a decade ago, then-owner Tony Childers hired Winebrenner shortly after he moved to Middle Tennessee from Auburn, Ind. At the time, he says he shared the story of many struggling musicians and needed an additional source of income to fuel his drumming career. Winebrenner, who worked as a carpenter for most of his young adult life, says Childers welcomed him to the company and taught him everything he now knows about welding.
"I told him that I'm not the employee he was looking for," he says. "I was out on tour half the week, but [Childers] didn't listen to me. He saw something in me and hired me anyway."
Childers then introduced Winebrenner to a machine that forever changed the way he looks at cymbals. The machine, unlike others in the shop, uses a laser to fuse materials together and was rarely used until Winebrenner noticed it could potentially repair cymbals.
One day, Winebrenner brought a cracked vintage cymbal to work and put his plan to action.
"I had this vintage cymbal I had used on every recording," Winebrenner says. "I wanted to use that cymbal for the rest of my life. It has sentimental value, it has mojo, it talks to me. So I brought it in and started working on it."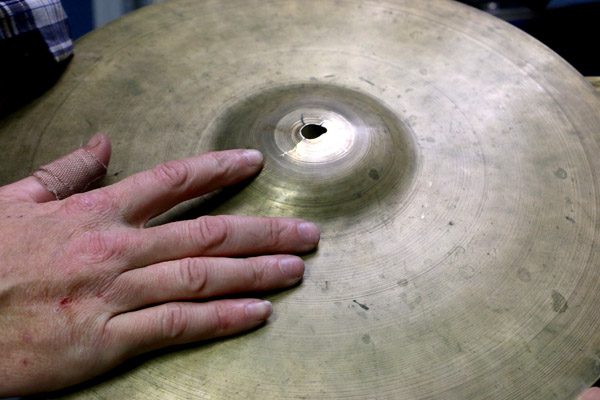 Up until his first days at Process Welding Systems, Winebrenner says he had no prior welding experience. In addition to a lot of practice on the machine, he says he spent many nights browsing Google and having conversations with cymbal companies and friends in the music industry before he felt comfortable working on other musicians' cymbals.
"Different companies use a different alloy recipe," Winebrenner explained. "It was my job to get really scientific and decide which recipes were used for each cymbal."
"It's like going to the doctor with a broken arm," he continued. "Everybody's bone break is going to have a different healing plan. Cymbals are no different."
Winebrenner says his cymbal repair business is strictly word of mouth; however, that hasn't kept musicians, including high-profile artists, from discovering his business. Last summer, Winebrenner received an inquiry from Ben Folds to repair his '50s Istanbul K cymbal, a cymbal used on his 2001 Rockin' the Suburbs album and every album since.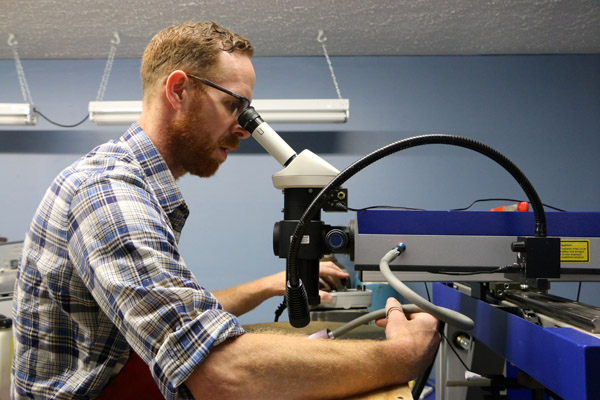 After Winebrenner completed the repair, he delivered the cymbal in person to the historic Studio A recording facility on Music Row in Nashville, where Folds then shared stories about the cymbal. In addition to Folds, he has worked on cymbals for George Sluppick, the original drummer for JJ Grey & Mofro, and several other percussionists. Winebrenner says there have recently been talks about repairing a cymbal belonging to Rolling Stones drummer Charlie Watts.
"We're not talking about any cymbal here," Winebrenner says. "This one has seen it all . . . so many Rolling Stones records. It only has a tiny crack, but it could go at any moment."
Winebrenner says being one of the only cymbal repair businesses has its perks. In addition to networking with fellow drummers from all over the world, he's also had the opportunity to meet some of his idols. Whether the customer is well-known and plays the cymbal every night or it's just a collectible, he says he treats every order the same.
"I've been given the opportunity to work on equipment that belongs to drummers I look up to, and that's not something I even had on my radar a few years ago," he says. "I'm a drummer first, so I don't look at this from a welder's standpoint. I'm going to be reasonable and honest."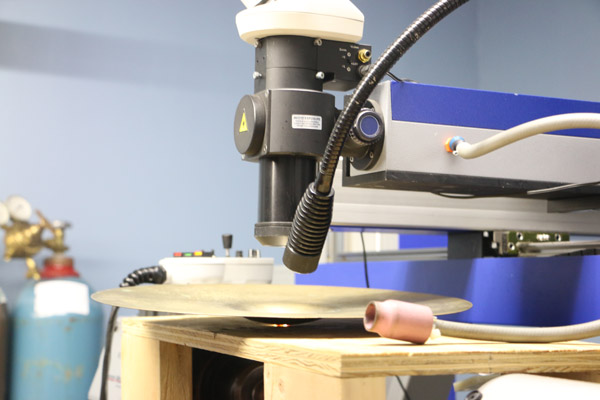 For now, Winebrenner, who juggles a full-time job, family time and weekly performances, says he maintains orders as he has time to work on them. Until he sees an influx in repairs, he says he will continue to run the business through word-of-mouth and his Facebook page.
"My business is fueled by people saying 'there's this guy who can repair your cymbal' or 'there's a guy who can make your cymbal crash again,'" Winebrenner added. "That's all I can do until it becomes something more."
Winebrenner says he hopes to turn the cymbal repair business into a full-time job one day, whether it's in the next few years or during his retirement. At the moment, it's just him, a cymbal and the machine.
"This is a one-man show," he says. "Right now it's a small business, but one day it may be my main source of income and the very thing that fuels my drumming career."
Winebrenner can be contacted at jmbwinebrenner@gmail.com or at Cymbal Repair by Jake on Facebook.