Murfreesboro percussionist Ross Lester led an enthusiastic and diverse group of drummers in a rhythm ensemble event on June 21.
Make Music Day began in France in 1982 and is now celebrated in hundreds of cities around the world on June 21 each year (coinciding with the summer solstice). In contrast to most music festivals, which adhere to the performer/audience format, many Make Music Day events aim to make everyone a performer. Often, free lessons are given and musicians and music organizations offer their instruments to others, giving them an opportunity to try them out.
Observations of this day of music spread to more and more communities each year, and in 2016 Murfreesboro residents gathered in Old Fort Park to play drums with their neighbors for a while.
Along with some of his percussion students and acquaintances, Lester, who runs a local percussion outfit called Everybody Drum Some, unloaded a nice collection of drums, tambourines, shakers and more at the park on this Tuesday evening, and proceeded to lead the crowd of seasoned musicians and children and first-timers alike in some enthusiastic music-making.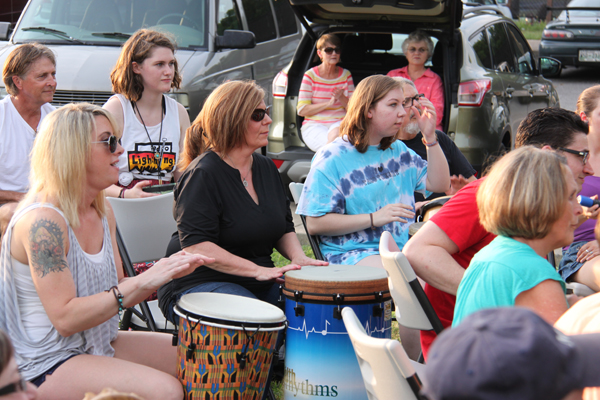 In addition to possessing a solid sense of rhythm, a passion for music and "encouraging creative life in the city," Lester has some significant leadership and organizational skills; somehow, he has the ability to motivate a group of strangers, some of whom have hardly touched an instrument in their lives or do not consider themselves performance artists, to follow his lead and make music as a group.
For the most part, beats sounded in unison, drawing curiosity from all corners of Old Fort Park during the evening. The expressive ensemble leader would indicate a rest in the music, and the beat would stop (excluding perhaps an isolated drummer or two so wrapped up in the rhythm that they didn't immediately notice the signal to pause). On Lester's signal, the group would pick back up where it left off, players happily drumming, shaking and dancing away. He would direct changes in volume, instruct the group to hit four consecutive beats all together before dozens of participants applied their own intricate twists and takes to the improvisational composition unfolding before everyone's ears. At times, Lester would take a cowbell solo as he walked among the crowd, encouraging everyone to feel the pulse of the music.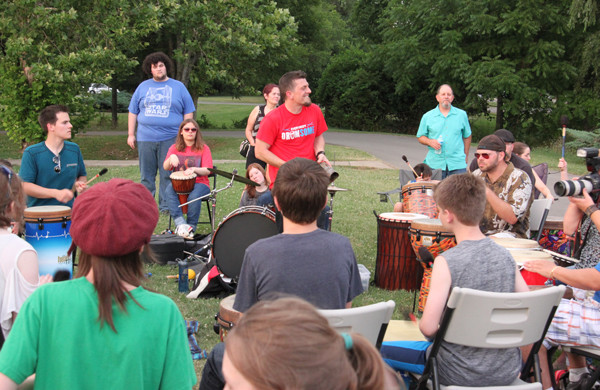 To Lester, such a rhythm event is much more than a bunch of individuals smacking drum heads to make noise.
A drum circle can teach skills such as listening to your neighbor, respect, communication and creativity.
Many say that listening to your neighbor, respect, communication and creativity could benefit our community and the world.
"It is exemplary of society as a whole," Lester said of a drum circle.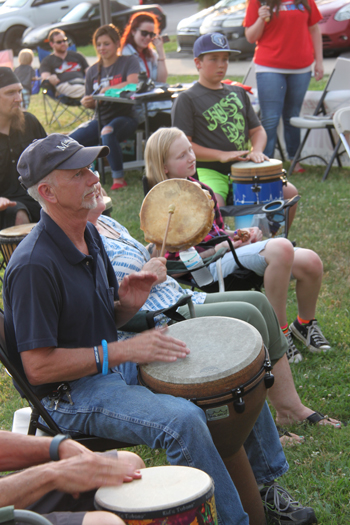 These group rhythm events can indeed offer a chance for plenty of personal artistic expression and freedom, but Lester spoke of the importance of listening to what those surrounding you are saying, and of being conscious that your part doesn't infringe upon the rhythm of the community.
At the conclusion of the event, as the summer sunset painted the sky in bold pinks and purples, Lester asked group members to describe what just happened in a single word.
Words offered as descriptions included: "heartbeat," "awesome," "community," "amazing," "rhythmatic," "home," . . . "pulse."
Lester noticed that the percussive participation can mean different things to different people. Some in the group were focused and intense, perhaps with a strong idea of the part they want to contribute to the group at a given moment. Others were more laid back, and just let the music flow through them.
One used the word "wild" to describe the event, while another used the word "peace."
"Yeah, peace, you mean beating your hands to pieces," chimed in the young man's friend.
For those wanting a taste of this type of group working together to release sound waves into the heavens, Lester hosts a group each Saturday morning outside of Concert Productions near the Square, simultaneous to the Murfreesboro Saturday Market.
Organizers aim to gather another group at Old Fort Park on the fall equinox, Thursday, Sept. 22.
Also, coming up at the Aug. 5 Friday Night Live concert on the Murfreesboro Public Square, featuring C.J. Vaughn and Highway 58 (with Lester on drums), the band plans a mass drum ensemble interlude where they will invite the crowd's participation during a portion of that night's set.
For more information on Everybody Drum Some, visit everybodydrumsome.com.