The Train Daddy is back, as always, combining sports news, life lessons and politically incorrect talk into one spectacular article. Let's piss off some liberals! What shall we discuss? It's July, folks. It's hot, HOT! Let's celebrate America's Independence Day, blow up some aliens, save the world, make fiesta with the sexy chick, yes! Or you can just chill out and stuff your mouth with a bunch of wieners; they say Americans eat 60 hot dogs a year on average. Crazy!
Let's break down some of the most iconic patriotic moments in sports history. All aboard! Choo-choo!
This is the greatest country in the world and damn anyone who looks down on that kind of loud, bombastic, narcissistic kind of thinking. Why shouldn't I boast? I love America and am thankful to be born in such a country. Any American citizens who want to complain and protest about how unfair America is: Shut up! Go ahead and play pin the tail on the map, pin a spot, pack your bags and leave, see if you can do better than America—I'll bet you end up somewhere sketchy.
Every July 4th I watch the Nathan's Hot Dog Eating Contest, it's as American as apple pie! A diverse group of people stuffing as many wieners down their throats as possible in 10 minutes—only in America. Well, this year Joey Chesnutt reclaimed his title and pounded down 70 hot dogs and buns in 10 minutes. Amazing! Leave no wiener behind! Independence Day weekend is a hot-dog holiday; Americans eat over 155 million of them.
I celebrated my Independence Day eating and blowing stuff up. Apple pie! Instead of blowing up fireworks, I blew stuff up with my family: target shooting with my grandfather's 1911 Ruger, some skeet shooting with my pump action Winchester Model 12, some archery with my PSE compound bow and, for the grand finale, we blew everything up with my customized Colt AR-15. American Freeeedom!
As my grandfather once stated, I owe everything I have to American veterans. My grandfather passed away a little over a year ago; he was the foundation of our family and is very much missed. He was a true patriot, an Air Force veteran who served 1951–55, primarily in Okinawa, and he loved this country. He instilled a sense of patriotism in me at a young age. God bless America, and God bless the men and women who fought and died for this country!
That's the problem with the liberal agenda—no respect, just a lot of whining and finger-pointing. America isn't perfect; we have made many mistakes in the past, done evil things and yet learned from those mistakes. Don't think I am some champion for the conservative cause, because I am not! Call me a Constitutional man, that's my affiliation. I want nothing to do with Republicans or Democrats.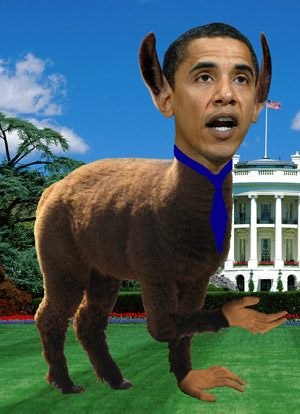 Imagine an Obama llama! President Obama the llama, a strange hybrid animal that has no true purpose in life besides spitting liberal nonsense. This creature has the body of a llama and the head of Obama. These creatures are known to roam the halls of the White House leaving nothing behind but stinky llama poop, a rare sight indeed! I am a genius; this would make one heck of a movie. Hey, if they can make Sharknado or Snakes on a Plane, I can make Obama the Spitting Llama.
Okay, let's not spend the entire article liberal bashing. Let's reminisce on happy things. These extraordinary moments in history make my list for most patriotic sporting events ever!
I have to start my list with the patriot Pat Tillman, the NFL player who turned down a multimillion-dollar contract to join the Army Rangers and go to war. Pat turned down a contract from the Arizona Cardinals so he could enlist after the events of 9/11 played out. Pat was killed in a firefight in Afghanistan in 2004 and became the face of bravery and self-sacrifice against the war on terror. I can't put into words the respect I have for Tillman. He wasn't forced or pressured to join; he gave up millions of dollars just so he could serve his country. What a sacrifice, and what a hero!
Travel back 80 years. The story of Jesse Owens is extremely inspirational. In 1936, a bastard by the name Adolf Hitler decided to use the Berlin Summer Olympics as a platform to spread his Nazi propaganda. Hitler's idea of a master Aryan race was overshadowed by a young African American who was the son of a sharecropper and grandson of a slave. Owens dominated the field, winning four gold medals, something not accomplished again till 1984. Owens still came home to a racially divided America, and was not given the hero's welcome he deserved. We have come a long way in terms of equality since the early 1900s. Some people still want to complain, but this country will provide fairly for any American willing to work hard. Owens' accomplishments opened the eyes of many, and in a time of unfair treatment his accomplishments helped bring discussion and understanding to the evils of hate and racism.
One of my all-time patriotic moments is known as the "Miracle on Ice." In 1980, a group of unknown stinky college kids came together and pulled off the biggest upset in sports history, period! The defending Olympic champions from the Soviet Union were bigger, stronger, meaner and unbeatable, or so the experts said. Well, what do experts know? A bunch of unknown Americans took center stage and won gold for this great country. Patriotism was overflowing after the victory. USA!
In 1976, two protesters stormed the field at Dodger Stadium, one holding an American flag and another with lighter fluid. It was pretty clear what they intended to do, as the booth announcer screamed, "It looks like he's going to burn a flag!" This is where the hero steps in. Center fielder Rick Monday snatched the flag away from the protesters and took it to the dugout. Monday, who spent six years in the Marine Corps Reserves prior to becoming a professional baseball player, stated he had a lot of friends who lost their lives protecting the rights and freedoms that flag represented. Think twice before you burn an American flag in front of Americans. Sad to say I have seen it twice in the past year. I saw morons burning American flags during the riots at Ferguson, Mo., and more recently in California as people were protesting Mr. Trump. I believe if I witnessed someone light an American flag I would probably Goldberg-spear the person and then do the Ray Lewis victory dance over their body. Choo-choo!
Mr. George Bush throws a perfect strike! That's right, this event makes my list of top patriotic sports moments. On Oct. 30, 2001, a month after the 9/11 attacks, George Bush threw a perfect ceremonial strike while wearing a bulletproof vest prior to game 3 of the World Series. The Yankees were at home against the Diamondbacks and patriotism was running high after the recent terrorist attacks. Throwing a perfect pitch is no easy thing from 60 feet away, standing on a mound; ask the many celebs and politicians who have at best bounced it across the plate. This simple pitch was a statement that Americans won't be held captive by terrorism.
Another sports moment dealing with 9/11 and showing some true patriotism occurred five months after the attacks. U.S. athletes carried the World Trade Center American flag during the opening ceremonies of the Salt Lake City Winter Olympics. U.S. athletes and an honor guard of policemen and firefighters carried around the tattered flag found in the rubble of ground zero. A strong statement!
So, what have we learned? Well, for one, America is great! And second, the Train Daddy dislikes liberals—keyword is dislike, not hate. Hate is too strong a word. I will say, to end this article, that the current state of America seems a little volatile. ISIS isn't just an American problem, it's a world problem, and we all have to work together to stop and destroy the momentum of Islamic extremists. It's funny; Obama won't say those words, and he once referred to ISIS as the JV squad. I guess they haven't killed enough innocents to be upgraded to varsity.
He just blames it on guns. "Outlaw guns and outlaws will have all the guns!" As I told you, I am a Constitutional man, and the Second Amendment is pretty clear: "A well regulated Militia, being necessary to the security of a free State, the right of the people to keep and bear Arms, shall not be infringed." Look up infringe in the dictionary.
Islamic extremists all deserve a swift death—no virgins awaiting these idiots. The rest of the world can't sit around while something this dangerous grows. We fight back with weapons and bombs, all well and good, but we can do more. Muslims can do more to destroy this ideology that taints their religion. Muslims around the world need to come together in mass public displays and condemn these actions. I see very little, it seems, of Muslim leadership speaking out against these Islamic terrorists. Peaceful Muslims should be on the front lines all around the world. Every day, news outlets around the world have a new story of people killing innocents in the name of the Muslim religion. Is it a surprise that people outside of that religion begin to look at all Muslims skeptically, or begin to discriminate? No! If Muslim leadership would stand together with Christians, and if Christians would stand together with Muslims, it would be a bold statement to ISIS and people considering joining ISIS, that they stand alone, and millions of Muslims around the world condemn their actions.
So, that's it, and I hope you have a wonderful July. If you made it this far into the column, I won't be so preachy next issue. Train's out the station. Choo-choo!