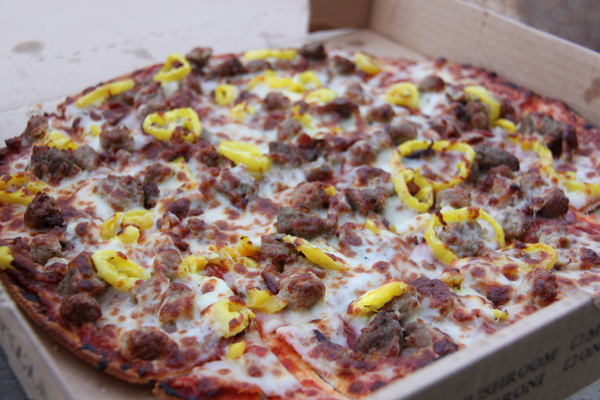 With a ghoulish theme in tribute to the haunted hotel in Wartrace, Joe Peters has taken his Spooky's Pizza concept just north of Murfreesboro, delivering food out of a shopping center on Memorial Boulevard near Jefferson Pike.
Spooky's serves some fantastic pies, all tabbed with ghostly names. You have the Hell Cheeses Over, a cheeseburger-themed pizza with beef, bacon, lots of cheese and onions, or try the Ghostly Chiller, a ham and pineapple pie. The restaurant continues the fun for meat lovers with the Zombie Feast, a pizza with generous amounts of meatball, pepperoni, Canadian bacon, sausage and bacon (American bacon, incidentally, is belly-cut, while the Canadian variety is typically loin-cut).
Peters says the decision to use only 100 percent whole-milk mozzarella adds a lot to Spooky's pizzas. Many of the large pizza chains use skim-milk cheese, but "it's watered-down cheese, it doesn't lend anything noteworthy to your palate," he said. The whole milk is "so much tastier . . . and we use the best meat we can get our hands on."
The cheesesteak-inspired pizza is a winner; topped with cuts of sirloin steak, sautéed onions and peppers, and provolone and American cheeses, the Franken Philly bursts with flavor and brings a taste of Philadelphia to Walter Hill.
These specialty pizzas run $13–17 for a 14-inch, and Peters said the area certainly has enough pizza-lovers willing to pay for a great pizza.
"We believe that there is a market out there of individuals who would prefer to get a really top-quality pizza," Peters said. "Sometimes a budget dictates your family gets the $5 pizza. . . . Different strokes for different folks, but I would rather raise prices than compromise quality. People have grown weary of mediocre becoming the norm. We want to do better."
And the menu contains far more than pizza; if you live in the store's delivery area, Spooky's can bring a cheeseburger, order of chicken wings or sandwich to your door in addition to pizza.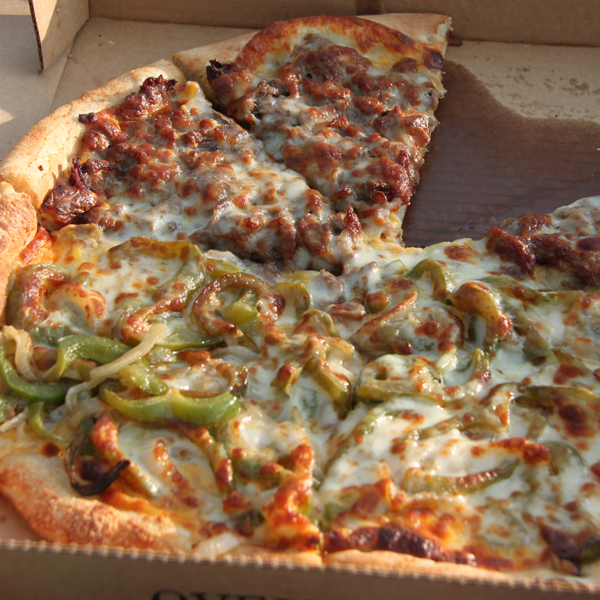 "We have an Italian sub called Sleep with the Fishes," Peters continued. "A patty melt called Cannibal Lecter, the triple-decker turkey club called the Tennessee Chainsaw Massacre, a burger topped with sirloin steak called Dead Meat."
And if a customer orders the breadsticks, they should know to ask for "The Walking Bread."
The burgers contain Braveheart black angus beef, "given no hormones, with no chemicals," the Spooky's owner proudly continued. "We use Benton's Country Bacon, made right here in Tennessee . . . take a bite of the BLT and the bacon taste is just going to explode in your mouth."
Spooky's deep fries its wings rather than just running them through a pizza oven. As for dessert, Peters encourages everyone to try a Drooler—a breadstick cut down the middle and stuffed with marshmallow fluff, Reese's peanut butter chips and chocolate syrup, topped with powdered sugar.
Peters purchased the Walking Horse Hotel in Wartrace back in 2007. There he opened the Chais Music Hall (named for his late wife), which hosted live bands, dancing and other entertainment.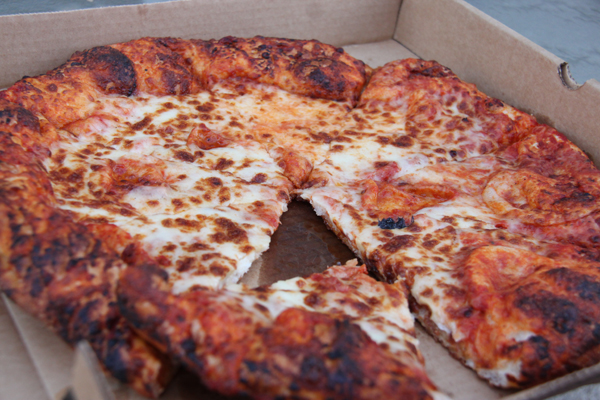 However, in 2013, the roof of the music hall suffered some storm damage.
"We were shut down and couldn't do any of the music, and the things that we do," Peters said. "It was suggested to me, 'Why don't you do pizza out of the hotel?'" and thus, Spooky's was born, he says, "by accident."
Though having never operated a restaurant prior to this, Peters and crew gave it a go in rural Wartrace, Tenn.
"We were told there's simply not enough people in the area (to support a pizza delivery business)," Peters said. But the roughly 3,000 people who reside in the original Spooky's service area of Wartrace, Bell Buckle, Normandy and Beech Grove were "3,000 people that never had food delivered to their homes—ever," and the support for the restaurant was determined to be sufficient.
"That was my first venture into pizza," Peters said, and since Spooky's originated within the haunted hotel, the restaurant's name pays homage to the Walking Horse and Chais.
Peters, along with business partners and best friends Christine and Robert "Hydro" Mullin (who happen to be world-class concert production managers, having done stage setups and tours for Madonna and Justin Timberlake, and currently on tour this summer with Selena Gomez), decided to open a Spooky's store closer to the Murfreesboro area.
"We do a lot more volume here than we could ever do in Wartrace," Peters said of his newer store.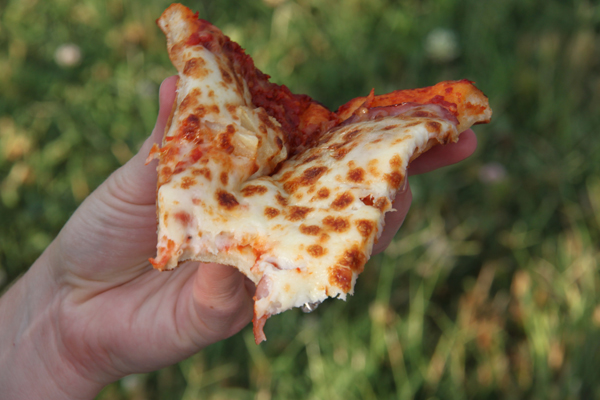 Shortly after the decision was made to open the Walter Hill location, the hotel in Wartrace caught fire and had to close for repairs. So now, Peters is all in on the pizza business.
He said he'd like to identify another location to open another Spooky's by the end of this year, possibly towards Lebanon, and have an additional two stores open by the end of 2017.
Rather than locating right in the middle of towns where "it's overrun with pizza and subs and burgers, let's go where we have no competition," he said, outlining his desire to serve some of the areas of Middle Tennessee that up until recently have been fairly rural, but now have subdivisions expanding rapidly.
"We're going to paint the corners, just like in baseball."
As for other news, Spooky's plans to soon deliver beer alongside its pizza, burgers and wings. "For those guys and girls out there during football season in our area who don't want to leave the house, we plan to be delivering ice-cold beer to of-age customers," Peters said, adding he would like to implement a milkshake home delivery service as well.
Spooky's Pizza
5995 Lebanon Road, Murfreesboro
Sun. and Tues.–Thurs.: 11 a.m.–8 p.m.; Fri. and Sat: 11 a.m.–9 p.m.
Large Franken Philly pizza: $16.99; Large Ghostly Chiller pizza: $12.99; Burger and fries: $7; 10-piece Demon Wings: $10; Paranormal (chicken) parmesan sandwich: $9
(615) 217-5000
spookyspizzatn.com