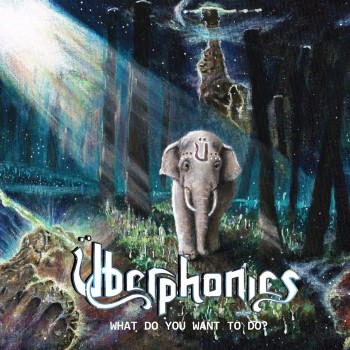 While I usually recognize most of the bands that send their albums to the Pulse office, Nashville psychedelic "junk-jazz" outfit Uberphonics is a group I've yet to experience until recently. In addition to regularly playing the Nashville circuit regularly, the trio has also frequented its fair share of Murfreesboro staples in recent years, such as Liquid Smoke and Mayday Brewery. Whether you've caught Uberphonics live or, like myself, are just tuning in, the band's ear for improv and six-minute jazz jams on their latest effort, What Do You Want to Do, will have you hooked whether you proclaim yourself a jazz fan or not.
Uberphonics formed in 2006 and has since hit music festivals such as Memphis in May and Murfreesboro's annual JazzFest, and, despite being lauded by Relix as a "Band on the Rise" following its 2008 debut, the band has mostly stuck around the Nashville area to record and perform.
In fact, one of the driving factors of this release is the musical chemistry between the three members (Matt Jaggers on guitar, Stephen Hopkins on bass and Griffin Criste on drums), which has surely culminated into what it is now due to abundant time spent playing together over the past decade.
The album's trippier moments arrive on "When The Numbers End" and "Cylindrical Entropy/The Broken Mirror," the latter of which sends listeners into a psychedelic headspace with spacey instrumentation such as a rainstick and slide whistle. Like most jam albums, the tracks can run a little long, but it's the strange, dynamic instrumentals—such as the aforementioned tracks—that make this record enjoyable.
When tracks start to lose steam, like on "Whitelephantusk" and "Head Trip," Jaggers picks up the slack with guitar solos on both songs and Hopkins swoops in on bass to save the tracks from becoming stale. All in all, Uberphonics has successfully turned an hour-long jam session into concise and accessible tracks with a clean and polished production.
Check out What Do You Want to Do on Spotify and, if you can, catch Uberphonics at Nashville's Springwater, located at 115 27th Ave. N., on Saturday, July 9.