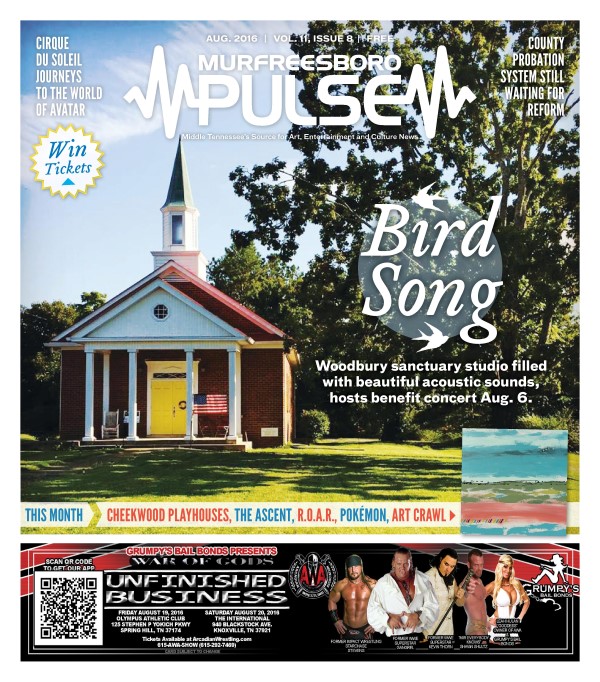 FEATURES:
Bird Song
Taylor-made sanctuary studio right next door.
Bird Song Studio hosts benefit concert for musician John Duffer, Aug. 6.
Roots of a Rebellion
Tennessee reggae group performs at TEMPT Aug. 18.
Blue Who?
The Hillbenders interpret legendary Tommy album in bluegrass fashion.
Climb The Walls
Local indoor climbing gym The Ascent kicks off bouldering season.
World of Avatar
Cirque du Soleil brings high-flying show to Middle Tennessee.
Play Houses from Around the Globe
Cheekwood hosts International Playhouses exhibit throughout August.
Navigating the System
Even though PCC has left town, not much has changed for probationers.
Pokemon: Go
Force for positive change?
IN EVERY ISSUE:
EVENTS
Murph's Fun Run; HOT 100 Bike Ride; Dubfest and more!
SOUNDS
Local Concerts
Jackillacs; Great Barrier Reefs; Ill Gates; Hoodoo Men and more!
Album Reviews
LeAnder, Invicticus
Glade City Rounders, Don't Get Weary
Music Notes
Justin Reed Show
Borostock
Julien Baker
FOOD
Restaurant Review
Fin Fusion serves up stellar sushi for a special night out.
Dining Commentary
Support Unique Local Restaurants
LIVING
Still Plenty of Time to Garden
Summer Means Peach Time in the South
ART
REVIEWS
Movies
Ghostbusters
Star Trek Beyond
Living Room Cinema
Paced Poetry
NEWS
Around Town
'Boro Business Buzz
OPINION
The Stockard Report
Lawsuit filed after MPD officer deceives fourth-grader; it's clear who Republicans favor for local judge.
Live Exceptionally . . . Well!
Leave Your Mind.
Views of a Conservative
After DNC leaks, election is Trump's to lose.
Business Builder
Speak to your target market.
SPORTS