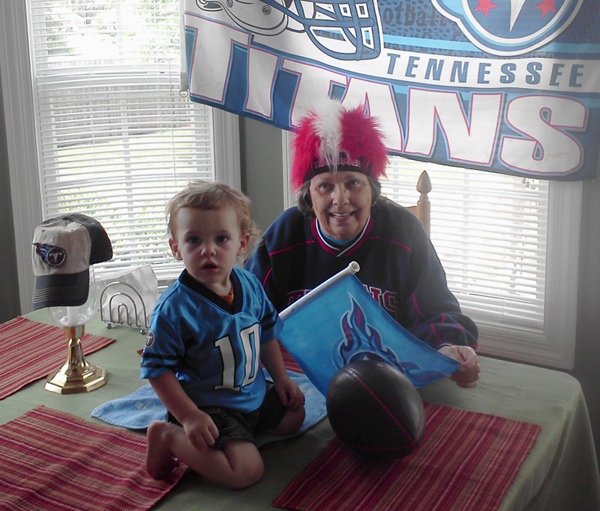 The Train Daddy is back, bringing sports news, life lessons and politically incorrect talk to you, the loyal reader. It is nearly time to kick off the NFL season, and that means one thing as far as I'm concerned: Titans Football and the Me-Ma, one hell of a combination. It's a Me-Ma special, folks—keep on reading, and if you don't read all the way through, I dare say you're unpatriotic.
Speaking of unpatriotic, NFL quarterback (or perhaps I should say washed-up and bitter backup) Colin Kaepernick refuses to stand up for the national anthem prior to games. That's right, folks, Colin Kaepernick stated, "I am not going to stand up to show pride in a flag for a country that oppresses black people." Huh?
As a child, Colin was abandoned by his African-American father and was adopted and raised by a white Wisconsin couple, yee-haw! I figured Colin would have learned some humility, being raised by the very people he claims to be the problem: white folk!
Get ready for the backlash, Colin; you will be booed at stadiums across the country this year, if you still have a job.
We all should be thankful to live in a country that has equal opportunity for all willing to grasp it, and not give up because some blame the system. I understand the system isn't perfect. I also understand that for children born into poverty or high crime areas, success becomes much more difficult, yet not impossible. The goal should be to reach and teach these kids through love and education, creating brighter futures and smarter generations in the process. I get it; it's easier to point and blame rather than solve the equation.
Colin has every right to express his First Amendment rights. He also stated recently that Hillary Clinton should be thrown in jail, but we don't hear about that at all. Rather, these liberal morons would paint Colin as an activist for his progressive values.
Men and women of all races have died defending what that flag stands for, giving their lives so a childish brat like Colin Crap has the right to make $20 million a year playing with balls.
Enough of all that nonsense, it's time for the feature presentation. Ladies and gentleman, boys and girls, children of all ages, the Train Daddy proudly brings to you the main topic of the article, The Me-Ma! That's right, a true patriot, and the greatest Tennessee Titans fan to ever live!
To be a patriot in New England means to be a cheater. To be a patriot in Tennessee means to be loyal to the Titans and to live by the 5 F's: Faith, Family, Football, Food and Friends.
Some people organize the 5 F's in different orders but I like this order. I get that I put Football ahead of Food. If things get real bad you can boil down the pigskin, throw some leaves and acorns in the pot, and make a stew.
I've loved my nine years writing for the Murfreesboro Pulse; any loyal reader knows very well who the Me-Ma is. I have done multiple articles detailing her greatness. If you don't know about the Me-Ma, well, keep on reading, or, as I said, you're unpatriotic. We will go old-school to new-school, McNair to Mariota, George to Murray, Wycheck to Walker and Mason to Sharpe. But first, Me-Ma time!
The Me-Ma, while not technically my grandmother, might as well be family, being such an inspiration to me personally. She is a mother to three, a grandmother to five and a great-grandmother to a whopping 10 little ones.
The Me-Ma is grandmother to Scottie B and Young Jeezy Batson, my brothers from another mother. I was 14 years old when introduced to the Me-Ma; today I am a 31-year-old man, and time seems to slip by faster and faster as the years pile up. I have learned that laying blame and complaining have no purpose. Hold onto every moment you have with your loved ones. I tell you honestly, the Me-Ma is an inspiration, a woman who loves the Titans, a woman who has her own special Titans two-step dance that gives juju to the Titans and brings luck to the team. Most of all, she is a woman who loves her family dearly.
Let me enlighten you as to what a Titans Sunday at the Me-Ma's house entails. Prior to friends and family arriving, the Me-Ma is up early getting everything in order. It's simple but it's tradition; the Me-Ma gets to work making her famous sauce—that's right! Huge chunks of ground beef, tomatoes, spices and secrets, all thrown in the pot and creating the famous soupy sauce we all love so much. Boil some noodles, toss the salad, toast the garlic bread and sweeten the tea; it's a meal for royalty.
That's it, folks. As I said, the 5 F's make the perfect party. Faith, Family, Football, Food and Friends.
So let's talk Titans talk, now that I have shown my love to the famous Me-Ma . . . though there's more love to be shown at the end of this article.
It's always fun to reminisce on the good old days of McNair, George, Mason and Wycheck, I use to dominate people in the old-school Madden video game with those four players alone. The Titans had some great players—The Freak, Bishop, Bullock and Bruce Matthews—in a time when greatness was expected. But we move onto a new generation of football and a new generation of players.
The Titans have their new face of the franchise, Marcus Mariota. The kid is composed in the pocket, he keeps his eyes downfield and he has the release of Jesse James, a true gunslinger. He also has happy feet, a true mobile quarterback. He has all the skills to become an elite player in this league. The only beef I have with Marcus is his lack of judgment in protecting himself. If you run, get down, boy! Marcus needs to stay healthy this season and he has the perfect opportunity to do so in Coach Mularkey's system. Old-school, baby! The offensive line has been revamped and Coach Mularkey is laying a foundation down for a run-first offensive in a pass-first league. It should be interesting watching this offense grow. Marcus will still get his chances. But with a run-first approach, Marcus will remain healthy and the coaches will have more opportunities to display his skill without overexposing or forcing Marcus's hand. He will grow fast in this system.
When talking to fans I have noticed a general consensus. Fans are ecstatic about the prospect of this season's run game, with Murray and Henry as a one-two punch. They're excited about the growth of the quarterback and offensive line. It seems most Titans fans are up in the air with the receiving corps. The Titans surprised many with the recent release of Dorial Green-Beckham. The huge receiver had been making encouraging strides towards the end of last season, but clearly something was going on behind the scenes.
Forget about Dorial, we have a Sharpe receiver now. Experts are stating Ta'Jae Sharpe very well could be one of the best route runners in the NFL. The rookie out of UMass is already Marcus's favorite target. Fantasy football has taken notice, and he very well could end up a rookie of the year candidate, a breakout player! Both Sharpe and Rishard Matthews have larger frames. The Titans also added a possible hall-of-fame veteran receiver Andre Johnson, who still has some juice, and defiantly has some expert advice and leadership skills. I reckon the speed and quick routes will be run by Harry Douglas. I have no clue where Justin Hunter and Kendall Wright fit in.
Also, let's not forget the Titans have a tight end who was the best player on the field last season and led all tight ends in the league in receptions. I won't talk much about the running backs, but here is a quick bit of info for those who don't know.
DeMarcco Murray is a top-notch professional. He led the league in rushing only two years ago, and was able to rest last season due to Chip Kelly being an idiot and not utilizing Murray correctly. Murray is fresh! Then we add Heisman winner Derrick Henry to the mix, a beast in size and on the field. Literally either of these players could be the workhorse and get the job done alone. Nonetheless, they seem to jive together and I am pretty sure Mularkey has created the most feared one-two punch in the league . . . and that's saying something!
So I didn't talk about the defense, and that's okay. They haven't looked great in the first three preseason games, getting shredded by three solid quarterbacks: Rivers, Newton and Carr. But they have some playmakers; Jurrell Casey will get them in line. They're learning a new system, and if anyone can get them playing good football, it's big old Dick! That's right, Dick LeBeau, a legend who is entering his 58th season as a player or coach in the NFL, and I have faith the defense will follow his lead.
Once again, let me show my love to the Me-Ma. I dedicate this season to you, as I know Scott and Jeff already have done. It's a great honor and it means you, my dear, are the lucky charm! I won't end on a sad note; I just want to say the Me-Ma told me this past summer that if she could make it to the start of the Titans season she would be a happy Me-Ma. And here we are.
Your health may be failing you, but you will never be forgotten. Every time I watch a Titans game from now to the end of my days, I will think of you. You have been a blessing to me and, I know, to your family. I see the way your great-grandchildren look at you. Little Daylan and Alexis and all the other grandkids love you dearly.
You and I have the same birthday, you taught me how to play three-card poker in Tunica and you have showed me what it is to combine family and football into one happy gathering. And that makes you the Me-Ma. Love you!
Train's out the station. Choo-choo!