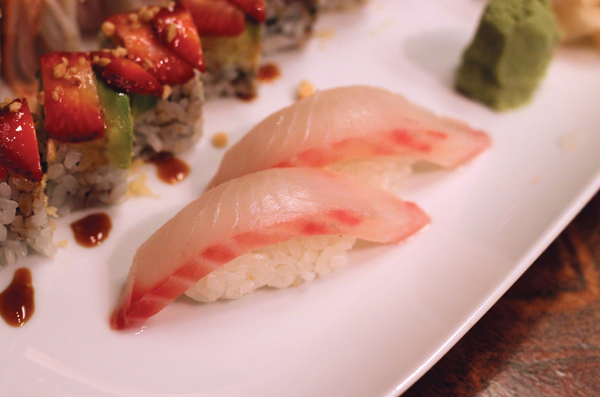 Ask where one can find the best sushi in Murfreesboro, and Fin Fusion almost always earns a spot in the conversation and, quite often, captures the honor of being the diner's hands-down favorite sushi establishment in town.
While many of the other restaurants serving sushi in the area have a thorough selection of other items—from the hibachi, stir-fries, noodle dishes, curries and otherwise—the sushi is really the star at Fin Fusion.
Their extensive menu has all the basics: the yellowtail, crab, salmon, cream cheese, cucumber, tuna and avocado, but upon a close inspection some of the specialty rolls contain some strawberry, kiwi, nuts, calamari, octopus and banana, among other ingredients.
The six-page sushi menu, even containing its own "Eel Library" section (though there are just four items under this heading containing eel), can be a little overwhelming for those new to the exquisite world of sushi, but one diner said his patient server was happy to answer questions and make recommendations for the indecisive.
I imagine most anything selected would taste pretty wonderful—just find a combination that suits your preference. The Fin Special with salmon, crab, shrimp, avocado, cucumber, asparagus, soybean paper and tuna on top sounded like a winning combination, and it was!
Or, if something new stands out, give it a try. The Delicious roll sounded unique, and the blend of strawberries and nuts with jalapeños, shrimp, cucumber, cream cheese, avocado and more, was indeed quite delicious.
Kelsey, one Yelper who has eaten at numerous sushi spots across Tennessee and elsewhere, said she loved sushi, but none of those other establishments "hold a candle to the sushi at Fin Fusion."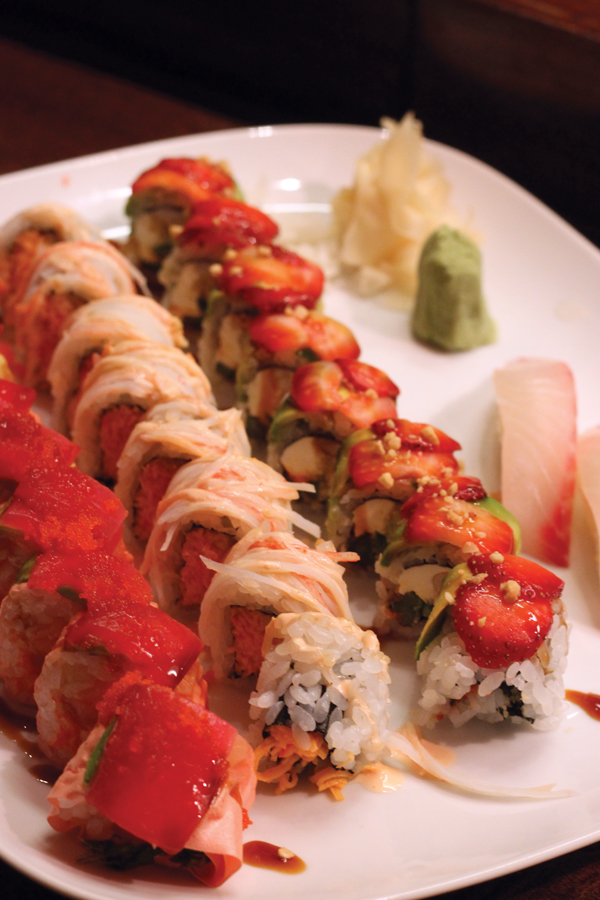 "If I had to pick a favorite (roll), I would definitely say the Firestorm," she said of the roll containing spicy tuna, cucumber and smelt roe, deep fried and topped with diced octopus, scallops, shrimp, Japanese mayo, and other sauces. "It was spicy, full of flavor, and had a ton of ingredients that worked perfectly together to make for a roll that I could eat over and over again."
For a less spicy roll, the sushi enthusiast suggests the D4 (crab, salmon, tuna, red snapper, cream cheese and spicy sauce) or the Yum Yum (spicy crab and cucumber with diced crab on top), and said she also enjoyed the shrimp and veggie tempura and the spicy crab salad—"It had a nice kick but the cool cucumber helped mellow it out."
Callie said her favorite dish at Fin Fusion is the Crazy Crab roll: "It's served piping hot after being flash-baked, and is filled with crab, cream cheese and asparagus."
Some rolls feature a wrapping of cucumber, rather than rice.
Another customer agreed that Fin Fusion is the "best place in the 'Boro for sushi," and said the Carunch roll, with crabstick, shrimp, cucumber, avocado, smelt roe and Japanese mayo, was "light and tasty."
Now, you do pay for this quality, but to plenty of sushi fans, the occasional splurge at Fin Fusion is well worth it when craving fine sushi.
One teenager said he enjoyed the Ninja Roll, with its crab, salmon, avocado and cream cheese inside, and broiled eel on top. His mother said she liked the Fin Fusion experience very much, but like many diners, emphasized it was not an everyday place–if two people ordered three rolls apiece, the bill can quickly rack up to $60 or $70.
So it's not exactly a restaurant for a large appetite on a budget. If you have only one roll, you will want two more.
Anyone flying down Church Street can easily miss Fin Fusion in the middle of the Crye-Leike Plaza with The French Twist salon on one end and Indian Hill Dentistry on the other, but once inside Fin Fusion, the atmosphere is tranquil and welcoming, with a few paper lanterns hanging about, comfortable, high-backed booths, and a well-lit sushi bar area where customers can watch the sushi artists in action.
And for the special night out, Fin Fusion has built a great fan base of pleased customers.
"Most sushi restaurants use too much rice, but Fin always puts in the right amount of rice, veggies and sashimi, and it's not overly drenched in sauce," Krista writes on Yelp. She, and others have pointed out that while Fin Fusion does offer a small selection of other entrees, chicken udon and such, "their portions are way too small for the price."
Others have observed that waiting for custom-made sushi can take a while when the place is busy. And a diner from California said "the menu is quite extensive and a bore to read . . . the list of rolls is honestly a bit absurd."
The consensus though among Murfreesboro that Fin Fusion serves some of the best sushi in the area and is well worth a few visits to explore that long list of sushi creations.
The Dish:
Fin Fusion
2862 S. Church St.
Sun.: 5–9 p.m.; Mon., Wed. and Thurs: 11:30 a.m.–2:30 p.m. and 4:30–9:30 p.m.; Fri. and Sat.: 11:30 a.m.–2:30 p.m. and 4:30–10 p.m.
(615) 494-3442
Rainbow roll: $9.95; Cherry Blossom roll: $13.95; Delicious roll: $8.95; Big Mama roll: $8.95; Spider roll: $9.95
Find Fin Fusion Sushi Bar on Facebook