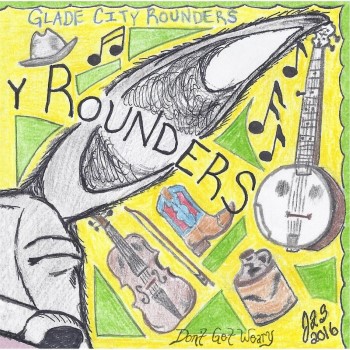 Local old-time string band Glade City Rounders are fresh off a performance at the 39th annual Uncle Dave Macon Days festival, which is especially fitting considering the Rounders' recently released sophomore album, Don't Get Weary, is inspired by a Macon song of the same name. In fact, almost the whole album—24 short and sweet minutes—is comprised of reimagined covers that stem from bluegrass and jug-band originals to old rural blues songs made popular by jam bands like the Grateful Dead. The album's a mixed bag of five songs and three instrumentals, but it's a fun ride complete with hoedown foot-stompers, invigorating arrangements and a couple kazoo solos thrown into the mix for good measure.
The Glade City Rounders, now a quartet with the addition of upright bassist Randy Hill since the band's 2014 debut release, feature Richard McLain (vocals, banjo and kazoo), John Smith (vocals, guitar and jug) and William See (vocals, fiddles, kazoo and harmonica) picking and strumming with comfortable ease and the authenticity that comes with the knowledge of, and appreciation for, this particular style of music.
The album starts with "Georgia Crawl," a bawdy, old-timey track originally recorded by Henry Williams and Eddie Anthony in the late '20s. It's followed by the rollicking instrumental "Old Joe," which has been tackled by "Father of Bluegrass" Bill Monroe and, more recently, the Avett Brothers, although the Glade City Rounders' version is slower and less complex. Kazoo kicks off "Viola Lee Blues," a song which appeared on the Grateful Dead's 1967 self-titled album and has been performed by the likes of Phish and Ry Cooder as well as fellow Murfreesboro band the Jake Leg Stompers.
Don't Get Weary, while shorter than most albums of its kind, is a solid ode to its influences, particularly Uncle Dave Macon. With excellent production and clarity, the Glade City Rounders exhibit impressive musicianship and have a charming way of making these old-timey songs their own.
Follow the Glade City Rounders on Facebook to keep up with music updates and live performances.