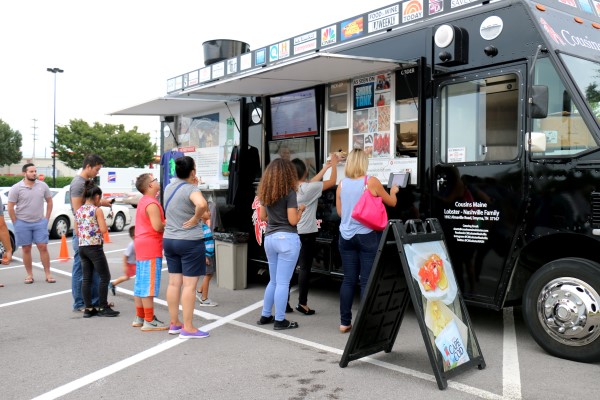 With new food truck regulations on the horizon, it's likely Murfreesboro residents will see local and regional food trucks around the city more frequently in the near future.
In July, the City of Murfreesboro announced the City Council is looking to adopt new regulations for food trucks operating within the city limits. The revised ordinance not only aims to loosen restrictions currently in place, but it will also maintain regulations for the health and safety of citizens.
"Looking at nearby communities, we see the creativity and excitement that the food truck industry can generate," Assistant City Manager Jennifer Moody said in a memo to the council. "We want to work collaboratively with operators and restaurants to see how changes in the way we regulate this industry could benefit our downtown, city parks and community events."
On Aug. 15, food truck owners, local restaurant owners and members of the community attended a public stakeholders meeting to discuss the proposed regulations and offer suggestions. The new regulations look to offer clarity by defining food trucks, locations and hours of operation, mobile food service permits and food truck rally permits.
Murfreesboro residents Quinn Raines and Craig Betts, owners of a Cousins Maine Lobster truck, said that while the current food truck ordinance has caused confusion among food truck owners in the area, the proposed regulations and public meeting offered a sense of clarity.
"There's been a set of regulations on the books for years, but they were set during a time when people were setting up things such as roadside stands, which are not the same as food trucks," Betts said. "This new ordinance offers framework to avoid problems."
Although the Cousins Maine Lobster truck frequents Nashville, Smyrna and Franklin each week, as well as events such as Live on the Green in downtown Nashville, Raines said she'd like to see the truck serving in Murfreesboro more often—not only because they live in the area, but also because they see heavy interest from customers. She says she hopes the new ordinance will not only eliminate confusion, but also make other mobile food operators feel welcome in the area, as well.
"There's not a fresh lobster place here. . . . We received our fresh lobster today and do so very frequently," Raines said. "We can bring that to the community."
"There's certainly an interest in food trucks here and we all sell different things so we like to help each other out," Betts added. "That's why we try to set up here and hold events with other food trucks—to show them that people in Murfreesboro have an interest in them."
According to Betts, it's easier under the current set of regulations for food trucks to set up shop in private business parking lots, with written permission and the proper permit. That's why you'll spot Cousins Maine Lobster outside Sam's Club or trucks like My Roots Curbside Culinary serving up street food at Mayday Brewery before you'll see them on public property.
That might change, though, with the new ordinance. In addition to operating on private retail property, the proposed draft offers a list of designated locations that include specified downtown streets and public property such as city parks and certain parking lots. In an effort to encourage food truck owners to easily seek permits, the Mobile Food Service application would require a low-cost fee at $50 for 12 months.
"Our intent with managing locations administratively is to be able to respond quickly to valid requests to consider new locations," Moody said in the memo. "Placing responsibility at the administrative level will allow the ordinance to be efficiently adjusted when necessary, such as for large events or the particular needs of a park venue."
Raines said she felt having food trucks in Murfreesboro parks would draw more community members to utilize those public spaces.
The ordinance would also regulate the frequency of food trucks operating at private businesses, the maximum number of trucks at the same location and the amount of parking space utilized, which would be no more than 25 percent of existing spaces. Also included in the new ordinance is a food truck rally regulation, which includes the gathering of two or more trucks at the same location and time. The events—whether on public or private property—will require a separate permit.
Raines added that she hopes the new regulations, including the food truck rally permit, will encourage more Middle Tennessee food trucks to set up in Murfreesboro. In an effort to strengthen the food truck community, Raines and Betts coordinate events with other food trucks including a recent event called "Food Truck Family Reunion," held in Smyrna, featuring Cousins Maine Lobster, The Brothers Burger and Two Fat Men.
"Events like the food truck family reunion show other [owners of] food trucks that people will come out," Raines said. "That's something we would like to do in Murfreesboro more often."
To learn more about the Proposed Food Truck Ordinance and Regulations and to read the full drafts, visit murfreesborotn.gov.