The Train Daddy is back with the pain, daddy. Choo-choo! As always, I bring sports news, life lessons and politically incorrect talk to you, the loyal reader. Last issue we went with the patriotic theme as we celebrated Independence Day. Let's stay on the patriotic theme with the 2016 Olympics. USA! USA! USA! The month of August brings us a strange combination of sports, from table tennis to my favorite, synchronized swimming. It's a beautiful sport—long, hairless legs, dancing to the music. Gorgeous women bobbing up in down in the water, yippee! And dammit, why do the Chinese dominate table tennis? I have never told my readers this, but my nickname originated 15 years ago playing table tennis. Forget Bernie Sanders' idea of a revolution, we need a Ping-Pong revolution here in America. China is too dominant, winning 24 of the last 28 gold medals in table tennis. Why is China so dominant? Because the Chinese are crazy! Literally, they line kids up at 6 months old, and sort the talent from the trash. They take kids out of school and away from their families, and send them to Chinese Ping-Pong Boot Camp! Only 1 out of 10,000 are successful and make it to the next stage, the rest are beheaded. The Chinese are serious about winning—you would cringe if you knew the selection process for the woman's gymnastic team, deadly serious about success. Bernie's idea of a socialist revolution is unrealistic, but an American Ping-Pong revolution is a real possibility. We have to stop China! Trump may be right, China is taking our jobs, beating us in trade and humiliating us at Ping-Pong.
So let's get into the heart of this beast, all things 2016 Rio. No, Zika is not a famous Jamaican sprinter, but a virus causing birth defects. Some experts claim Zika could become a full-blown global disaster. It's at pandemic levels in Central and South America, causing some athletes to skip even going to the Olympic Games. Let's just hope Brazil can host a successful Games. Aside from the sewage water athletes will train in, full of human waste and teeming with viruses, it's all good! In 2009, when Rio was awarded the Games, Brazil was thriving with one of the world's largest economies. Then a host of political scandals and an economic downturn has the IOC probably wishing they had voted for a different venue. Oh, well, like the Stones said, "You can't always get what you want."
The early Olympics were celebrated as a religious festival from 776 BC until 393 AD, sacrificing the heads of 100 oxen in the name of the Greek god Zeus. Original sports ranged from chariot racing to running with armor. My favorite would have been boxing with no rules. They claim the athletes wore small leather gloves with bits of metal entwined. Sometimes this ended with an opponent's death. Ironically, the person killed was awarded the victory.
In 1894, some uppity Frenchman proposed a revival of the ancient tradition, and thus the modern Olympics were born, lacking the death sports, of course. The 5 Olympic rings represent the 5 major regions of the world.
Enough history talk! Let's get modern with some Olympic facts and discuss which American athletes to watch for. This 2016 Rio Summer Olympics will be the first ever hosted in a South American country. The opening ceremonies will be held in Rio's Maracana Stadium—a stadium that holds around 78,000 seats, yet managed to squeeze in 173,000 fans during the 1950 World Cup, still a world record for attendance at a soccer game. Organizers expect 10,500 athletes from 206 countries to take part in the 17-day event. This year rugby sevens makes its debut in the Olympics, a 15-minute variation of the real game. Both American men and woman are projected medal contenders. I played rugby in high school and love the game. It's brutal and crazy and confusing to watch, but awesome. I recommend watching rugby sevens, it's rugby on crack.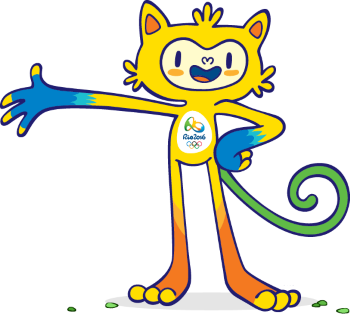 The mascot for the 2016 games is Vinicius, a yellow and blue creature resembling either a cat or monkey. It can fly and has the power to stretch its limbs and body. It sounds like this monkeybird creature would be a match for Iron Man. Brazil is hoping, through merchandise, this strange creature will help raise around $400 million. Tickets for the games range from around $40 to $3,000 with nearly 8 million tickets available. Soccer and basketball are some of the most popular so far.
This year's slogan is "Live Your Passion." Originally it was "All Lives Matter" but somehow that statement is considered racist. There will be nearly 90,000 soldiers and policeman deployed; this is literally one of the largest forces of security in the history of mankind for a single event. Let's just hope that if any of these crazy Islamic terrorists have people waiting in the shadows to kill, security forces will take them out before they succeed. We all know they will try, I just pray they don't succeed in any kind of an attack on the Olympics. There will be nearly as many volunteers as security, so add in the fans and spectators and locals . . . that's a lot people mixed together, in a world full of crazy.
Alrighty then! Here are some Americans you should keep an eye on: Michael Phelps, of course! The 31-year-old and all-time most-decorated Olympian ever is back for his final Olympics. Standing at 22 total medals (18 of them gold), the bong-hitting Baltimore Bullet, the Flying Fish, is ready to add to his medal count.
Standing at 4′ 8″, the 19-year-old gymnast Simone Biles may be the most dominant athlete on this Olympic team. The four-time U.S. champion and consecutive three-time world champion is a favorite and could very well become the first female athlete to win five gold medals. If Biles doesn't win the all-around, it very well could be the biggest upset of the Olympics. It's hers to lose.
We all know Serena Williams. Enough said. The best women's tennis player in the history of ever is looking to add a fifth and sixth gold medal to her count. She is a favorite, and anything besides gold is upsetting in the eyes of a champion like Serena. What a duo, though, in doubles, being paired with sister Venus. Ka-boom!
I love this story, and will very much be keeping an eye on Justin Gatlin vs. Usain Bolt. Speed kills! At 34, the oldest sprinter to make an American Olympic team, he has the best shot at knocking off the fastest man in the world, Mr. Bolt. Gatlin finished serving a four-year ban for doping. Gatlin knows his way around the track, winning gold in the 2004 Athens games in the 100-meter dash and bronze in the London 2012 Games' 100-meters. He recently finished second to Bolt in both the 100m and 200m in the 2015 World Championships. Run, Forrest, run!
Who doesn't love beach volleyball? Good grief! Those women have strength, beauty and a tight what! Yep that's right, those booties be too bootie-licious for me, as Beyoncé said. Kerri Walsh, nicknamed 6 Feet of Sunshine, will be without famed partner Misty May-Treanor, who recently retired. The 37-year-old is looking for her fourth straight gold, and all with a new partner, April Ross. I love beach bootie ball!
We all love USA basketball, even though basketball is the most lopsided event in the Olympics. It's not even fair watching Team USA beat these other countries. The same can be said for Team USA woman's soccer. Dominance is awesome, but it's not pretty and it is boring. The men didn't even qualify. Yep, that's right, no soccer for Team USA and the men.
So that's about it. I love America, I love the Olympics. As always, America will dominate the medal count. It's not even fair for the other countries! They should all just combine into one giant super country. The USA would still dominate the medal count, though. American pride!
America—a country full of overweight slobs who worship fast food; that's why I salute all the dedicated Olympic athletes who overshadow that stigma by the way they dominantly represent the USA on a world stage.
That's it, friends. Tune into the Olympics this month. Train's out the station—Choo-choo!