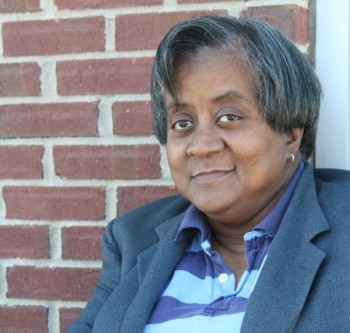 At first glance, strength may not be the first word you'd use to describe her. She walks with a cane, moving one leg carefully in front of the other. In public, she wears a mask over her mouth and carries Benadryl in her bag because even one whiff of pet dander can make it hard to breathe.
But Brenda Whitfield is anything but weak.
Raised in Columbus, Ohio, Brenda learned to push forward at an early age. She grew up in a community tempered by discrimination and felt its effects more than once. Home life also proved a challenge. Her mother was harsh, and when Brenda was only 12 years old, her father developed lung cancer that claimed his life four years later.
Through these trials, Brenda clung to two constants: her twin sister, Linda, and her faith in God. While many people could be stymied by circumstances, Brenda knew she had a bigger power inside her. She put her determined spirit to work, attending Ohio State University and graduating with degrees in Black Studies, Economics and Art Therapy. She got married, gave birth to two daughters and worked as an art therapist in Indianapolis.
In 1993, Brenda and her family moved to Tennessee for her husband's job at Saturn. From then on, she dedicated herself to being a "hands-on mom" and pushing her two girls through school. She succeeded in raising her daughters and became the proud grandmother of three beautiful grandchildren.
Through all of these challenges and changes, Brenda and twin sister Linda remained close confidants.
"We were born only a minute apart," says Brenda, "and we planned to grow old together." But that plan was interrupted when, at age 39, Linda found out she had breast cancer and died in 2010. Brenda struggled to find a new normal after her twin sister's death; their connection couldn't be equaled, and she said she felt like a piece of herself was missing.
Still raw from her loss three years later, what came next was a shock when Brenda found out that she, too, had breast cancer.
"At first I thought it was a death sentence," she says. She went on to describe her intense feelings of anger and fear. What would she look like? Would she die of cancer, like her father and sister before her?
But Brenda didn't get stuck there.
"When I let go and wasn't angry anymore," Brenda recalls, "I was empowered. My empowerment came from my faith in the Lord." Brenda was determined not to "sit around and let death catch her."
The hospital connected Brenda to Dr. Stephen Rich through the Power of Pink program: "Dr. Rich was very hands-on," she says. "I felt like he was sent by God."
All monies raised by the annual downtown Murfreesboro event, Wine Around the Square, goes directly to the Saint Thomas Rutherford Foundation's Power of Pink program, which provides diagnostic breast care to women who are uninsured and underinsured.
With Dr. Rich at her side, the added counsel of oncologist Dr. John Zubkus and the kind care of the nurses, Brenda underwent a mastectomy of her left breast, followed by three rounds of chemotherapy.
As of April 2016, Brenda has been cancer-free for one year. She feels like her life is a gift: "If God gives to you, you should give back," says Brenda, who takes the time to speak truth and life into the people around her.
While the cancer and treatments have left her body weaker, Brenda's spirit is stronger than ever.
"You can think yourself to death," she says, "but the energy it takes to feel sorry for myself takes away from life. You have to think positive. Keep trusting God, and he will do wonders."
~~~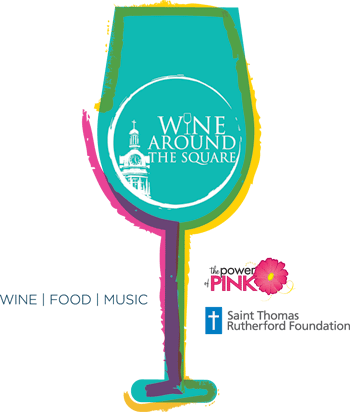 The Fifth annual Wine Around the Square, held on the Murfreesboro Public Square, Saturday, Sept. 17, is a progressive wine tasting, food sampling and music event outdoors. This fun community event is held on a crisp fall evening in the heart of downtown and raises money for the Power of Pink, providing diagnostic breast testing for Rutherford County women who are uninsured and underinsured.
No event costs are taken out of the funds raised; event costs are either donated or provided by Saint Thomas Rutherford Hospital. Last year, more than 200 volunteers worked on Wine Around the Square to make the event an outstanding success.
More than $178,000 was raised last year and 1,100 people attended.
In Fiscal Year 2015, 500 mammograms were provided to Rutherford County women through the Saint Thomas Rutherford Foundation and the Power of Pink program.
Each year, Wine Around the Square honors women who have had breast cancer; the 2016 honoree is Dotty Adams.
Guests at the Sept. 17 event will check in under the big tent on the south side inner loop of the square. Guests are required to show their driver's license before they receive a etched WATS keepsake wine glass. More than 75 wines and great appetizers and snacks will be available for tasting that evening at office and retail venues around the Square, and live music will be part of the activities. Parking is located at the City Center Parking garage at Vine and South Church streets.
Regular event tickets are $60 per person and include all wine and food stations. VIP tickets are $250 and include the main event plus a VIP party at Daffodilly Designs, 118 West Vine St., from 5–7 p.m. catered by Five Senses.
A late party at The Alley, 223 W. Main St. is free; this begins at 9 p.m. and features music from the Marshall Creek Band.
For tickets or more information on Wine Around the Square, visit winearoundthesquare.org.