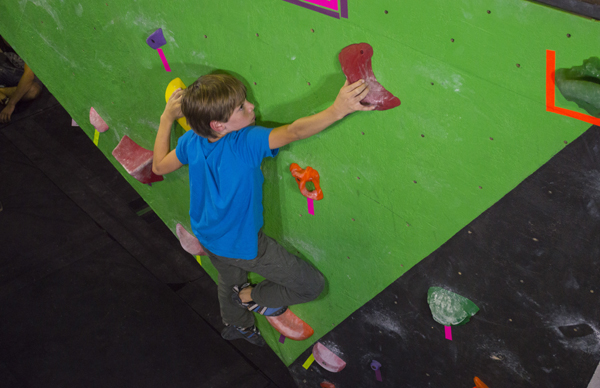 If you have seen one of the many black-and-green stickers around Murfreesboro promoting The Ascent, or have heard a friend enthusiastically talking about making it to the top of the climbing wall and have not yet experienced The Ascent for yourself, gym owner/operator Jeff Hess and his team of climbing enthusiasts want the community to know there's a confidence-building, sweat-inducing challenge awaiting climbers of virtually any skill level.
The climbing facility, tucked away on Park Avenue not far from Church Street and downtown Murfreesboro, shares a large building with CrossFit Murfreesboro and an indoor soccer field, and offers the people of Murfreesboro and nearby areas a chance to climb all year long.
Within a matter of minutes, even a newcomer to the sport of indoor climbing can obtain a rental pair of shoes and harness, be instructed on climbing safety and how to belay (securing a climber on the wall while on the ground, taking in excess rope as the climber climbs higher, so if the climber falls, the rope, run from the belaying individual on the ground, through a pulley on the roof and then attached the the climber's harness, is taut ensuring the climber will not fall), and begin climbing the various high walls and multiple routes on the boulder.
(Warning: climbing may be slightly addictive.)
Many climbers have visited The Ascent multiple times a week for years and have still not gotten bored with the place; there's always a new route to master or a new problem to solve.
If you find yourself telling your kids to stop climbing, they may enjoy a trip to The Ascent. There, yes, "climb on."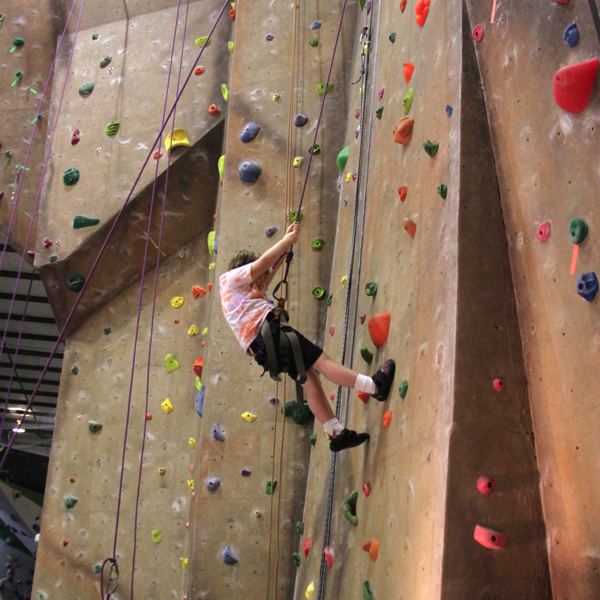 Hess said he has witnessed many cases where climbing has played a huge role in transforming area kids from timid children into strong, confident young guys and girls with perseverance and determination.
"The difference in their confidence level is significant," Hess said of some of The Ascent's young climbers. "The more they fail, the more they want to get back out there and solve the problem."
The Ascent hosts competitive leagues for middle- and high-school ages. If a certain school has enough participants to field its own team, there may be a school-specific team in the league, but even if only one kid from a school wants to join the competitive climbing fun, they will be placed on a team.
Bouldering competitions run in the fall, which feature climbers navigating short routes on the boulder not wearing a harness.
In the spring, high wall climbing is the focus, and in these competitions, climbers do use a harness, and are either belayed by an individual on the ground, or more advanced climbers participate in lead climbing, where they clip their own rope into various points along the wall.
"We provide coaching with the leagues," Hess said, adding every Rutherford County high school was represented last semester, and that he plans to reach out more to Wilson and Cannon County students. "We organize the leagues, order the shirts."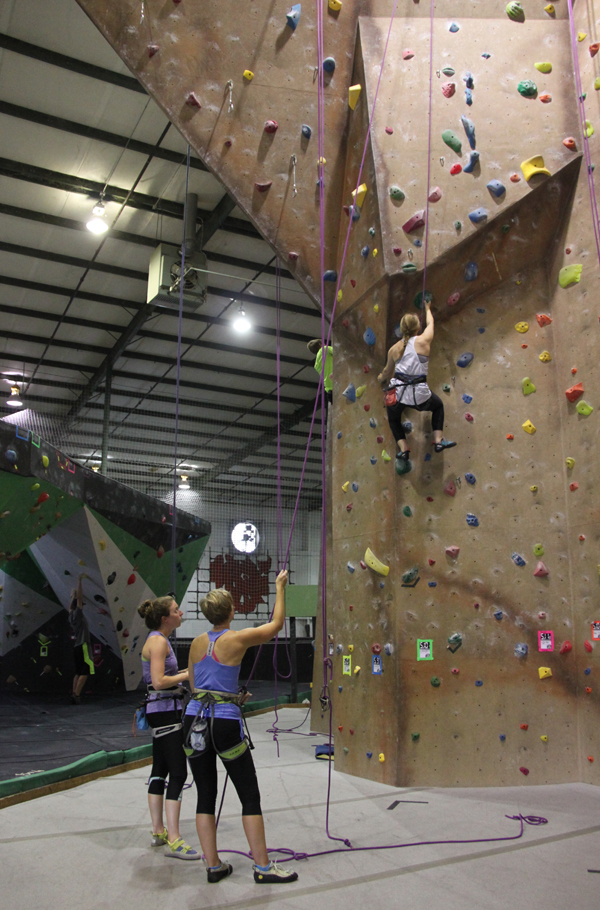 Shannon Bauer's daughter, Shelby (15), participates on the Rock Warriors, a team of area home-school students.
"She started climbing at the MTSU wall when she was 5," Bauer said.
Bauer said she has been impressed by how the climbers will encourage one another.
"We'll compete against Central, but even if one of our kids is on the wall, they'll still be cheering for them," the proud climbing mother said.
The league's season tracks both individual and team scores, but while many team sports emphasize winners and losers, many climbers simply try to overcome their previous limits and do their best.
"In order for me to do well, you don't have to do badly," Hess said of the sport.
Felisa Allen, and her sons, Josh, Andrew and Geoffrey, are part of another home-school family that has gotten hooked on climbing.
"When my boys started, everyone just took them under their wing and were so encouraging," she said. "Yes, it challenges your physical body, but it challenges you mentally."
Josh, the oldest of the Allen boys at 19, says competing in the high wall is his favorite aspect of climbing; when asked about the current problem he's working on mastering at The Ascent, he points towards a particular route on the wall: "The orange track over there," he said. "The size of the holds, the reach (are difficult) . . . it's rating something like a 5.13d (a very high degree of difficulty in the climbing grading system)."
Tonia Drake, another Rock Warriors mother, added that climbing "requires patience. They don't get frustrated and stop."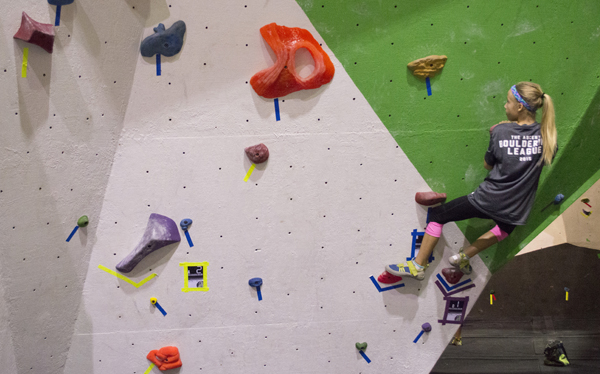 If a climber has difficulty with a particular section of a boulder or wall route, and repeatedly works on overcoming it, the process builds physical strength, mental discipline and reinforces the idea that trying your best can lead to new heights.
"There is a collaborative element to it," Hess said. Climbers solve problems in a group, analyze risk, assess it and conquer it.
Youth can find plenty of puzzles, games and problems to solve—video games, for example—"but wouldn't you want them doing something physical?" Bauer asked.
"Age doesn't really matter," Drake continued; sometimes the younger, lighter climbers with smaller fingers can actually have an advantage on a route, while other times the taller climbers with greater reach have an advantage. But young or old, anyone can give climbing a shot.
"They know on Ninja Warrior the rock climbers fare better," Drake says with a laugh.
For the more advanced youth climbers, The Ascent runs a USA Climbing team, which travels to other gyms to compete.
MTSU is now in on the competitive climbing fun and the MT Climbing Club will host its first invitational at The Ascent on Nov. 19.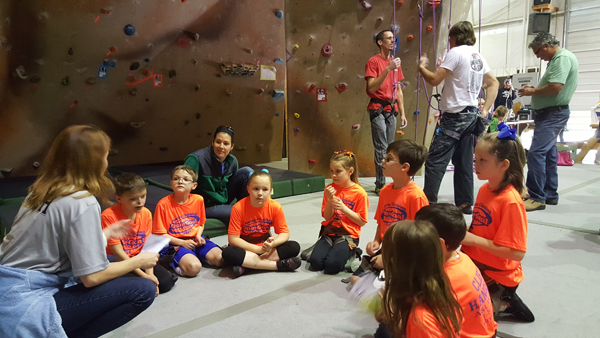 For youngsters just getting started with climbing, The Ascent offers a five-level Kids Rock program.
"The beginning levels, white and yellow, are primarily instructional, covering etiquette, safety, having fun, learning the basics," Hess said. "But the upper three levels have two competitions every year."
Spending some time at the indoor boulder and high wall then "opens a whole other door to outdoor climbing," Allen said.
The Ascent does host some outings to King's Bluff in Montgomery County and Foster Falls in Marion County.
Hess also talks of adaptive climbing and wants the community to be aware of The Ascent's Wellman apparatus, a device developed by Mark Wellman, an athlete paralyzed from the waist down, which allows climbers who cannot use their legs the opportunity to scale the walls using a handle and pulley system using only their arms.
"People with special needs may not know they can bring their parents and caretakers to use the Wellman," Bauer said.
Hess added that he is excited at the probability of competitive climbing being added to the 2020 Olympics.
So, try it out. See if you, or your kids, can graduate from the status of "rainbow climber" (a climber that just tries to get up the wall using any and every rock possible, without regard to the color-coded routes), to the process of "smearing" (using no footholds but placing your climbing shoe directly on the flat wall).
The competitive bouldering season at The Ascent starts with a pre-season competition on Thursday, Aug. 18, beginning at 6 p.m. Coaches and Ascent staff will be on hand and available to answer questions from those interested in participating or learning more about climbing.
The Ascent is located at 831 Park Ave., Murfreesboro. For more information on The Ascent, and its competitive climbing programs for area youth, visit climbyourrock.com or call (615) 796-6545.